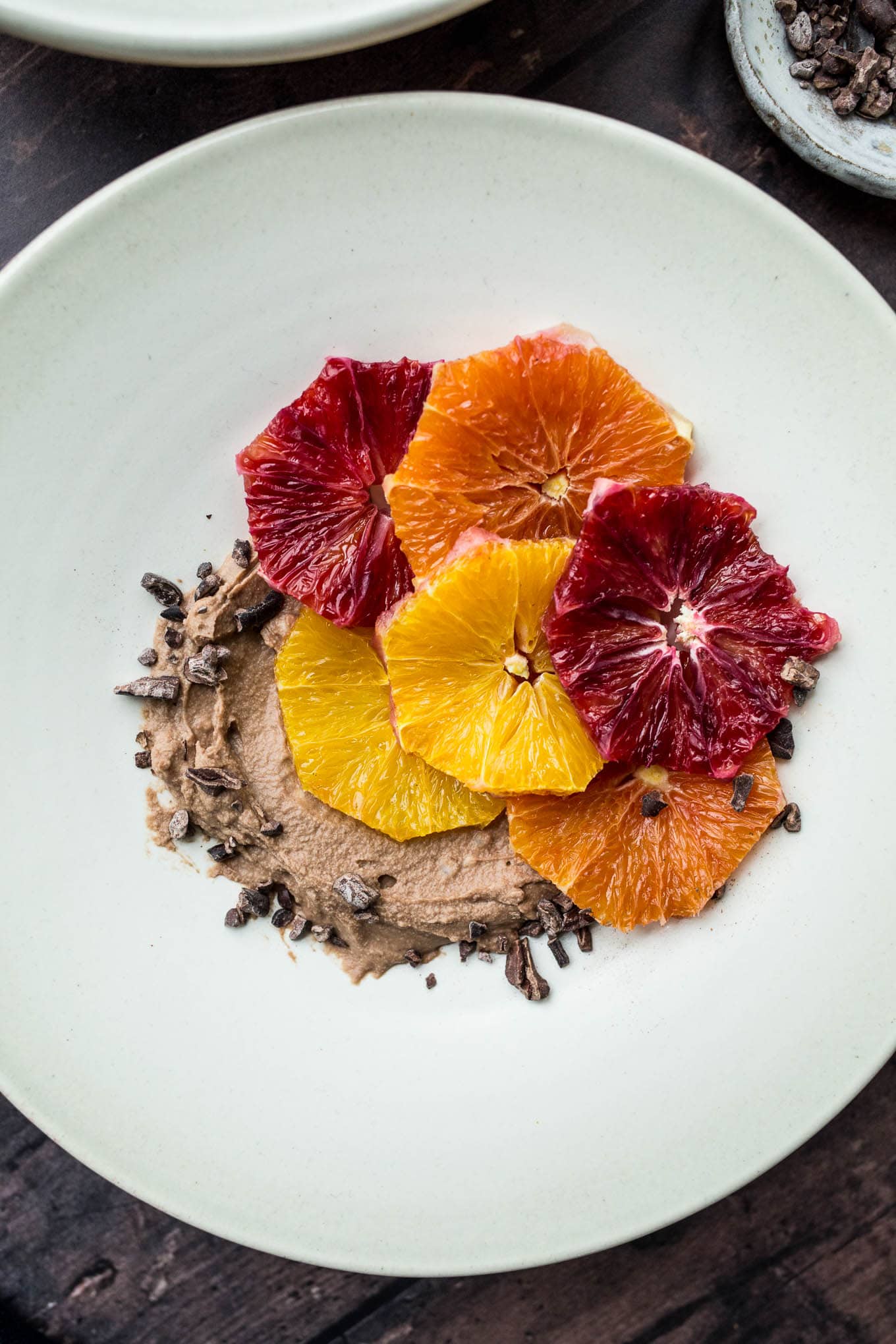 When winter citrus starts popping up in the grocery stores it signals a couple things. One, winter just got a little brighter, and two, everything from dessert to cocktails to dinner can enjoy the variation and new life that winter citrus flavors provide.
If you are on team "orange and chocolate," then I think this roasted winter citrus with chocolate coconut cream recipe is for you. It's simple and no fuss, and shouldn't break any new year resolutions.
Roasting citrus, as with veggies, requires little prep. Baking enhances the sweet and tangy citrus flavors allowing for only a minimal amount of maple syrup needed to drizzle over the top. Combined with a chocolate coconut whipped cream and some cacao nibs for crunch, you've got an elegant dessert (or breakfast!) with little effort. 
So use a variety of winter citrus or stick with one type, and winter will feel brighter in no time.
Roasted Winter Citrus with Chocolate Coconut Whipped Cream Recipe
Roasted Winter Citrus with Chocolate Coconut Whipped Cream is a simple, elegant dessert sweetened naturally with maple syrup. Gluten-free and vegan.
Ingredients
Roasted Citrus:
2 cara cara oranges, sliced and pith removed
2 blood oranges, sliced and pith removed
2 navel oranges, sliced and pith removed
1-2 tablespoons maple syrup


Chocolate Coconut Whipped Cream:
2 cans coconut milk, full fat, refrigerated overnight*
3 tablespoons unsweetened cocoa powder
1 tablespoon maple syrup
½ teaspoon pure vanilla extract
Optional:
cacao nibs, for sprinkling
Instructions
Preheat oven to 350 degrees Fahrenheit. Line a rimmed baking sheet with parchment paper.
Add citrus slices to baking sheet in an even layer. Drizzle with maple syrup. Bake for 20 to 25 minutes, or until the citrus slices look tender and the edges have started to caramelize.
While the citrus is roasting, prepare your chocolate coconut whipped cream. Add solid coconut milk to a medium bowl. With an electric mixer, mix on medium until solids form into cream consistency. Add cocoa powder, vanilla extract, and maple syrup. Mix until combined.
Divide chocolate coconut whipped cream into four bowls. Top with roasted citrus and sprinkle with cacao nibs if desired.