Hearty and wholesome gluten-free Butternut Squash Cornbread with Brown Butter Sage is a savory take on a classic favorite.
Things around here in the last couple weeks have revolved much around baseball. Admittedly, a strange sentence for me to write, but truthful nonetheless. The Kansas City Royals are in the World Series, and the way my hometown has united around this team has been kind of amazing. There is an excitement you can feel, and it's been pretty darn contagious, like an unspoken common bond among strangers—or spoken as it usually happens—as conversations pop up at the grocery store, gas station, or coffee shop. And so, schedules have been cleared and all games are being watched. 
In the meantime, to ward off the suddenly cold and rainy weather we've been having, we've been fully enjoying comforting soups, stews, and Amanda's braised beef roast. Inspired by a Martha Stewart quick bread recipe using pumpkin, sage, and brown butter, I wanted to incorporate butternut squash (my favorite of the winter squashes) into a more savory cornbread.
Because I love roasted butternut squash, I roasted it before pureeing, but it's not necessary. Feel free to make things simpler by buying canned pureed butternut squash or those handy packages of pre-cubed butternut squash and then roasting. Either way, the result is a moist, flavorful cornbread that pairs perfectly with those meals for cooler nights.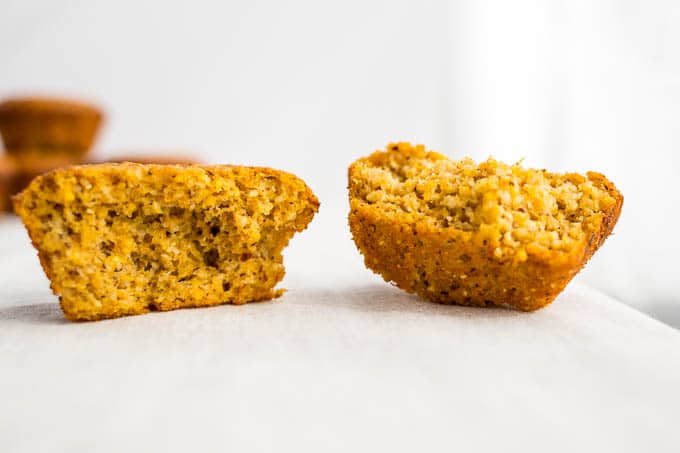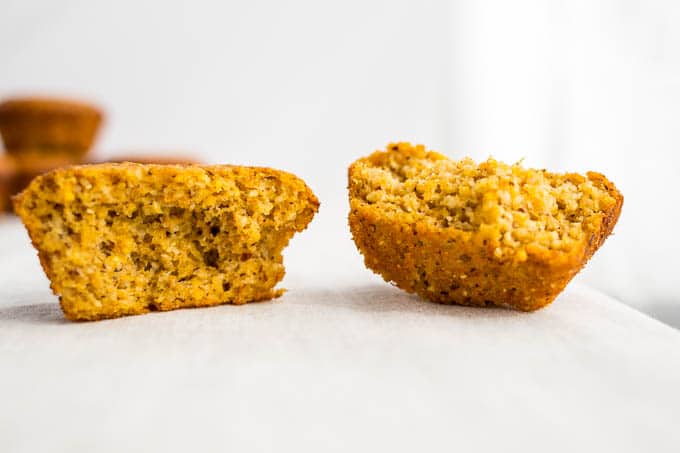 Print
Butternut Squash Cornbread with Brown Butter Sage (Gluten-Free)
Deliciously moist and flavorful gluten-free cornbread sweetened with maple syrup. To make things easy, buy already cubed butternut squash or canned butternut squash puree. Recipe prep time does not included roasting your own squash.
Ingredients
1 1/2

cups

almond meal/flour

1 1/2

cups

cornmeal

I used medium grind

2

teaspoons

baking powder

1

teaspoon

baking soda

1

teaspoon

salt

1/2

teaspoon

ground cinnamon

1/4

teaspoon

ground nutmeg

pinch

of ground cloves

1/2

cup

unsalted butter

1 stick

1/2

cup

fresh sage

chopped

1/2

cup

maple syrup

3/4

cup

non-dairy buttermilk

* room temperature

3

eggs

room temperature

1 1/2

cups

roasted butternut squash puree or canned butternut squash puree**
Instructions
Preheat oven to 350 degrees Fahrenheit. Line a muffin tray (or two - batter makes about a dozen and a half muffins) with paper liners or spray with cooking spray.

In a medium bowl, combine almond meal, cornmeal, baking powder, baking soda, salt, cinnamon, nutmeg, and cloves. Set aside.

In a medium saucepan, melt the butter over medium-low heat. Add the sage and cook about 5-8 minutes until the butter turns a golden brown. Remove from heat allow to cool for a few minutes.

In a large bowl, whisk together maple syrup, buttermilk, eggs, and butternut squash puree. Add brown butter and sage to the butternut squash mixture and whisk until incorporated. Slowly add in the flour mixture using the whisk.

Fill each cup of the muffin tray about 3/4 of the way full with cornbread batter. Bake for 20-23 minutes or until sides and tops of muffins start to turn golden brown. Allow muffins to cool for a few minutes in the muffin tray and then transfer to a wire rack and allow to cool the rest of the way.

Store in an airtight container.
Notes
Recipe inspired by Martha Stewart and adapted from my Gluten-Free Sweet Potato Cornbread.
*I used 3/4 cup unsweetened almond milk plus 1 tablespoon apple cider vinegar. Dairy or non-dairy buttermilk will work for this recipe.
**If making your own butternut squash puree, 1 medium butternut squash should yield about 1 1/2 cups puree.
Related Posts