These Feta Basil Muffins with Spring Onions make for a delicious savory breakfast or side to a meal! Gluten-free.
Last week I mentioned that I wanted to have more savory recipes here on the site, and well, I've gone and done it.
Now, this isn't the first savory recipe on the site. There's the huevos rancheros polenta bowls, the heirloom tomato and ricotta tart, and the spinach and artichoke galette, but, in a sea of sweet treats, they are most certainly outnumbered.
Today's feta, basil, and spring onion muffins are seriously savory in the best kind of way. Adapted from the Ovenly cookbook, I've used a combination of sorghum, oat, and tapioca flours to create a texture you'd expect from a muffin, but one that is filled with whole grain goodness.
Chocked full of crumbled feta, thin strips of basil, and finely chopped green onion, plus a little sprinkle of red pepper flakes for good measure—these muffins burst with flavor! I find that they are great as a savory breakfast option, but are not to be pigeon-holed as such. I have made these to accompany soup and think they would be just perfect with a cup of chili.
Happy weekend, all. I hope it's a beautiful one!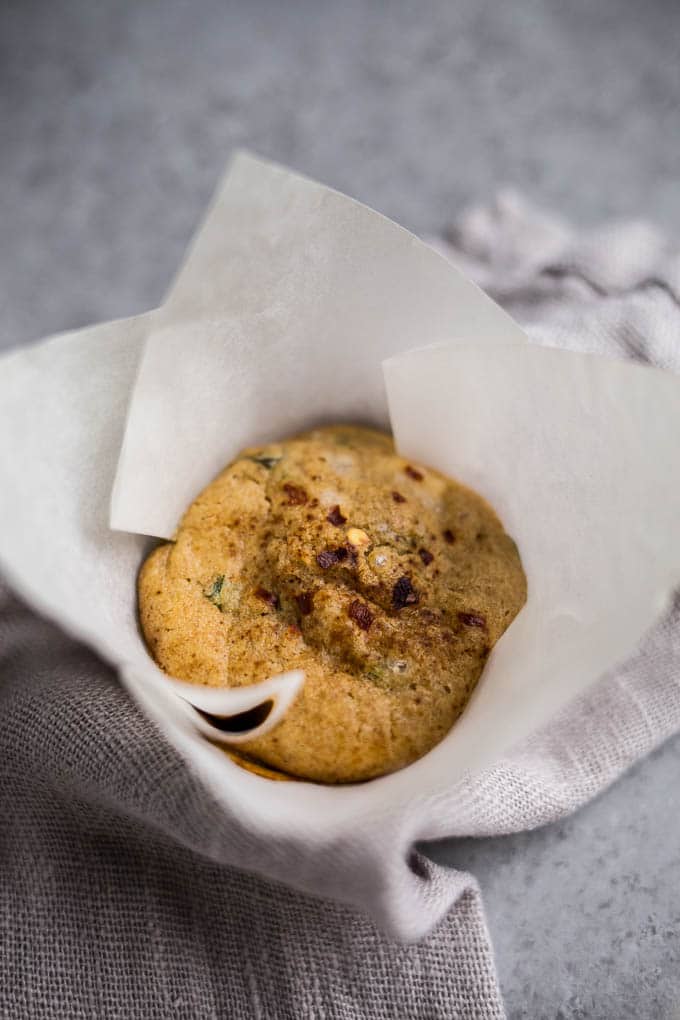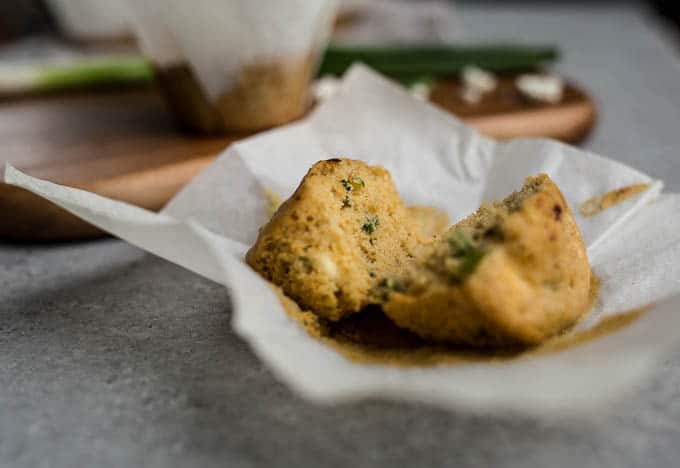 Make a Salted Plains recipe? I'd love to see! Tag your creations on Instagram with #saltedplains!
Feta, Basil, and Spring Onion Muffins (Gluten-Free)
Author:
Prep time:
Cook time:
Total time:
A seriously savory muffin, these feta, basil, and spring onion muffins make a great muffin for breakfast or brunch, and go equally well as a dinner accompaniment.
Ingredients
⅓ cup + 4 tablespoons sorghum flour
⅓ cup gluten-free oat flour
⅓ cup tapioca starch
1 tablespoon baking powder
½ teaspoon garlic powder
11/4 teaspoons paprika
¼ teaspoon salt
½ cup (4 ounces) crumbled feta
6 basil leaves, chopped into thin strips
4 spring onions, finely chopped
½ cup olive oil
¾ cup unsweetened almond milk (or milk of choice)
2 large eggs, at room temperature
2 tablespoons honey
sea salt and red pepper flakes, for garnish
Instructions
Preheat oven to 350 degrees Fahrenheit. Line a 12-cup muffin tin with baking cups.
In a large bowl, whisk together sorghum, oat, and tapioca flours, as well as baking powder, garlic powder, paprika, and salt. Whisk in the crumbled feta, basil, and spring onions and set aside.
In a second large bowl, whisk together olive oil, almond milk, eggs, and honey until smooth. Add the dry ingredients to the wet, and using a spatula, gently stir together until combined.
Divide the batter amongst the 12 cups. Each cup should be about ¾th's of the way full. Sprinkle with sea salt and red pepper flakes.
Bake for 19-21 minutes or until a toothpick comes out clean. These are excellent served warm. If not serving right away, store in an airtight container in the refrigerator.
Notes
Adapted from the [url href="http://www.amazon.com/Ovenly-Sweet-Recipes-Creative-Bakery/dp/0373892950" target="_blank"]Ovenly cookbook[/url].