This Strawberry Hazelnut Crisp is an easy, grain-free, summer dessert made gluten-free with almond flour and chopped hazelnuts.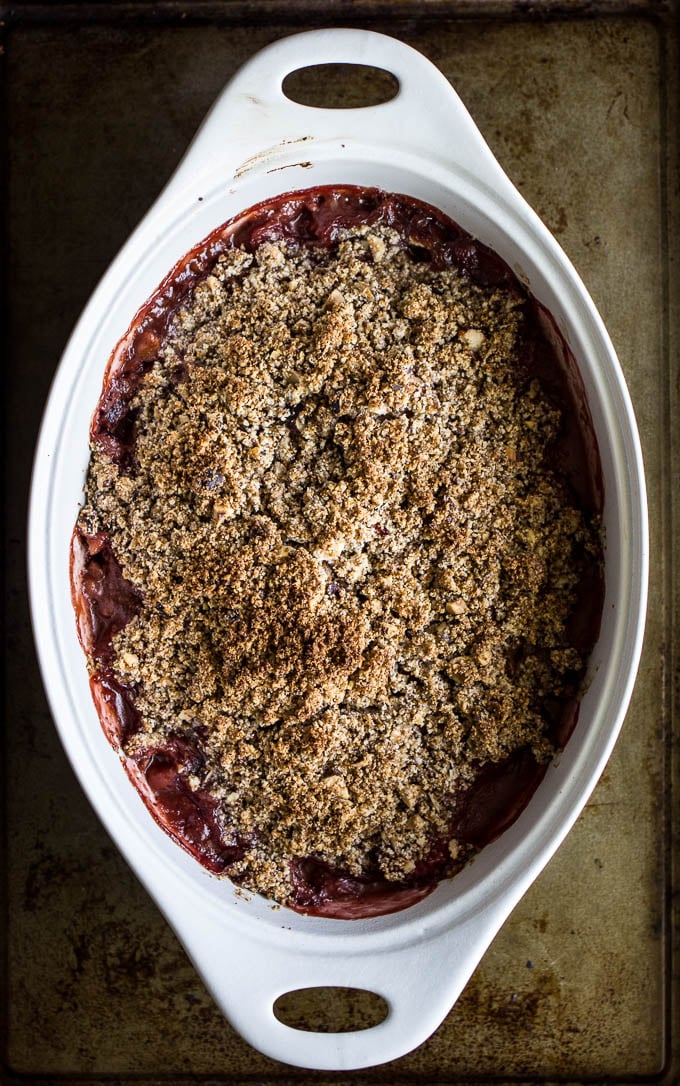 Strawberries are pretty much the best, aren't they? They are so special that there is a Cherokee legend about the first strawberries. The story goes like this. The First Man and the First Woman on Earth have an argument. Upset, the Woman leaves and heads out towards the forest. The Man takes off after her but she is already too far ahead. The Man pleads to the Creator that he do something to slow the Woman down so that he can catch up. Along the Woman's path, the Creator places berries of all kinds – blackberries, huckleberries, gooseberries. She doesn't pause to look at any of them. The Creator then places the first strawberry plants along her route and she stops to take in the beautiful leaves and berries. She tastes one, then another.  She continues to eat the sweet berries and her anger towards the Man melts away. The Woman gathered up as many strawberries as she could and started home, reuniting with the Man on the path back.
I can pretty much relate to the allure of the strawberry. They've been a staple around here for the last few weeks as evidenced by my strawberry rhubarb sorbet and double chocolate chip cookies with strawberry-coconut cream. I can't say strawberries have helped smooth over any of our disagreements (what disagreements?!), but they sure make the spring and summer months a little sweeter….