Cherry Almond Chocolate Chip Cookies made with almond and coconut flour, oats, dried cherries, and sweetened with honey – an easy gluten-free cookie recipe!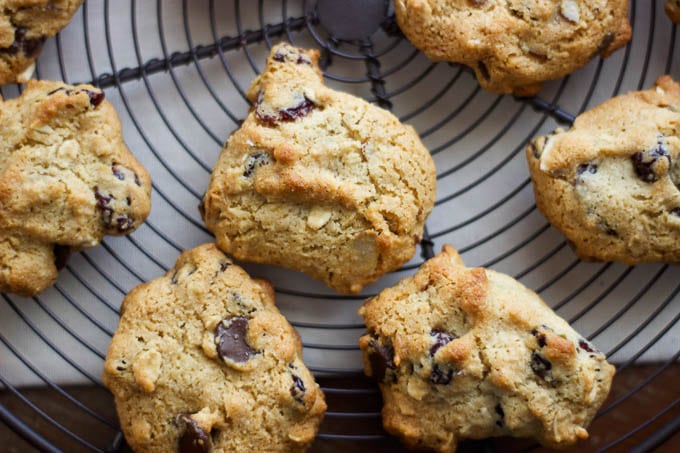 Graduation always seems to be a true mark that summer is finally here.  Our school held graduation ceremonies this last week in the very same auditorium in downtown Kansas City that my commencement ceremonies were held (13!) years ago.  As I sat there this week watching the seniors cross the stage into adulthood, I couldn't help but think about my own high school graduation and the horrible migraine I suffered that very day.  With my best friend and walking partner by my side, my primary goal that day was to cross the stage without getting sick.  When it was over, it felt like an eternity before we arrived back home.  I spent the rest of the day in a dark room (or running to the bathroom), missing graduation dinner with my family.
I have countless memories like this – sometimes, it is easier to pinpoint events throughout my life based on the degree of the migraine I had that day.  But what struck me the most this week amidst 2014's newest graduates, was the absence of fear.  This weekend will mark a year and a half since I had my last migraine, and I can only attribute this to going gluten-free.  For about 15 years I carried around with me an element of fear that a migraine would hit and I would have no choice but to halt what I was doing, take some kind of med as soon as possible, and pray that I didn't end up having to go to the emergency room 12 hours later to find relief.  I feared that things I was so looking forward to would be ruined – graduations, vacations, reunions with friends, my wedding. Fear had a much greater hold on me than I ever really realized.  And it wasn't until this week that it truly hit me that fear has not had that hold for at least a solid year now.  Amazing.  And so freeing!
Today's recipe was inspired by an end of the school year gift from my friend and colleague Daniel.  He gave me LEON Brownies, Bars & Muffins, a little cookbook focused on naturally fast recipes.  Does he know me or what?…