Print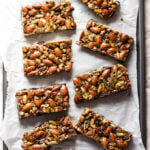 No-Bake Granola Bars with Maple-Sweetened Dark Chocolate {GF + V}
Protein packed and nutrient rich, these no-bake granola bars are made with 100% cacao sweetened with maple syrup, and make the perfect grab-and-go snack.
For the bars

1

cup

raw almonds

1/2

cup

raw pecans

chopped

1/4

cup

raw walnuts

chopped

1/4

cup

raw pepitas

2

tablespoons

chia seeds

1/4

cup

creamy salted almond butter

1/4

cup

maple syrup

1

teaspoon

pure vanilla extract

pinch

of salt

For the maple-sweetened dark chocolate

a melted dark chocolate bar can be substituted

8-

ounce

unsweetened chocolate bar

chopped

2

teaspoons

pure vanilla extract

1/2

cup

maple syrup

1/4

teaspoons

salt
Line an 8x8 baking dish with parchment paper.

To toast nuts, preheat oven to 350 degrees. Place the almonds, pecans, walnuts, and pepitas on a cookie sheet and toast in oven for 5-8 minutes, careful not to burn.

Set toasted nuts aside and allow to cool. In a small saucepan, combine almond butter and maple syrup on low heat. Once thoroughly combined, add vanilla extract and pinch of salt. Place nuts in a large bowl, add chia seeds and almond butter mixture. Stir until nut mixture is evenly coated.

Transfer mixture to the lined baking dish, and using a piece of parchment paper or plastic wrap, press mixture into baking dish until packed.

Place baking dish in fridge for at least 30 minutes before removing from dish and cutting into bars.

Once the bars are chilled and firm, melt the chocolate in a double boiler or metal bowl placed over a saucepan that has a few inches of simmering water (careful to not allow water to touch bowl). Use a rubber spatula to stir and scrape sides of bowl. When the chocolate has melted, whisk in vanilla extract, maple syrup, and salt. Once combined, remove from heat.

Dip one side of each granola bar into chocolate and place on a piece of parchment paper to harden.

Keep bars in an airtight container in the fridge or freezer.
Adapted from Minimalist Baker and maple-sweetened chocolate recipe from Jennifer Katzinger's Honey & Oats.
Wrap bars individually in plastic wrap for an easy way to grab-and-go.