Print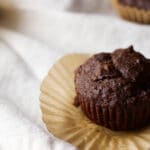 Chocolate Banana Bread Muffins with Chia Seeds {Gluten-Free}
These muffins made with chia seeds are packed with protein, fiber, and omega-3's while still being sweet, chocolatey, and moist. A great grab-and-go breakfast or one to sit and enjoy with your morning coffee.
Preheat oven to 350 degrees. Line muffin tin with paper baking cups.

Combine dry ingredients in a large bowl. In another large bowl, add eggs and coconut palm sugar. Using an electric mixer, beat eggs and sugar until combined. Add coconut oil, yogurt, vanilla extract, and mashed bananas and continuing mixing with a spoon or whisk as not to totally puree bananas.

Slowly add the dry ingredients to the mixture and whisk until combined. Fold in chopped bittersweet chocolate and walnuts.

Using a spoon, fill muffin cups to the top. Bake for 23 to 24 minutes, or until a fork comes out clean. Let muffins sit in tin for a few minutes before removing and placing on cooling rack.
*To make dairy-free, sub unsweetened almond milk for the yogurt and adjust baking time by an extra minute or two if needed.