There's a fella in my household that has a birthday today. And for as much as I have a sweet tooth, he does not. When I say, "Let's have some ice cream," he says, "I don't want any, but I'll get you some." Or if I say, "Help me eat these brownies I made," he'll say, "How about I just have the tiniest bite." Really? So not fun.
But, when it comes to chocolate chip cookies, things are drastically different. Like, I better make sure I don't eat the last cookie different. In hopes of bringing him his favorite treat for his birthday, I did want to change up the traditional chocolate chip cookie a tad bit. Making sure the texture was right was key, and a blend of sweet rice flour, brown rice flour, sorghum and tapioca flours seem to do the trick for perfectly soft cookies. The real star of this cookie show though is coconut sugar.
Coconut sugar's hint of caramel and molasses lends another layer of richness to the classic chocolate chip cookie. While coconut sugar can be subbed 1:1  as a white sugar substitute, I often find that I need less. It seems to intensify the flavor without leaving you wanting more sweet. A definite win in my book.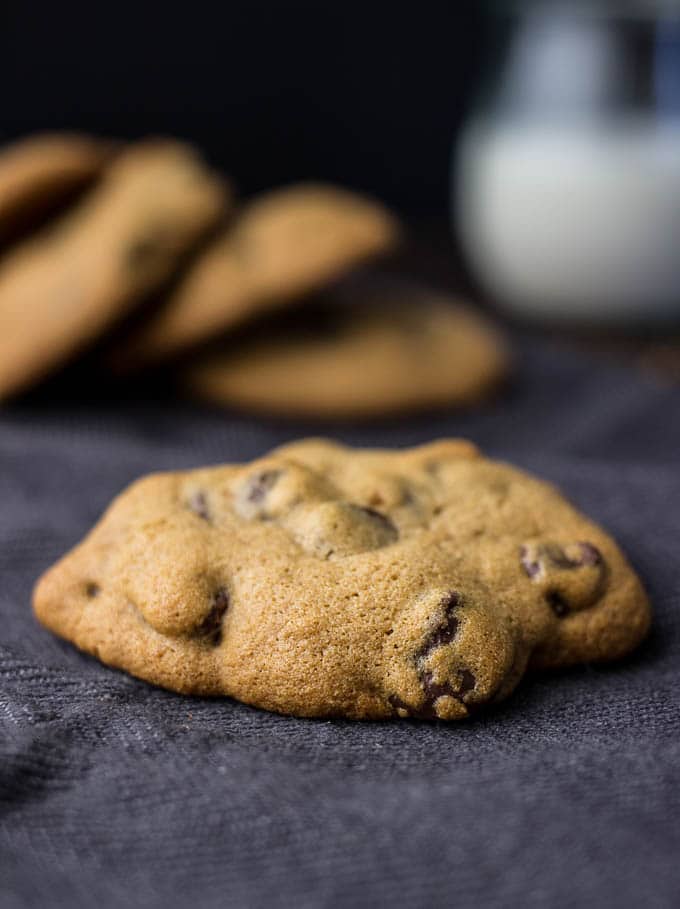 Coconut Sugar Chocolate Chip Cookies
Soft coconut sugar chocolate chip cookies that are a gluten-free and refined sugar-free twist on the traditional chocolate chip cookie.
Ingredients
1 cup sweet rice flour
½ cup brown rice flour
¼ cup sorghum flour
½ cup plus 1 tablespoon tapioca starch
1 teaspoon baking soda
½ teaspoon salt
1 teaspoon psyllium husk powder
½ cup unsalted butter, room temperature
1 cup coconut palm sugar
2 tablespoons honey
2 large eggs, room temperature
2 teaspoons pure vanilla extract
2 cups semi-sweet or dark chocolate chips
Instructions
Preheat oven to 350 degrees Fahrenheit. Line a baking sheet (or 2) with parchment paper.
In a medium bowl, combine sweet rice flour, brown rice flour, sorghum flour, tapioca starch, baking soda, salt, and psyllium husk powder. Whisk until flours are well integrated.
In a large bowl, using an electric mixer, beat butter on low and increase to medium speed until light and creamy. Continue beating at medium speed, and add a little bit of coconut sugar at a time until all the coconut sugar has been incorporated. Mix in the honey, and then add one egg at time, mixing after each. Add vanilla extract and mix.
With a wooden spoon, add the flour mixture a small amount at a time. When all of the flour has been incorporated into the wet ingredients, fold in the chocolate chips.
Using a small spoon, place mounds of cookie dough about 2-inches apart on the baking sheet(s). Place in oven and bake for 8-9 minutes. The cookies should look golden brown around the edges. Remove cookies from baking sheet with a metal spatula and allow to cool on a wire rack.
Store in an airtight container.