Gluten-free and paleo Double Chocolate Chip Cookie Sandwiches with Strawberry-Coconut Cream is a delicious spring dessert for any occasion.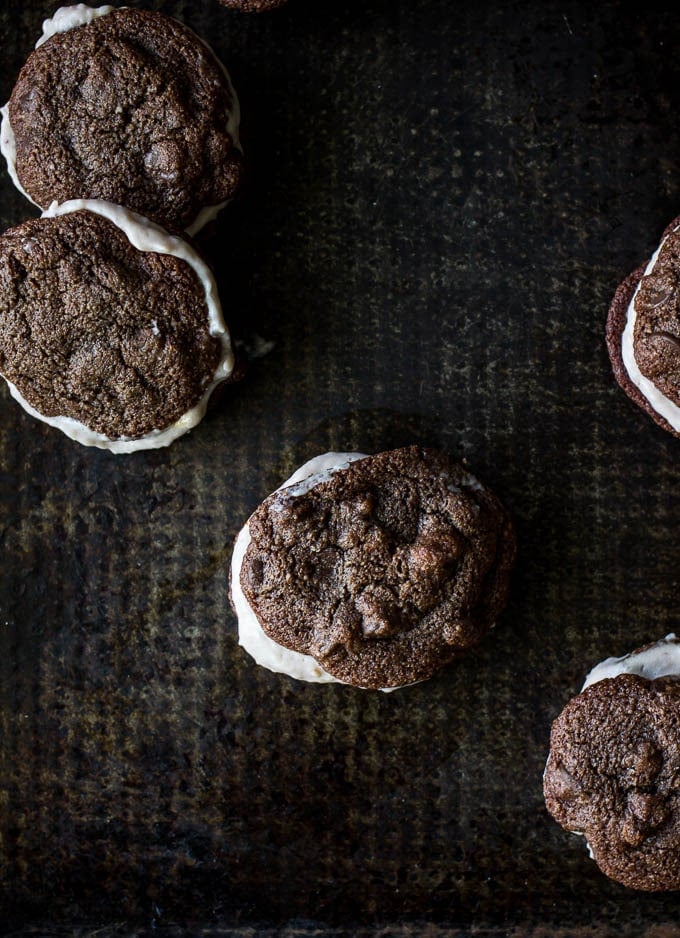 We just finished our last week of classes, and I've decided that no matter how old you are, the anticipation and excitement of summer break never get old. A full-fledged bonus of working in education is the child-like freedom of summer.
So to celebrate, today's recipe is a two-for-one special, as the double chocolate chip cookies that make up these cookie sandwiches have become one of my favorites all on their own. I first made these cookie sandwiches for our picnic in the park to celebrate Jordan's birthday and again on Mother's Day.
Not having fresh strawberries on hand initially, I made the strawberry-coconut cream by grinding dried strawberries into a powder. This turned out great, but, with the advent of strawberry season, I wanted to try my hand at a fresh strawberry cream filling.
The beauty of the strawberry-coconut cream, other than the fact that it makes delicious cookie sandwiches, is that it would be just as good in-between cake layers, piped into cupcakes, or atop a pavlova. The recipe will give you more cream than you need for the sandwiches and will save in the fridge for several days.
If I haven't sold you on these cookie sandwiches yet, let me just tell you that they are also grain-free, paleo-friendly, and packed with protein and fiber. My kind of cookie sandwich. Happy weekend, friends!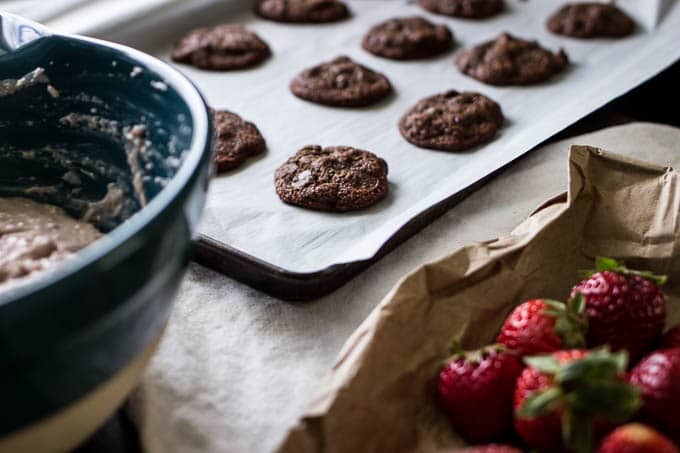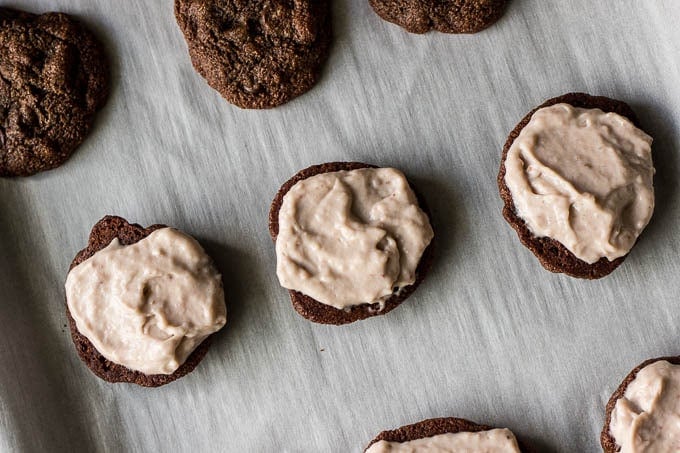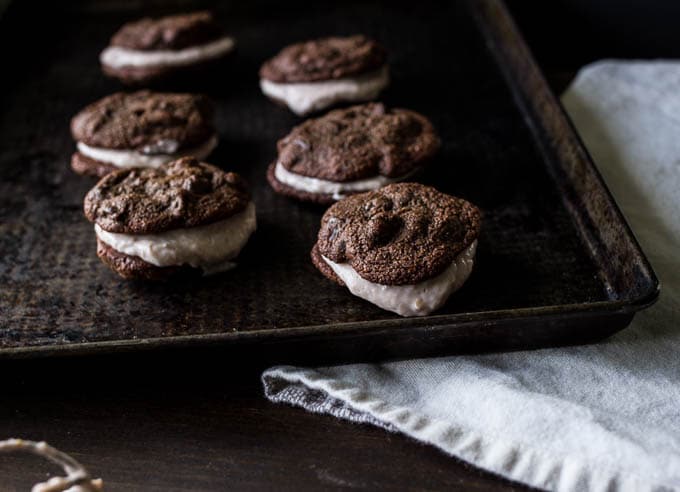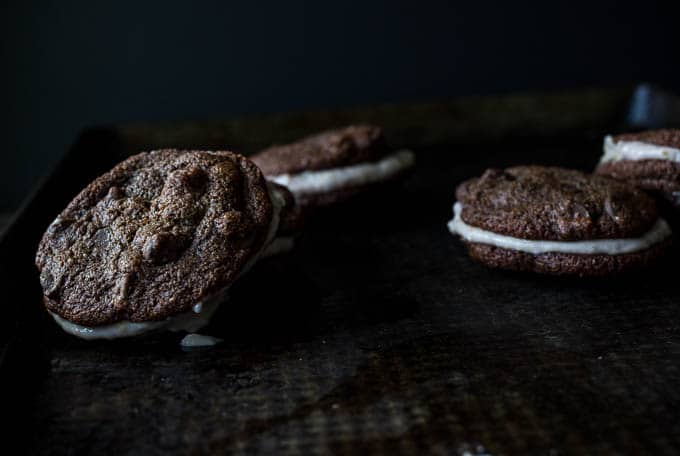 Double Chocolate Chip Cookie Sandwiches with Strawberry-Coconut Cream
Gluten-free and paleo Double Chocolate Chip Cookie Sandwiches with Strawberry-Coconut Cream is a delicious spring dessert for any occasion.
Print
Pin
Rate
Servings:
10
-12 sandwiches
Ingredients
Strawberry-Coconut Cream
2

tablespoons

cold water

2

teaspoons

powdered gelatin

I use Great Lakes brand

4

large

egg yolks

¼

cup

honey

1 ½

cups

full fat coconut milk

1

teaspoon

pure vanilla extract

2 ½

cups

halved and quartered strawberries
Double Chocolate Chip Cookies
Instructions
For Strawberry Coconut-Cream:
In a small bowl, sprinkle powdered gelatin over cold water. Set aside.

In a food processor or blender, process strawberries until smooth. Set aside.

In a large glass bowl, whisk egg yolks and honey together until well combined and the mixture becomes slightly frothy.

In a medium saucepan, bring coconut milk just to a boil over medium heat. When coconut milk has just reached a boil, carefully and slowly pour milk into egg yolk mixture, whisking constantly. Then, pour the entire mixture back into the saucepan and cook over medium heat until it has thickened slightly (about 7-8 minutes), while stirring constantly.

Remove saucepan from heat, whisk in vanilla extract and pureed strawberries. Pour mixture into a clean bowl and whisk in your prepared gelatin. Cover and refrigerate for at least 3 hours or until cream has set and thickened.
For Double Chocolate Chip Cookies:
Preheat oven to 350 degrees Fahrenheit. Line a cookie sheet with parchment paper.

Combine flours, baking soda, salt, cocoa powder, butter, honey, and vanilla extract. Allow batter to rest for a few minutes.

Give batter a good stir and fold in chocolate chips.

Use small spoon to scoop batter and drop onto cookie sheet.

Bake cookies for 9 minutes. Allow to cool for 2-3 minutes on cookie sheet before removing and placing on cooling rack until completely cool.
To assemble cookie sandwiches:
Once cookies are completely cool and strawberry-coconut cream has set, beat cream with electric mixer until smooth. Spread cream with a knife over the bottom of one cookie and sandwich a second cookie to other side, bottom side facing cream. Be careful not to overstuff, as the cream will push out the sides.
Notes
Double Chocolate Chip Cookies adapted from my cookie recipe here. Strawberry-Coconut Cream adapted from The Urban Poser's My Paleo Patisserie.
Strawberry-Coconut Cream recipes yields about 2 cups.
The Strawberry-Coconut Cream in this recipe can be made ahead of time for a quicker assembly and kept in an airtight container in the fridge for 3-4 days. There will be more than you need for the cookie sandwiches, and the extra would work well on pavlovas, between cake layers or piped into pastries. The Double Chocolate Chip Cookies are indulgent as sandwiches and just as enjoyable on their own.
Nutrition
Calories:
418
kcal
|
Carbohydrates:
40
g
|
Protein:
7
g
|
Fat:
29
g
|
Saturated Fat:
17
g
|
Polyunsaturated Fat:
1
g
|
Monounsaturated Fat:
4
g
|
Trans Fat:
1
g
|
Cholesterol:
98
mg
|
Sodium:
244
mg
|
Potassium:
177
mg
|
Fiber:
4
g
|
Sugar:
32
g
|
Vitamin A:
386
IU
|
Vitamin C:
22
mg
|
Calcium:
69
mg
|
Iron:
3
mg
SaveSave