An easy, delicious, snack recipe, these Nut and Seed Protein Bites with Maple-Sweetened Dark Chocolate are great on-the-go or as a simple dessert.
Every time the academic year comes to a close I find myself in a transitional lurch. From super structure and routine I am catapulted into the complete opposite before I even know what's happened. Sounds wonderful, you say? It is, to be sure. But my obsessive need to be doing gives me a guilt trip like no other when routine disappears. We've already spent several nights in a row staying up late to watch way too many episodes of The Fall on Netflix. Consequently, (my night owl husband unfazed) the next morning doesn't start nearly as early as I'd hoped. And man, the guilt starts creeping on in.
I need to chill the f--- out and enjoy, right? Probably. Most definitely. This week, as I have been planning and executing a new routine, these little nut and seed protein bites with maple-sweetened dark chocolate have been my answer to keeping my hands busy. Pressing the mixture between my palms, sprinkling the tops with sea salt, and giving each a coat of maple-sweetened chocolate was methodic and comforting.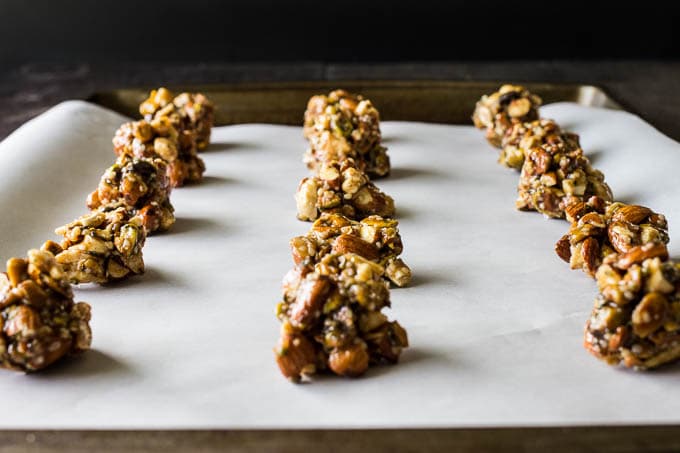 I am especially digging the extra oomph of protein that the hemp hearts provide, in addition to the almonds, cashews, pistachios, and almond butter. I may just start throwing them in everything. Their neutral flavor adapts to its surroundings with a nicely added crunch. And if you don't have these same nuts on hand, feel free to sub for nuts you do. While they didn't seem to last long around our house this week, I would keep the protein bites in an airtight container for a longer keep.
Also, this week I was so happy to take part in ex-Presso's Food for Thought series where I shared about my journey to becoming gluten-free. The other stories in this series are so interesting and inspiring. I recommend you check them out!
Print
Protein Bites with Maple-Sweetened Dark Chocolate (Gluten-Free, Vegan)
Ingredients
Nut and Seed Bites
1

cup

raw almonds

chopped

½

cup

raw pistachios

chopped

¼

cup

heaping raw cashews, chopped

¼

cup

hemp hearts

¼

cup

unsalted almond butter

¼

cup

maple syrup

grade B preferred

1

teaspoon

vanilla extract

1

teaspoon

sea salt plus additional for sprinkling

cooking spray
Maple-Sweetened Dark Chocolate
8-

ounce

unsweetened chocolate bar

chopped

2

teaspoons

pure vanilla extract

½

cup

maple syrup

room temperature

¼

teaspoon

sea salt
Instructions
Preheat oven to 350 degrees Fahrenheit. On a baking sheet, spread almonds, pistachios, and cashews and toast in oven for about 5 minutes. Watch carefully so they don't burn. Pistachios seem to toast up quicker than the other nuts.

Set toasted nuts aside and allow to cool. In a small saucepan, combine almond butter and maple syrup on low heat. Once thoroughly combined, whisk in vanilla extract and sea salt. Place nuts in a large bowl, add hemp hearts and almond butter mixture. Stir until nut mixture is evenly coated.

Line two baking sheets with parchment paper. Spray your hands with cooking spray, and using a small spoon scoop nut and seed mixture and form a ball with your hands. Place on baking sheet. Spray your hands with cooking spray intermittently so that mixture does not stick to hands. Repeat until entire mixture has been formed into balls. Sprinkle additional sea salt over each bite. Place baking sheets in refrigerator for at least 30 minutes or until bites have firmed up.

Once the bites have chilled, place the chopped chocolate in a glass or microwave safe bowl and microwave for 30 second intervals, stirring after each interval. When chocolate has melted, whisk in vanilla extract, maple syrup, and salt. Working quickly while chocolate is melted, dip the bottoms of the bites in the chocolate and place them back on the baking sheet with parchment. I find using a small spoon to scoop up the melted chocolate and place the bottoms of the bites on the spoon works best.

Place baking sheets back in the refrigerator until chocolate has hardened. Transfer to an airtight container to store.
SaveSave