A coconut lover's dream, this gluten-free Coconut Cake with Blackberry-Coconut Whipped Cream and Mixed Berries is a delicious and simple dessert. Grain-free, dairy-free, refined sugar-free.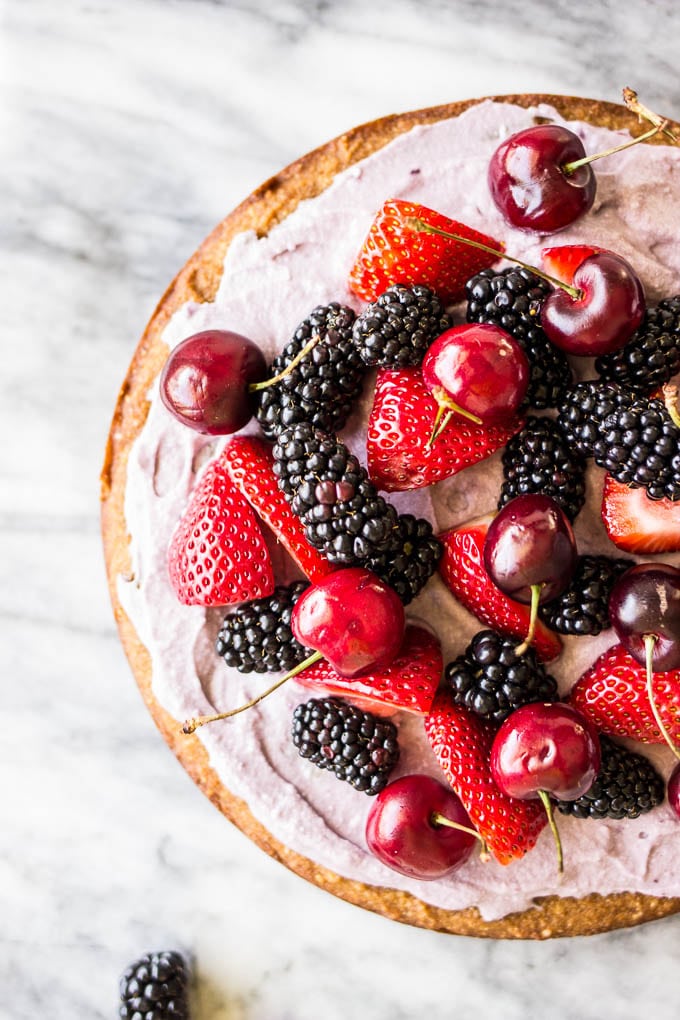 In the last two weeks I've spent a lot of time sitting on the bedroom floor surrounded by photos, mementos, scrapbooks, and special objects that have followed me for years from place to place. The things that I just can't seem to part with even though they sit forgotten in a box until the next time I move somewhere new and I pull them out all over again. This sorting and repacking system gets me nowhere – nothing is ever discarded and the box(es) of important things only grows.
We move into our new home next week and the two of us have been determined to simplify and streamline this time. As we sort, discard, and donate, we've been listening on audio book to The Life-Changing Magic of Tidying Up by Marie Kondo. Granted, this is probably not the order in which you should do things – I wish I had listened to this years ago – but it has been extremely helpful even in the midst of our de-cluttering chaos. With ample trips to Goodwill and saying goodbye to many of the things I have carried with me from high school to college to grad school and beyond (so long high school swim shorts with paint splatters), it has been surprisingly freeing. It's the experiences I want to carry with me, not the boxes.
Before I boxed up our little kitchen, I wanted to bake one last thing. Something happy and bursting with summer's finest. I slightly adapted this recipe from Food52 and upped the coconut factor best I could by using coconut sugar and coconut milk. I stuck with butter but plan to try this at some point using coconut oil instead. The cake is moist and deliciously coconut-ty, and the variety of tart and sweet summer fruits on top only enhance the cake-eating experience. By pureeing and straining blackberries, the coconut whipped cream becomes a vibrant lavender and only increases the happiness factor.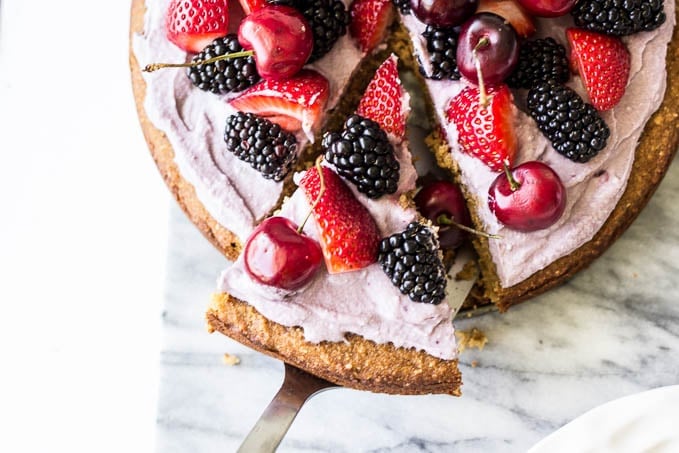 So, as I say adieu to my little kitchen and objects of the past, I'm saying a big hello to this coconut dream of a cake. Happy weekend!
Print
Coconut Cake with Blackberry-Coconut Whipped Cream and Mixed Berries (Gluten-Free)
A simple cake made with coconut and almond flours makes for an easy, grain-free and gluten-free dessert. Feel free to use berries of your choosing.
Ingredients
Blackberry-Coconut Whipped Cream
1

can full-fat coconut milk

chilled overnight

1

cup

blackberries

1

tablespoon

honey or maple syrup

1/2

teaspoon

pure vanilla extract
Coconut Cake
1

cup

coconut sugar

3/4

cup

butter

3

eggs

1/2

cup

coconut milk

full-fat

1

teaspoon

pure vanilla extract

1/2

cup

coconut flour

1 1/2

cups

almond flour/meal

2

teaspoons

baking powder

2

cups

summer berries

I used strawberries, blackberries, and cherries
Instructions
For Coconut Cake: Preheat the oven to 350 degrees Fahrenheit. Grease a 9-inch pan and line bottom with parchment.

In a medium bowl, cream coconut sugar and butter until light and fluffy in appearance. Add the eggs one at a time, mixing after each addition. Add coconut milk and vanilla extract and mix until all ingredients are evenly combined.

In another medium-sized bowl, whisk coconut flour, almond flour, and baking powder.

Add dry ingredients to the wet until all is incorporated.

Pour batter into cake pan and bake for 35-40. The top cake should be golden brown and a toothpick should come out clean. Allow cake to cool in pan for 10 minutes. Remove cake from pan and let it cool the rest of the way. Then refrigerate for at least 30 minutes before serving. This will help it firm and make it easier to slice.

For Blackberry-Coconut Whipped Cream:

In a food processor or blender, puree 1 cup blackberries and strain through a sieve into a small bowl. Scoop the solid coconut milk from the top of the can and place in a medium bowl. With electric mixer whip until fluffy. Add blackberry puree, vanilla extract, and honey and whip until combined.

Assembling Cake When ready to assemble, spread blackberry-coconut whipped cream on top of cake. Top with berries and serve. Keep leftover cake in an airtight container in the refrigerator.
Notes
Cake slightly adapted from here.
SaveSave
Related Posts