Today's post is part of a virtual baby shower in celebration of fellow blogger, Sarah of Snixy Kitchen.
Sarah and her husband Lucas are expecting their first baby girl very soon, and to celebrate, several lovely bloggers have come together to cook up some recipes with some of Sarah's favorite things: sweets and cheese!
Sarah and I connected a little over a year ago through our blogs and discovered that we had both ditched gluten for the same reason, our horrible chronic migraines.
If you haven't been to Sarah's blog, it is full of wonderful sweet and savory gluten-free recipes, as well as beautiful photography.
This pavlova with mascarpone coconut cream and candied citrus is a blend of some of Sarah's favorite things - sweets, cheese, and free of gluten! For the best and easiest assembly results, make your candied citrus at least one day ahead to allow them to completely dry.
One huge, tasty bonus of making the candied citrus is that it makes a perfect syrup to drizzle over the completed dessert. And, a second bonus, if you like cocktails, the leftover syrup doubles as a citrus-infused simple syrup.
Double the water and the sugar for the candied citrus recipe below, and I have a cocktail recipe for you with that citrus syrup!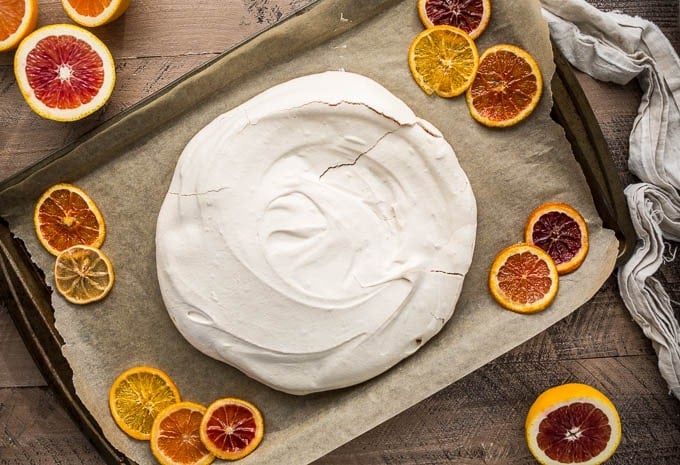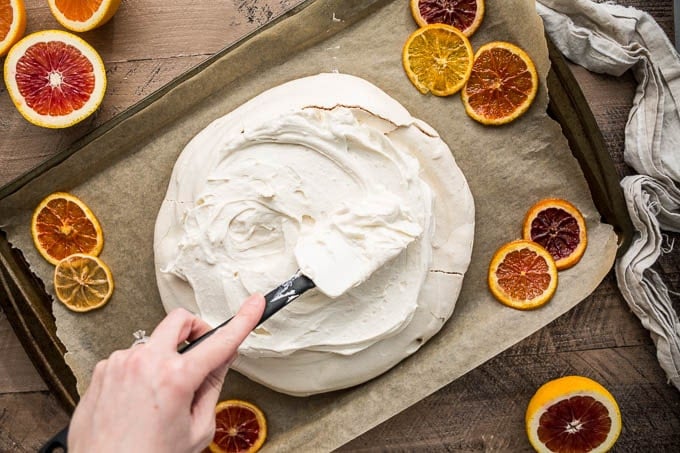 To get in on all the baby shower party action today, check out all the deliciously sweet and cheese-inspired recipes below.
You can also follow along on social media with the #cheesebabyshower hashtag. Congrats, Sarah and Lucas!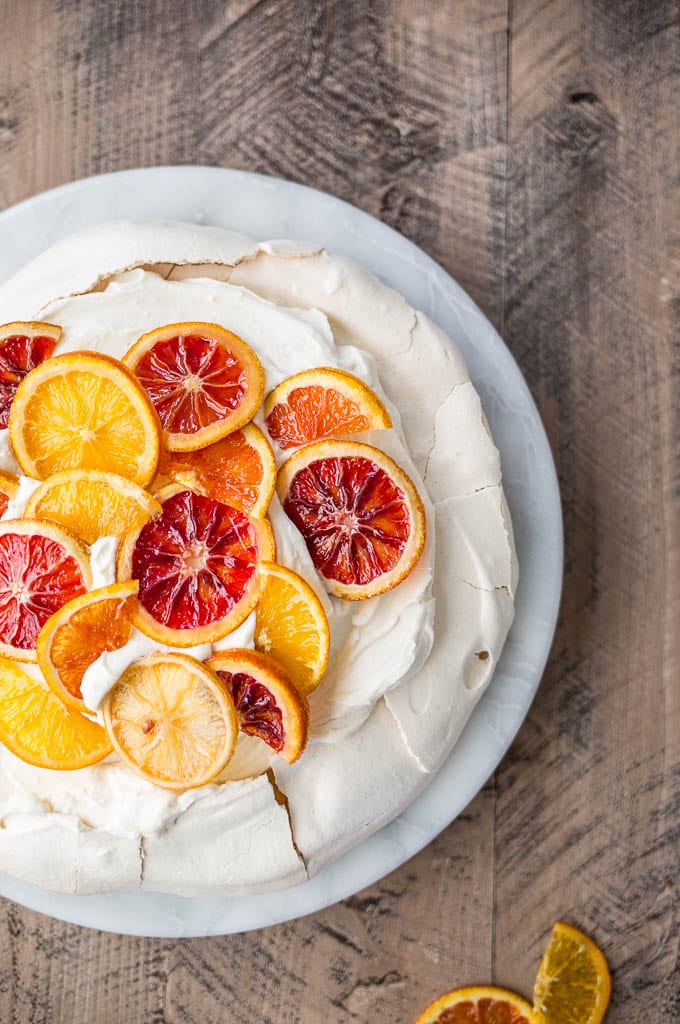 Cheesy Things
Sweet Things
Cheesy & Sweet Things
Pavlova with Mascarpone Coconut Cream and Candied Citrus (Gluten-Free)
Author:
Prep time:
Cook time:
Total time:
Sweet and light, this makes a perfect vehicle for winter citrus. To allow candied citrus to dry completely, make them the night before. Be sure to save the remaining syrup from the candying process to drizzle over completed pavlova. Want to make have additional syrup to save as a citrus-infused simple syrup? Double the amounts of sugar and water called for in the recipe.
Ingredients
[i]For the Candied Citrus:[/i]
10-12 thin slices of assorted citrus (I used navel, cara cara, blood orange, and lemon)
1 cup unrefined organic cane sugar
1 cup water
[br]
[i]For the Pavlova:[/i]
4 large egg whites, room temperature
pinch of salt
2 teaspoons cornstarch
1 teaspoon distilled vinegar
½ teaspoon pure vanilla extract
a couple dashes ground cinnamon
[br]
[i]For the Mascarpone Coconut Cream:[/i]
1 cup coconut cream
1 cup mascarpone
¼ cup unrefined organic cane sugar
1 teaspoon pure vanilla extract
Instructions
For the Candied Citrus (made day ahead to allow for drying time): In a medium skillet, bring cane sugar and water to a simmer, stirring occasionally until sugar has dissolved. Add citrus slices in a single layer. Simmer for about an hour or until citrus rinds are almost translucent.
When the citrus slices are done, remove the saucepan from the heat. Using tongs or chopsticks, remove citrus slices and place on a wire rack with a piece of parchment paper placed underneath to catch drips. Allow citrus slices to dry completely. Save remaining syrup from the saucepan in an airtight container.
For the Pavlova: Preheat the oven to 250 degrees Fahrenheit. Line a baking sheet with parchment paper. Using a 9-inch cake pan, trace the cake pan on the middle of the parchment. Flip parchment paper over. You should be able to see your circle.
In a dry, clean bowl, add egg whites and salt. Using an electric mixer, mix on medium speed for about 2 minutes until whites begin to lighten and there are very little bubbles.
Sift the cornstarch over the whites, drizzle the vinegar and vanilla extract over whites, and add a couple dashes of cinnamon. Using a rubber spatula, gently fold in ingredients.
Use your rubber spatula to transfer the meringue to the center of the circle on the parchment paper. Smooth the meringue to the edge of the circle, making an even 1-inch high disk.
Bake for 60 minutes. Pavlova should be firm to touch but soft in the middle. Remove from oven and allow to cool completely on a wire rack.
For the Mascarpone Coconut Cream: While the pavlova is cooling, combine coconut cream, mascarpone, cane sugar, and vanilla extract in a medium bowl. Mix on medium speed until ingredients are incorporated and mixture is smooth.
To Assemble: Once pavlova is cool, carefully transfer to a cake stand or serving platter if desired. Gently top pavlova with mascarpone coconut cream and spread towards edges leaving at least a 1-inch perimeter. Arrange candied citrus on top of mascarpone coconut cream. Drizzle remaining syrup from the candied citrus if desired. Slice into wedges and serve immediately.
Notes
Candied Citrus adapted from [url href="http://whatsgabycooking.com/candied-citrus-cake/#.VQm9HxDF8m8" target="_blank"]What's Gaby Cooking[/url]. Pavlova recipe adapted from [url href="http://www.chowhound.com/recipes/pavlova-with-lemon-curd-and-fresh-berries-29539" target="_blank"]Chowhound[/url].