It's during this time of year that I totally embrace my inner homebody.
Warming drinks like this cardamom old fashioned and this cinnamon rosemary old fashioned are just what cooler days and evenings need.
Recently, as I was recipe testing candied citrus for Sarah's #cheesebabyshower, I had quite a bit of syrup left over. Heath and I were about to sit down and cozy up for another Fargo-fest when we realized we were out of wine.
What to do!
Staring me in the face was the remainder of the syrup from the candied citrus. Bingo! The leftover syrup was citrus-infused simple syrup. How good would that be in a hot toddy?!
The process of infusing the simple syrup naturally candies the citrus. Once the syrup is ready, place the citrus on a wire rack, allow it to dry completely, and you have a candied garnish for your drink!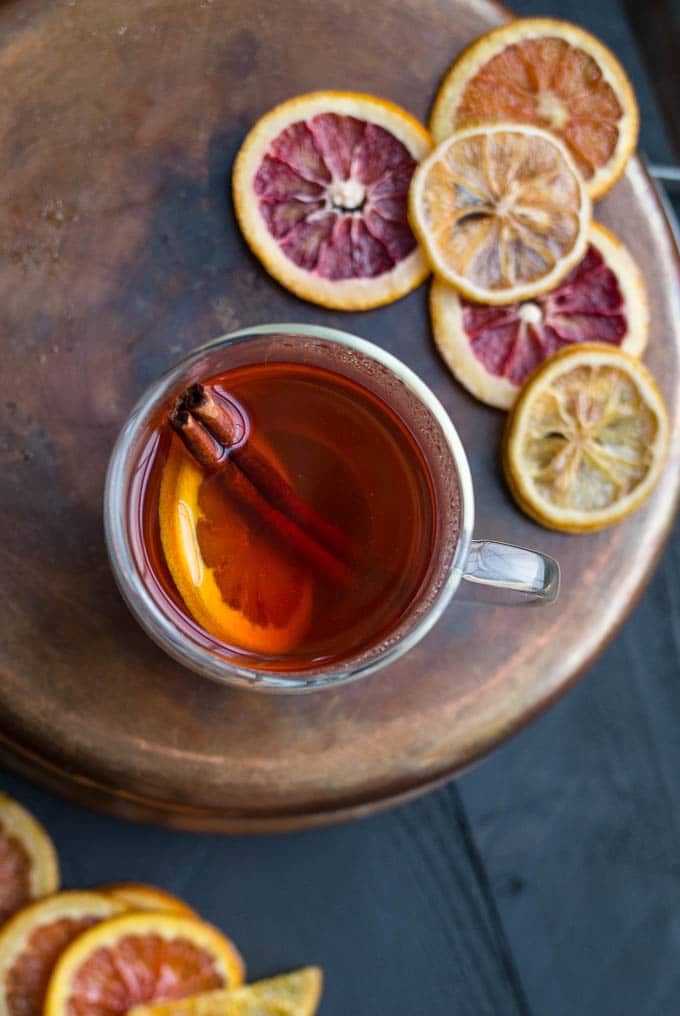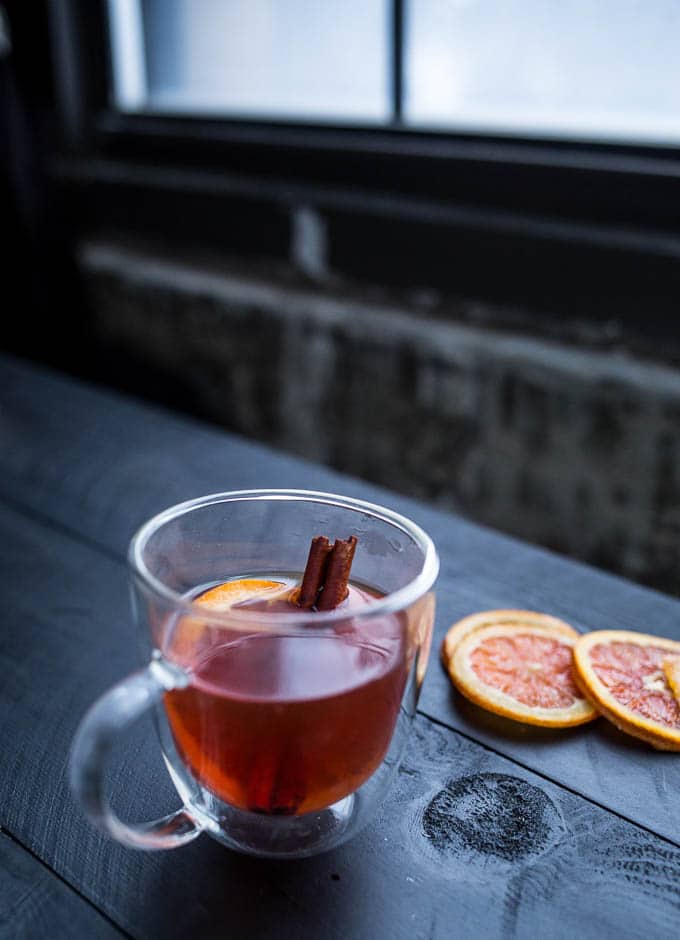 Make a Salted Plains recipe? I'd love to see! Tag your creations on Instagram with #saltedplains!
Winter Citrus Hot Toddy
Author:
Prep time:
Cook time:
Total time:
This take on the hot toddy yields a citrus-infused simple syrup as well as candied citrus for garnish. If you are sensitive to gluten-grain-based bourbon, Hudson Baby Bourbon is a100% corn based and could be a good alternative.
Ingredients
For the Winter Citrus Simple Syrup:
10-12 thin slices of one type or assorted citrus (I used navel, cara cara, blood orange, and lemon)
1 cup unrefined organic cane sugar
1 cup water
For the Hot Toddy:
1 ½ ounces bourbon
2 teaspoons winter citrus simple syrup
3 ounces black tea, hot
1 cinnamon stick
1 candied citrus slice or fresh citrus slice, for garnish
Instructions
For the Winter Citrus Simple Syrup: In a medium skillet, bring cane sugar and water to a simmer, stirring occasionally until sugar has dissolved. Add citrus slices in a single layer. Simmer for about an hour or until citrus rinds are almost translucent.
When the citrus slices are done, remove the saucepan from the heat. Using tongs or chopsticks, remove citrus slices and place on a wire rack with a piece of parchment paper placed underneath to catch drips. Allow citrus slices to dry completely and then store in an airtight container in the refrigerator. Save remaining syrup from the saucepan in an airtight container and store in refrigerator.
To make the Hot Toddy:
Add first three ingredients into a mug. Stir with cinnamon stick and leave in mug. Add citrus slice for garnish if desired. Note: If garnishing with a candied slice, it will make the hot toddy sweeter.
Notes
Inspired by my [url href="https://saltedplains.com/pavlova-with-mascarpone-coconut-cream-and-candied-citrus-gluten-free/"]Pavlova with Mascarpone Coconut Cream and Candied Citrus[/url] and [url href="https://saltedplains.com/bourbon-thyme-cocktail/"]Bourbon Thyme Cocktail[/url].