Looking for a tamari substitute? Explore our guide to find the best tamari alternatives such as coconut aminos and soy sauce. Learn how to make substitutions for similar results in a variety of recipes.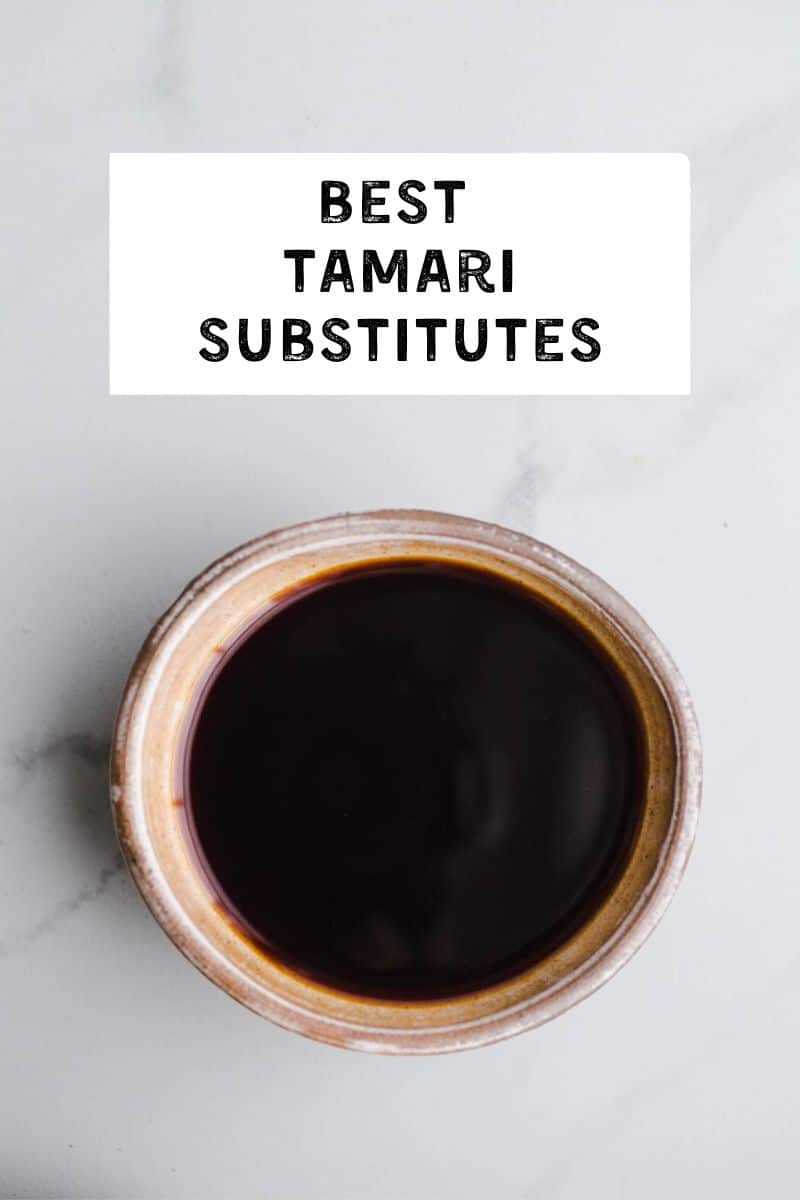 Jump to:
What is tamari?
Tamari is a type of Japanese soy sauce that was brought to Japan from China in the 7th century A.D.
It is traditionally made from fermented soybeans, water, and salt and is the byproduct of the miso paste ripening process. Made without wheat, tamari has become a great option for those with Celiac disease, gluten sensitivity, or on a gluten-free diet.
Tamari is known for its rich, savory flavor and is often described as having a deeper, less salty taste compared to regular soy sauce.
Uses
A versatile ingredient that adds a rich umami flavor, tamari can be used in a variety of cooking applications.
Seasoning and flavoring - Used as a seasoning to enhance the flavor of a wide range of dishes. It adds a rich, savory taste. Add it to season savory dishes like stir-fries, sautés, roasted vegetables, soups, stews, and marinades.
Dipping sauce - It can be served as a dipping sauce for sushi, sashimi, dumplings, spring rolls, or other appetizers. It can be used on its own or mixed with other ingredients like ginger, garlic, or sesame oil to create a flavorful dipping sauce.
Salad dressing - Incorporated with other ingredients, it can be used in homemade salad dressings. Combine it with ingredients like vinegar, oil, citrus juice, honey, or mustard to create a tasty dressing for salads or grain bowls.
Stir-fry sauce - Tamari works well as a base for gluten-free stir-fry sauces. Combine it with other ingredients such as garlic, ginger, sesame oil, and sweeteners like honey or maple syrup to create a flavorful sauce for stir-fried vegetables, proteins, or noodles.
Glaze and marinade - It can be used as a component in glazes and marinades for meats, tofu, or vegetables. Its rich flavor helps to impart a savory taste and can enhance caramelization when grilled, baked, or roasted.
Seasoning for rice and grains - Drizzle tamari over cooked rice, quinoa, or other grains to add a savory flavor. It can also be mixed into rice dishes or grain salads for added depth.
What are the best substitutes for tamari?
1. Soy Sauce
Regular soy sauce can be used as a substitute in most recipes. It has a similar flavor and shares the main ingredient, soybeans. However, if you're specifically looking for a gluten-free option, some brands do make "gluten-free soy sauce" options.
The main difference between soy sauce and the tamari-style gluten-free soy sauce is that uses rice in place of traditionally used wheat.
To substitute, use a 1:1 ratio. Keep in mind that soy sauce is typically more salty.
2. Coconut Aminos
Coconut aminos are a popular soy-free alternative to soy sauce and tamari, especially for those following a gluten-free, soy-free diet, keto, or vegan diet.
It is made from the coconut sap from coconut trees that has a similar taste but with a slightly sweeter flavor. This gluten-free alternative also has less sodium.
To substitute, use a 1:1 ratio.
3. Liquid Aminos
Liquid aminos are another good tamari substitute that is often made from soybeans, water, and salt. They can be used as an alternative in many recipes but don't have a strong umami flavor.
Some brands are gluten-free, but not all liquid aminos are without gluten. Check the ingredient label and allergen statement before purchasing.
To substitute, use a 1:1 ratio. Because liquid aminos less salty, start with a 1:1 ratio and add more if needed to suit the recipe. This also may mean adding more salt.
4. Fish sauce
Fish sauce is commonly used in Southeast Asian dishes. It is made from fermented fish and has a strong, pungent aroma, umami taste, and salty flavor.
Fish sauce adds a distinctly unique flavor profile and is often used in marinades, dipping sauces, and as a seasoning. Like liquid aminos, not all brands are made gluten-free. Check the ingredient label and allergen statement before purchasing.
To substitute, start with a small amount in place of the tamari that is called for in the recipe. You may want to add a little water to dilute the strong, salty flavor of the fish sauce.
5. Mushroom liquid seasoning
Mushroom liquid seasoning can be a suitable gluten-free tamari sauce substitute in some instances. Depending on the specific recipe and desired flavor profile, mushroom liquid seasoning is a concentrated liquid made from mushrooms, which provides a rich, savory taste.
To substitute, start by using a similar amount of mushroom liquid seasoning as the amount of tamari called for in the recipe. Keep in mind that the flavor intensity can vary between different brands of mushroom liquid seasoning, so it's best to start with a slightly smaller quantity and adjust as needed.
Tips
As with any substitution, it's important to consider the overall taste and characteristics of the dish you're preparing. Consider the flavor profile, texture, and consistency of the substitute. Adjust the quantity and balance the saltiness if needed.
FAQs
Is tamari vegetarian and vegan?
Traditional tamari is made from fermented soybeans, water, and salt, making it suitable for vegetarian and vegan diets. However, some commercial tamari products may contain additional ingredients or flavorings that are derived from animal sources or may not be vegan-friendly.
How do you store tamari?
 While not always necessary, refrigerating tamari can help extend its shelf life. If you prefer to refrigerate it, make sure it is stored in a sealed container.
Where can you purchase tamari?
Tamari can be found in your local grocery store, health food store, or online. 
Conclusion
In conclusion, there are several tamari replacements that have a similar umami flavor. Depending on the recipe and desired flavor and texture, soy sauce, coconut aminos, and mushroom liquid seasoning are all great substitutes.
More recipes with tamari