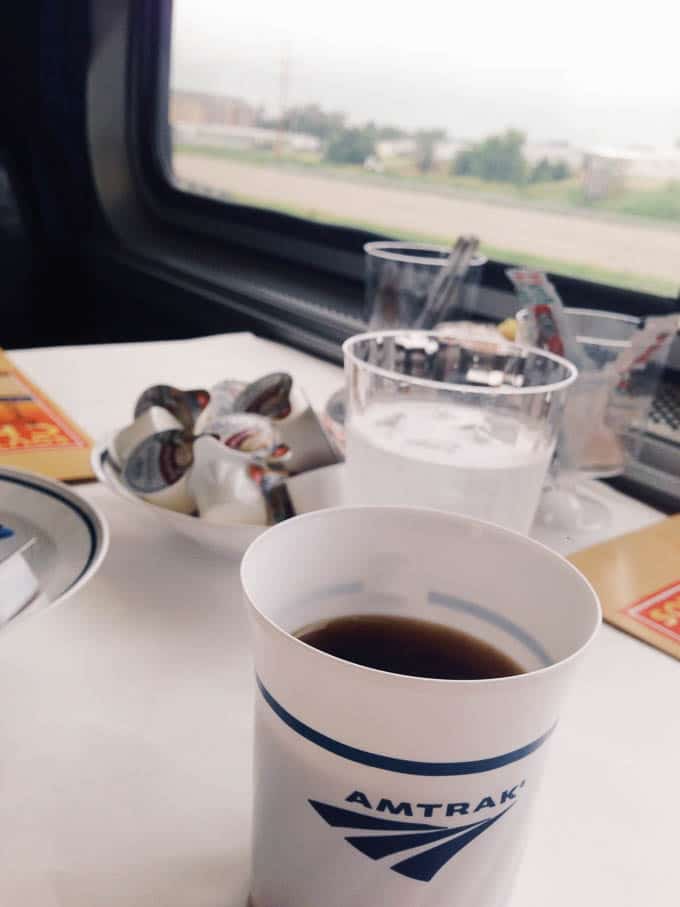 Heath and I celebrated our 5th wedding anniversary this month (what?!), and in honor of the occasion, took a long weekend by train to Santa Fe, New Mexico.
Having spent part of a day in Santa Fe while passing through on a road trip a few years ago, we have since wanted to go back and explore more of the magical city.
In anticipation of our time on the rails being as much of the adventure as our destination, we boarded the Southwest Chief train at Kansas City's Union Station.
In a week where news in our world has seemed particularly dark, the people we met and the stories we heard on our trip brought a brightness and a timely reminder of the lovely parts of the human spirit.
There were the two passengers traveling from the East Coast that were both stranded in Chicago after a train delay, that became friends and traveling companions through the ordeal after finally being able to board a new train. There was the woman that travels frequently from Kansas to New Mexico to visit and take care of her aging mother. And the man that became teary-eyed when describing our very own Kansas City Symphony's moving performance in the Flint Hills of Kansas this summer. And then there was the 5th grade teacher that takes the train every summer from North Carolina to visit her daughters in Los Angeles and Chicago, alternating routes each time for a new experience.
These conversations left me energized and wanting to know more about each and every one of them.
This was a trend that continued once in Santa Fe, from our friendly cab driver to a local who pulled his car over to ask us what we were looking for. While this post is mostly photos, should you find yourself in Santa Fe, below are some places of note and some gluten-free friendly finds from our wandering through the city. My recipe for the no-bake granola bars I took on the train for snacks will be posted later this week!
Revolution Bakery - Santa Fe's only 100% gluten-free bakery, offering many dairy-free and vegan options as well. Worth the visit!
The Belltower Bar at the La Fonda Hotel - For a beautiful view of the city and a killer margarita, this rooftop bar has both.
Big Star Books and Collected Works - No matter what city we are in, one of our first orders of business is to find the local bookstores. Big Star offers used books while Collected Works an independent store with a coffeeshop.
The Santa Fe Farmer's Market - Located in the Railyard district, offering fresh produce and handcrafted goods. Grab one of their awesome breakfast burritos for a cheap and totally satisfying breakfast.
The Turquoise Trail and Madrid, NM - A national scenic byway that links Santa Fe and Albuquerque. Take the Turquoise Trail a short distance from Santa Fe to the funky little town of Madrid where you'll find fun shops and galleries.
Coyote Cafe's Rooftop Cantina - Another great place for a margarita and a view, the Rooftop Cantina serves great food at cheaper prices than the downstairs Coyote Cafe.
The Shed - A James Beard Award-winning restaurant inside a hacienda dating back to 1692. Make reservations for dinner or go for lunch and a shorter wait. Get the enchiladas!
Shake Foundation - For a quicker place to grab a bite, this place serves all-natural green chile cheeseburgers with gluten-free options. Didn't have one but the shakes looked amazing!