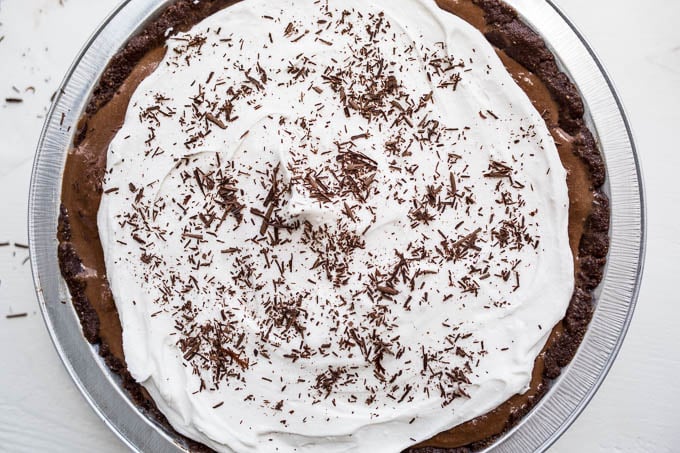 We have been on the road most of this week traveling and exploring the southwest. And just like back home, it is just plain hot outside. I will say, though, that I'll take this dry heat over humidity any day. (My hair agrees).
Chocolate ice cream pie came to mind a couple of weeks ago when I actually found a pre-made gluten-free graham cracker crust. As excited as I was to find this at my local grocery store, it was also filled with ingredients I wasn't so thrilled about consuming. So, I started brainstorming the kind of no-bake pie that I would want, and, well, you can see where that got us.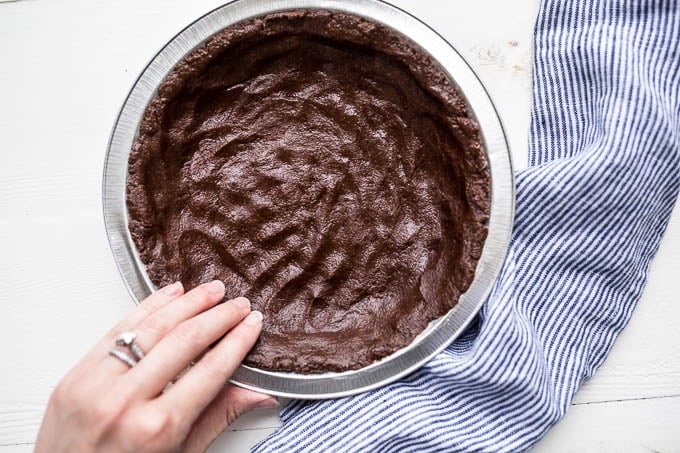 The chocolate no-bake crust comes together quickly. A mix of almond flour, cocoa powder, maple syrup, and coconut oil—it's pressed into a pie pan and awaits the ice cream. The vegan chocolate ice cream recipe I've included below is from Drizzle and Dip's 3-ingredient ice cream with slight variation. The beauty of this ice cream pie is really the versatility of how easy you want to make it. Fill with the store-bought ice cream of your choice if you'd like. It's hot. Dessert should be easy.
If you are making your own ice cream, preparing it the night before will make assembly the next day even faster. The toughest part is waiting for the pie to set in the freezer.
I've stored the finished product in the freezer tightly covered with plastic wrap and foil (maybe I'm paranoid?) and had a slice a couple of days later with no complaints. Stay cool, friends.
Make a Salted Plains recipe? I'd love to see! Tag your creations on Instagram with #saltedplains!
Chocolate Ice Cream Pie (Gluten-Free, Vegan)
Author:
This chocolate ice cream pie comes together quickest when ice cream is prepared the night before. The no bake crust can also be made ahead. If using store-bought ice cream, this comes together in no time.
Ingredients
[b]Filling:[/b]
⅔ cup water
½ cup cocoa powder
½ cup organic cane sugar
1 ¾ cups full fat coconut milk
¼ teaspoon pure vanilla extract
-OR-
1 pint store-bought chocolate ice cream of choice
[br]
[b]Chocolate Crust:[/b]
1 ½ cups almond flour
¼ cup cocoa powder
pinch of salt
3 tablespoons coconut oil, melted
3 tablespoons maple syrup, room temperature
[br]
[b]Topping:[/b]
2 13.6-ounce cans full fat coconut milk (chilled overnight) or coconut cream (chilled for 2 hours)
1 tablespoon maple syrup
½ teaspoon pure vanilla extract
Chocolate shavings
Instructions
[b]Filling:[/b] [i]If you are using store-bought ice cream, move on to the crust instructions. [/i] In a small saucepan, bring water, cocoa powder, and sugar to a boil until sugar has dissolved completely. Remove from heat and allow mixture to cool.
Once cooled, add coconut milk and vanilla extract and stir. Pour cooled mixture into a large Ziploc bag. Place the bag flat in the freezer until frozen (a few hours) or overnight. Once frozen, break frozen mixture into chunks and transfer to the bowl of a food processor. Process until smooth.
Transfer ice cream to a metal loaf pan and place in freezer until ready to use.
[b]Crust:[/b] Grease bottom and sides of a 9-inch pie pan [i]well[/i] with coconut oil. In a large bowl, combine almond flour, cocoa powder, and salt. Add melted coconut oil and maple syrup and stir until dry ingredients are moistened and dough comes together.
Transfer dough to prepared pan and press evenly into bottom and up sides. Place in freezer for 10 minutes or in refrigerator until ready to fill.
[b]Topping:[/b] Open cans of coconut milk/cream, and carefully scrape the firm top part out and into a medium bowl. Discard liquid or save to use for another recipe. With an electric mixer, beat on until soft peaks start to form. Add maple syrup and vanilla extract and beat until incorporated. Place in refrigerator until ready to assemble pie.
Assembly: Take your ice cream out of freezer and allow to soften slightly, about 5 minutes. Scoop ice cream into crust and spread to fill with a spatula. Place in freezer for 30 minutes to set.
When ready to serve, spread prepared coconut whipped cream on top and sprinkle with chocolate shavings.
Pie is easiest to cut if given a few minutes outside of freezer to soften just enough to slice and serve. A warm sharp knife works best. Wrap with plastic wrap and foil and store in freezer.
Notes
Vegan chocolate ice cream barely adapted from [url href="http://drizzleanddip.com/2016/04/13/3-ingredient-no-churn-vegan-chocolate-ice-cream-video" target="_blank"]Drizzle and Dip[/url].