Baking soda is a common household ingredient great for baking, cleaning, and more. But is it gluten-free? Learn about gluten-free baking soda options and how to ensure your baking ingredients are safe for a gluten-free diet.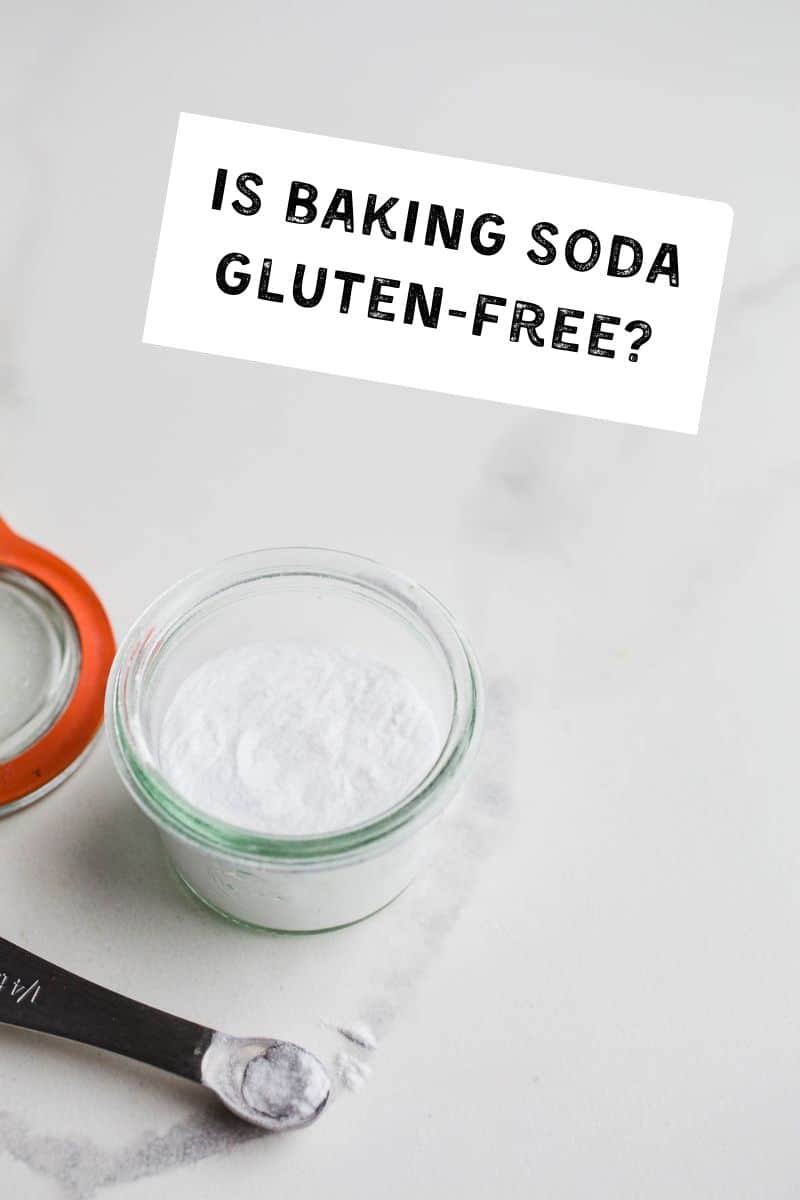 Is baking soda gluten-free? The short answer is, yes!
Baking soda is a chemical compound, pure sodium bicarbonate, and does not contain any gluten. It's made by mixing sodium, hydrogen, carbon, and oxygen molecules. The result is a fine, white powder.
Jump to:
What is baking soda used for?
Also known as bicarbonate of soda or bicarb soda, it is used in a variety of ways from baking and cooking, to cleaning, and health and wellness.
Baking - When it is combined with acidic wet ingredients, such as vinegar, lemon juice, or yogurt, the chemical reaction creates carbon dioxide bubbles. This combination of an acid and bicarb soda causes dough or batter to rise.
The reaction also helps to neutralize the acidic ingredients which can improve the flavor of baked goods. Even soaking chickpeas in a baking soda and water solution creates an alkaline environment that can help soften the skins, making them easier to remove.
Cleaning - It is a natural and effective cleaning agent. It can be used to clean and deodorize a variety of surfaces, including kitchen appliances, countertops, sinks, and even carpets.
Health and wellness - Sometimes used as a home remedy to relieve heartburn, soothe insect bites, or relieve sunburns.
Can you have baking soda with Celiac disease?
Those with Celiac disease, gluten allergies, or gluten sensitivity can have baking soda. It is a pure chemical compound and does not contain gluten.
As with any food or ingredient, it's important to always read labels carefully and check for any potential sources of gluten ingredients or cross-contamination when on a gluten-free diet.
Which baking soda is gluten-free?
While baking soda is inherently gluten-free, some brands may be certified gluten-free. This means that the product has been independently tested and confirmed to contain less than 20 parts per million (ppm) of gluten.
Food-grade baking soda can be found in the baking section at your favorite grocery stores.
The following brands have the certified gluten-free label and should not be at risk of cross-contamination. It is not an exhaustive gluten-free baking soda list but it is a great place to start.
It is important to always check the allergen statements and ingredient list to make sure nothing else has been added.
Bob's Red Mill
Frontier Co-op
Ener-g Baking Soda Substitute (not certified but made in a dedicated gluten-free facility)
The following are not certified gluten-free but are not processed in the same facility as wheat, barley, or rye.
Arm & Hammer
Good & Gather
Nutricost
What's the difference between baking soda and baking powder?
Both ingredients are leavening agents used in baking. Here are the main differences between the two:
1. Baking soda is a pure chemical compound while baking powder is a mixture of baking soda and one or more acidic ingredients, such as cream of tartar and/or sodium aluminum sulfate.
2. Baking soda reacts with acidic ingredients, such as lemon juice or apple cider vinegar. Baking powder contains both baking soda and an acid, so it can be used in recipes that do not contain acidic ingredients.
3. Most baking powders are "double-acting" baking powders. In contrast to single-acting powders, this means that they contain both a fast-acting acid and a slow-acting acid.
The fast-acting acid reacts with the baking soda as soon as it is mixed with liquid, while the slow-acting acid reacts with it when it is heated in the oven. This two-stage reaction helps to ensure that baked goods rise evenly and consistently during the baking process.
4. It has a long shelf life compared to baking powder. This is because it does not contain any acidic ingredients that can break down over time. Baking powder can lose its effectiveness if it is stored for too long or is exposed to moisture.
Like bicarbonate of soda, baking powder can be found in the baking aisle of your local grocery store.
Helpful tips
The brand information in this article comes from the brand websites at the time this article was written. Going direct to the brand website is the fastest way to get the most up-to-date allergen information on a specific product.
If cross-contamination is a concern, make sure you check the product label for information regarding its gluten-free designation. If it is not clear, always contact the brand directly.
Remember, just because a product does not use gluten-containing ingredients, does not necessarily mean it wasn't processed in a facility that produces foods with gluten ingredients.
Gluten-free recipes with baking soda