Psyllium husk is an excellent source of fiber and binding agent in baking. But is it gluten-free?
 Is psyllium husk gluten-free? The short answer is yes. In its natural state, it is gluten-free, but there are some essential things to look for to guarantee it is safe for a gluten-free diet.
Jump to:
What is psyllium husk?
Psyllium husk powder is made from the outer coating of whole psyllium husk seeds of the Plantago ovata plant. The husk of the psyllium seeds is dried and ground into a fine powder form that can be added to food and beverages to increase its fiber content.
It has health benefits for healthy digestion, including helping lower LDL cholesterol levels and dietary fiber.
The powder has a very mild, neutral taste and is virtually flavorless. Some people describe it as having a slightly earthy or nutty flavor, but it is not strong enough to significantly affect the taste of the foods or beverages it is added to.
It is commonly used in gluten-free recipes as a binding agent to help improve the texture of baked goods. It can also be added to smoothies, oatmeal, and other foods as a source of dietary fiber.
Is it safe for Celiac disease?
Psyllium husk is generally considered safe for individuals with Celiac disease. It is not a gluten-containing ingredient and does not contain the proteins that trigger an immune reaction in individuals with Celiac disease or those with gluten intolerance. 
As with any dietary supplement or ingredient, it's important to ensure that the product you choose is labeled as GF and has not been cross-contaminated during processing.
Types
The two primary types are whole psyllium husk and psyllium husk powder.
Whole - This type consists of the entire husk of the psyllium seed. Whole husks are often used as a dietary fiber supplement or added to foods and beverages to increase fiber intake.
Powder - This form is finely ground to create a smooth and fine powder. The powder is commonly used in gluten-free baking and cooking as a binding agent, as well as a dietary fiber supplement. You can also find the powder in capsule form.
Uses
Psyllium has a variety of uses:
Gluten-free baking: It's a popular ingredient in gluten-free as well as egg-free baking such as bread recipes, muffins, pastries, cakes, or even a gluten-free flour blend. When mixed with water, it creates a gel-like substance that acts as a binding agent. This psyllium gel can help gluten-free bakers improve the texture of baked goods.
Depending on what you need it for, flax seeds, chia seeds, guar gum, and xantham gum are all great substitutes for psyllium husk.
Digestive health: It can help the digestive system by promoting regular bowel movements and relieving constipation. It can also help soothe symptoms of irritable bowel syndrome (IBS) and inflammatory bowel disease (IBD).
General health and wellness: It is a great source of soluble and insoluble fiber, which is important for weight loss and overall health and wellness. It can also help promote regularity, improve digestion, and support a healthy gut microbiome.
Health benefits
The fiber-rich plant offers several potential health benefits:
Promotes digestive tract health
Supports heart health
Helps control blood sugar levels
Supports a healthy gut microbiome
Psyllium should be consumed with an adequate amount of water or fluids to prevent potential digestive discomfort. It's always advisable to consult with a healthcare professional before adding any new dietary supplement to your routine. This is especially true if you have underlying health conditions or are taking medications.
What brands are certified gluten-free?
In the United States, the FDA regulates the "gluten-free label" and those products with a "certified gluten-free label" are done by independent organizations with their own set of standards. Most often, these standards are stricter than the FDA's and use dedicated gluten-free facilities, but still must meet the FDA criteria.
While any 100% pure psyllium husk is naturally without gluten, some brands manufacture their products in facilities that process other gluten-containing grains and ingredients. If you are concerned about potential cross-contamination, the following are brands that have the certified gluten-free label:
These brands are labeled as GF but are not certified GF:
Anthony's (batch-tested for gf safety)
Now Foods
Organic India
Yerba Prima
Kate Naturals
Food to Live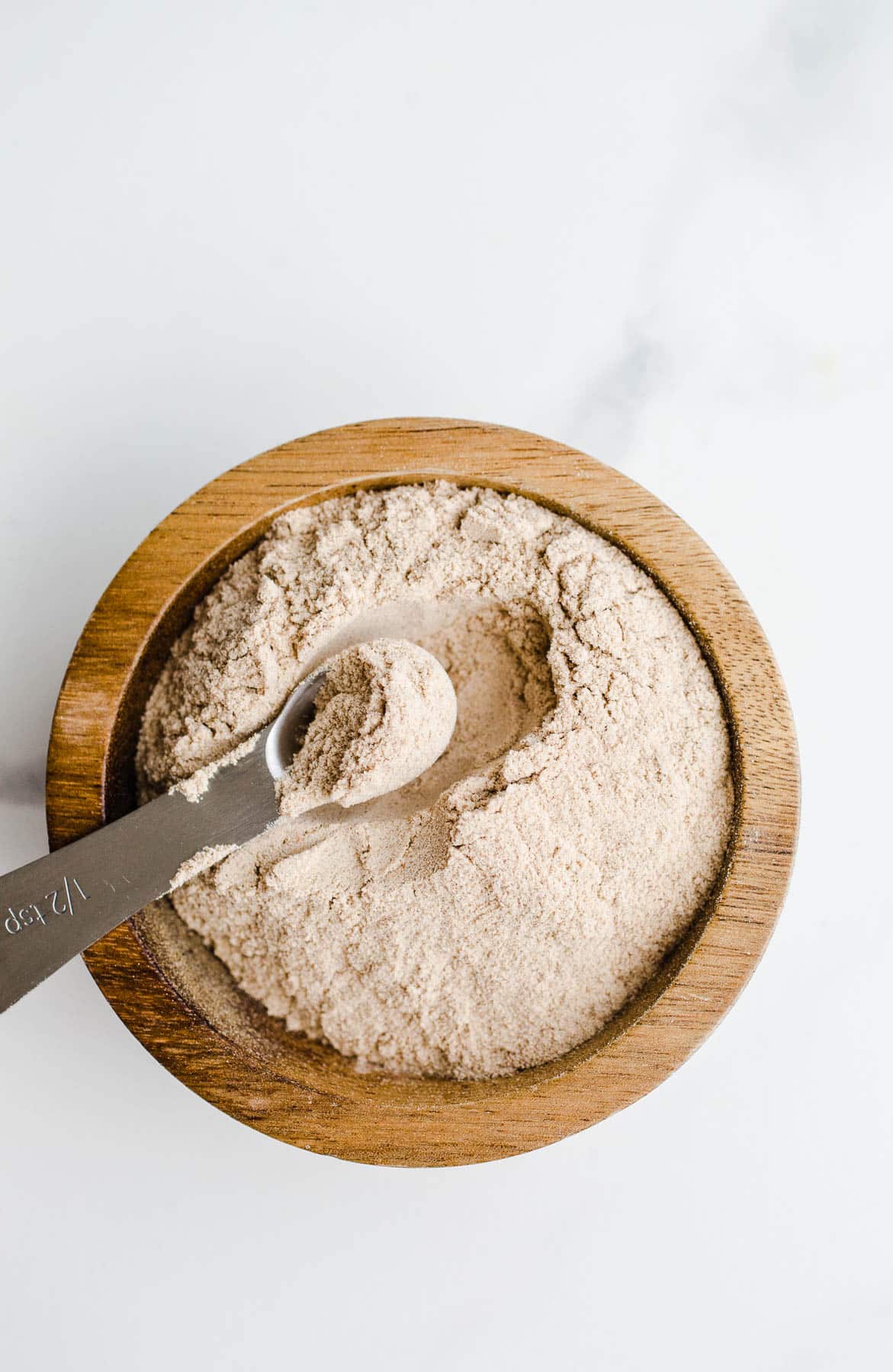 Helpful tips
The brand information in this article comes from the brand websites at the time this article was written. Going direct to the brand website is the fastest way to get the most up-to-date allergen information on a specific product.
If cross-contamination is a concern, make sure you check the ingredient label for information regarding its gluten-free designation. If it is not clear, always contact the brand directly.
Remember, just because a product does not use gluten-containing ingredients, does not necessarily mean it wasn't processed in a facility that produces foods with gluten ingredients.
​Conclusion
The coarse husks and powder from the psyllium plant are gluten-free and safe for those with Celiac disease and gluten sensitivity. Even so, checking food product labels is imperative to ensure there are no gluten-containing ingredients.
Gluten-free recipes with psyllium husk