Explore the best substitutes for psyllium husk powder in baking and cooking. Discover which alternatives work well in different recipes and can provide similar binding and bulking properties.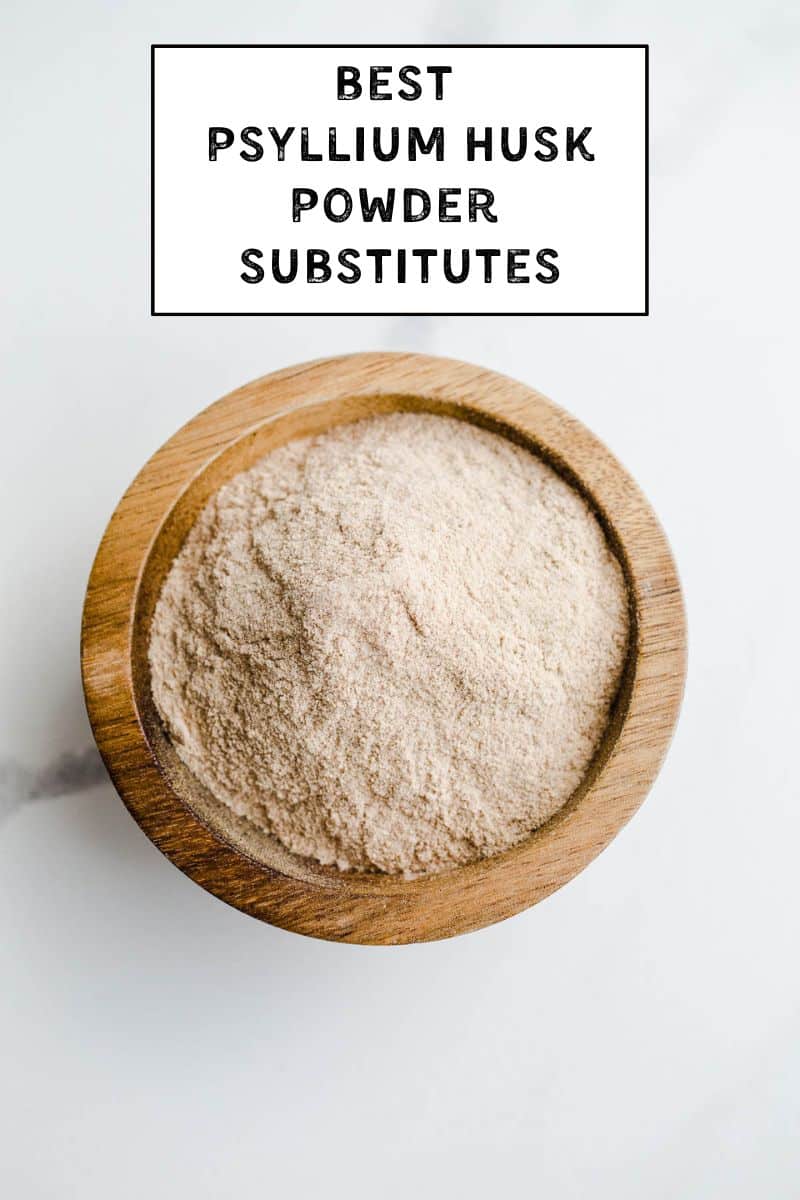 What is psyllium husk powder?
Psyllium husk powder is made from the outer coating of whole psyllium husk seeds of the Plantago ovata plant. The husk of the psyllium seeds is dried and ground into a fine powder form that can be added to food and beverages to increase its fiber content.
It has health benefits for healthy digestion that include helping lower LDL cholesterol levels and dietary fiber.
The powder has a very mild, neutral taste and is virtually flavorless. Some people describe it as having a slightly earthy or nutty flavor, but it is not strong enough to significantly affect the taste of the foods or beverages it is added to.
It is commonly used in gluten-free baking as a binding agent to help improve the texture of baked goods. It can also be added to smoothies, oatmeal, and other foods as a source of dietary fiber.
Uses
Psyllium husk has a variety of uses:
Gluten-free baking: It's a popular ingredient in gluten-free as well as egg-free baking such as gluten-free breads, muffins, pastries, and cakes. It acts as a binding agent and can help improve the texture of baked goods.
Digestive health: It can help the digestive system by promoting regular bowel movements and relieving constipation. It can also help soothe symptoms of irritable bowel syndrome (IBS) and inflammatory bowel disease (IBD).
General health and wellness: Psyllium husk is a great source of fiber, which is important for weight loss and overall health and wellness. It can also help promote regularity, improve digestion, and support a healthy gut microbiome.
What is a good substitute for psyllium husk powder?
Psyllium husk powder acts as a binding and thickening agent and can help improve the texture of baked goods. If you are looking for a substitute, here are some of the best substitutes and when to use them:
1. Chia seeds
Chia seeds are high in soluble fiber, which can help bind ingredients together in a similar way and are an excellent substitute.
To use chia seeds as a substitute, mix 1 tablespoon of chia seeds with 3 tablespoons of water and let it sit for a few minutes until it forms a gel-like consistency.
2. Ground flax seeds
Ground flaxseeds (flaxseed meal) are another high-fiber option that can be used as a great binder in baking. 
Mix 1 tablespoon of ground flaxseeds with 3 tablespoons of water and let it sit for a few minutes until it thickens.
3. Guar gum
Guar gum is another gluten-free option that can be used as a binding agent in baking. Made from legumes, known as guar beans, it also goes by the name guaran.
To substitute, use ½ teaspoon of guar gum per cup of flour in your recipe.
4. Xanthan gum
Xanthan gum is a common food additive often found in gluten-free flour blends. It helps thicken and bind ingredients together. It is derived from corn or soy, so may not be a good option for those with allergies or sensitivities.
Although it is widely used, it has been known to cause digestive issues and should be used sparingly.
It's important to note that xanthan gum may have a stronger binding effect and a slightly different texture. This may affect the overall texture and mouthfeel of your recipe, so it's a good idea to experiment with different substitution ratios and methods to find the best option for your needs.
You can substitute xanthan gum in a 1:1 ratio. If a recipe calls for 1 tablespoon of psyllium husk powder, you can use 1 tablespoon of xanthan gum instead.
FAQs
Can you use whole psyllium husk in baking?
Whole psyllium husk is not recommended for use in baking, as it has a coarser texture than psyllium husk powder. It may not distribute evenly throughout the batter or dough. This can result in clumps or pockets of powder in the finished product. 
Can psyllium husk powder replace eggs in baking?
Psyllium husk powder can be used as a substitute for eggs in some baking recipes, especially in vegan or egg-free recipes. For an egg substitute, mix 1 tablespoon of psyllium husk powder with 3 tablespoons of water to create a gel-like substance. This can then be added to the recipe in place of one egg. 
Conclusion
Choosing the right psyllium husk powder substitute depends on the recipe and desired outcome. There are several options available that can work well in baking and cooking for either thickening or binding.
Gluten-free recipes with psyllium husk