Easy Gluten-Free Bagels! Made with almond flour, white and brown rice flours, and arrowroot starch. The best gluten-free bagels can be yours. Vegan.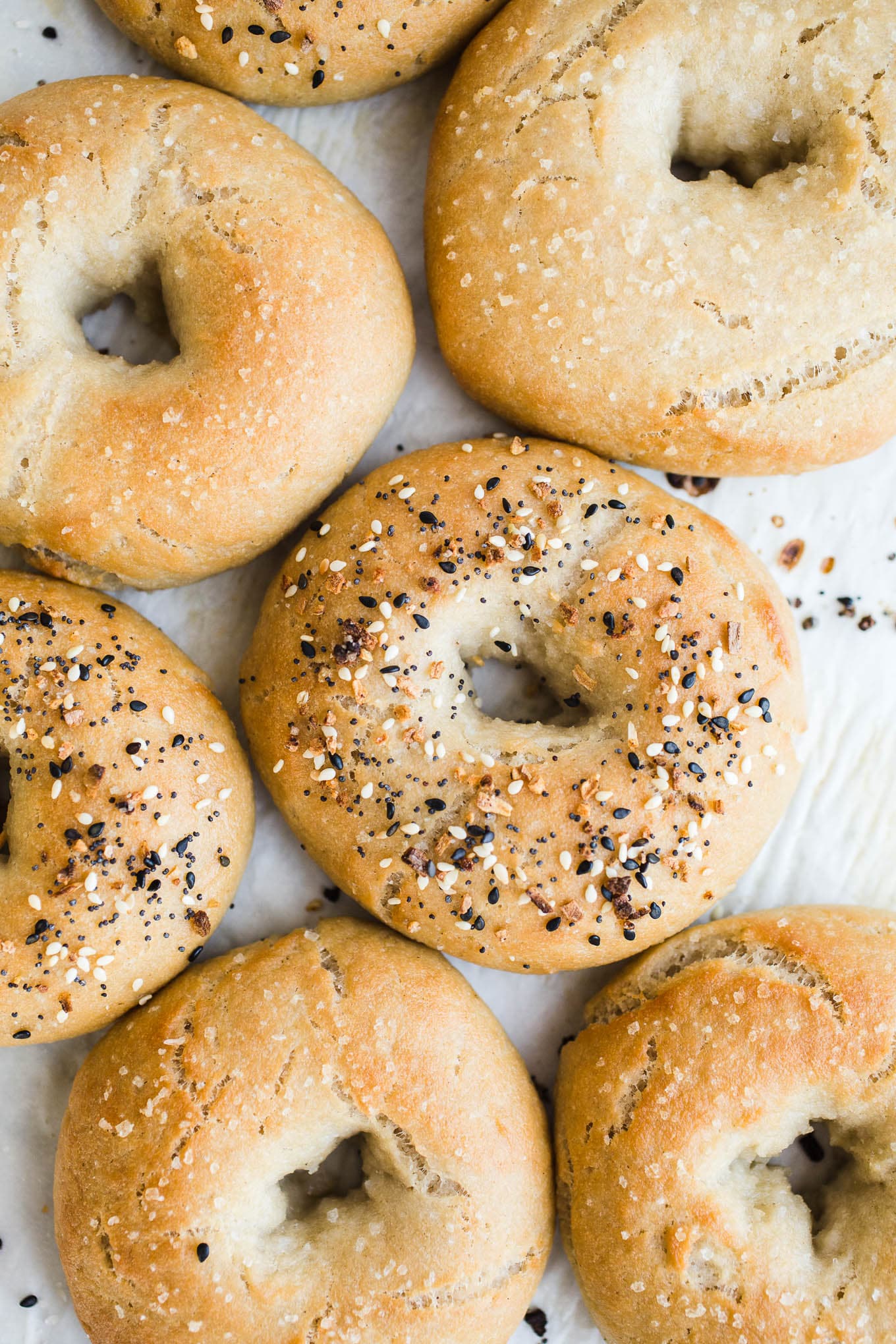 For far too long gluten-free bagels have felt unattainable.
There are certain types of recipes I put off because the thought of not being able to get them right seems daunting.
But in the end, letting the fear of failure win out is never the way to go. And so, the gluten-free bagel challenge was on.
Gluten-Free Bagel Ingredients
Using a blend of white rice flour, brown rice flour, almond flour, and arrowroot starch, plus psyllium husk powder acting as the "gluten", the ingredient list is actually fairly short.
Here's what you'll need:
brown rice flour
almond flour
psyllium husk powder
olive oil
organic cane sugar
If you read "psyllium husk powder" and were like, what? Don't worry.
It's actually very much your friend when it comes to gluten-free baking and a bag of it lasts for quite a long time.
I like using psyllium husk powder in place of xantham gum.
Xantham gum is sometimes called for in gluten-free recipes and is often in pre-made gluten-free flour mixes.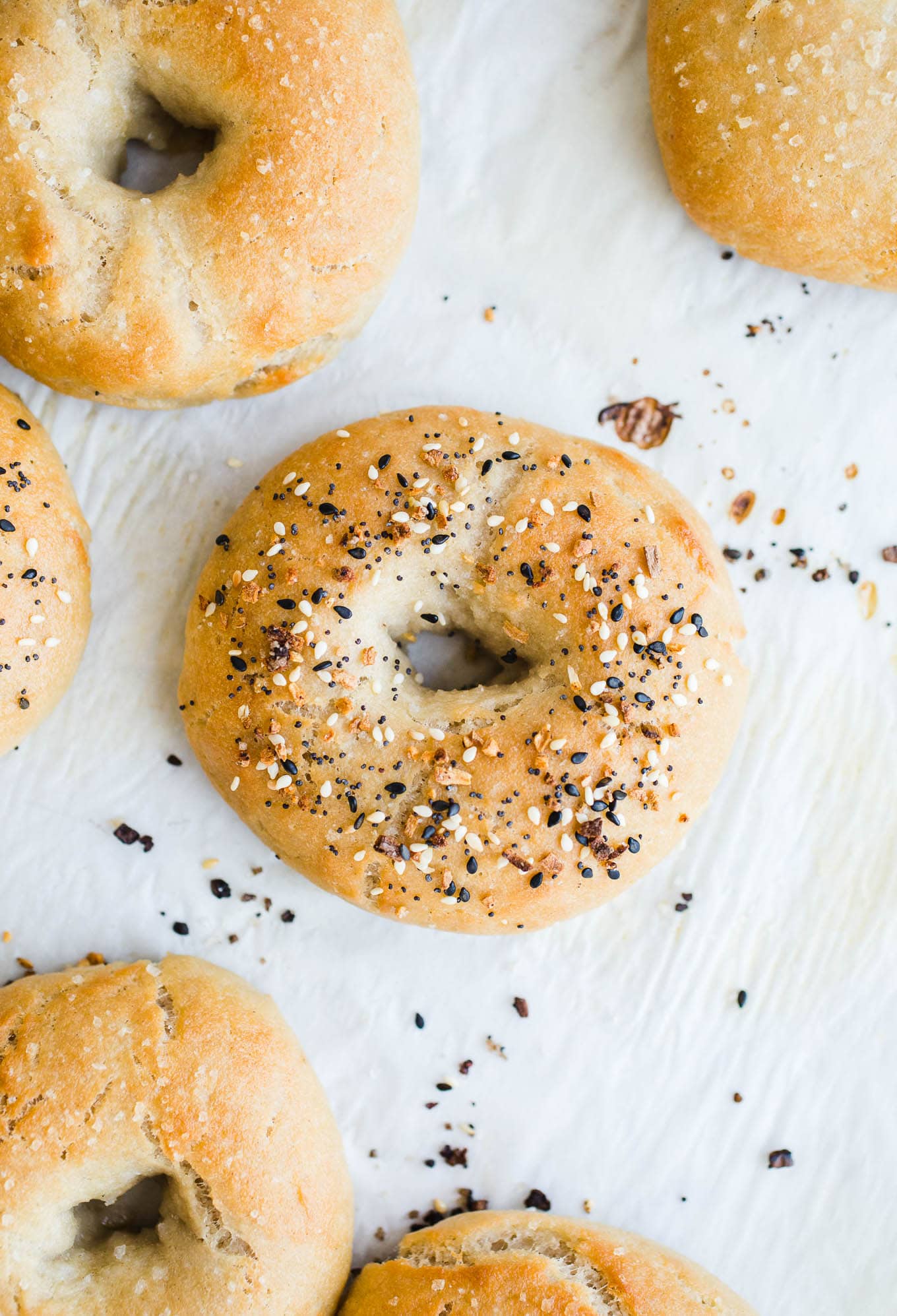 Xantham gum and other gums can cause stomach distress for many.
Psyllium husk powder is a natural fiber source and is a better alternative in some cases than ground flax seeds or chia seeds.
I think it works especially well in gluten-free bread.
My biggest piece of advice for this gluten-free vegan bagel recipe is to prep all your ingredients, pot, pan, and utensils before you get started.
This makes the bagel-making process much smoother.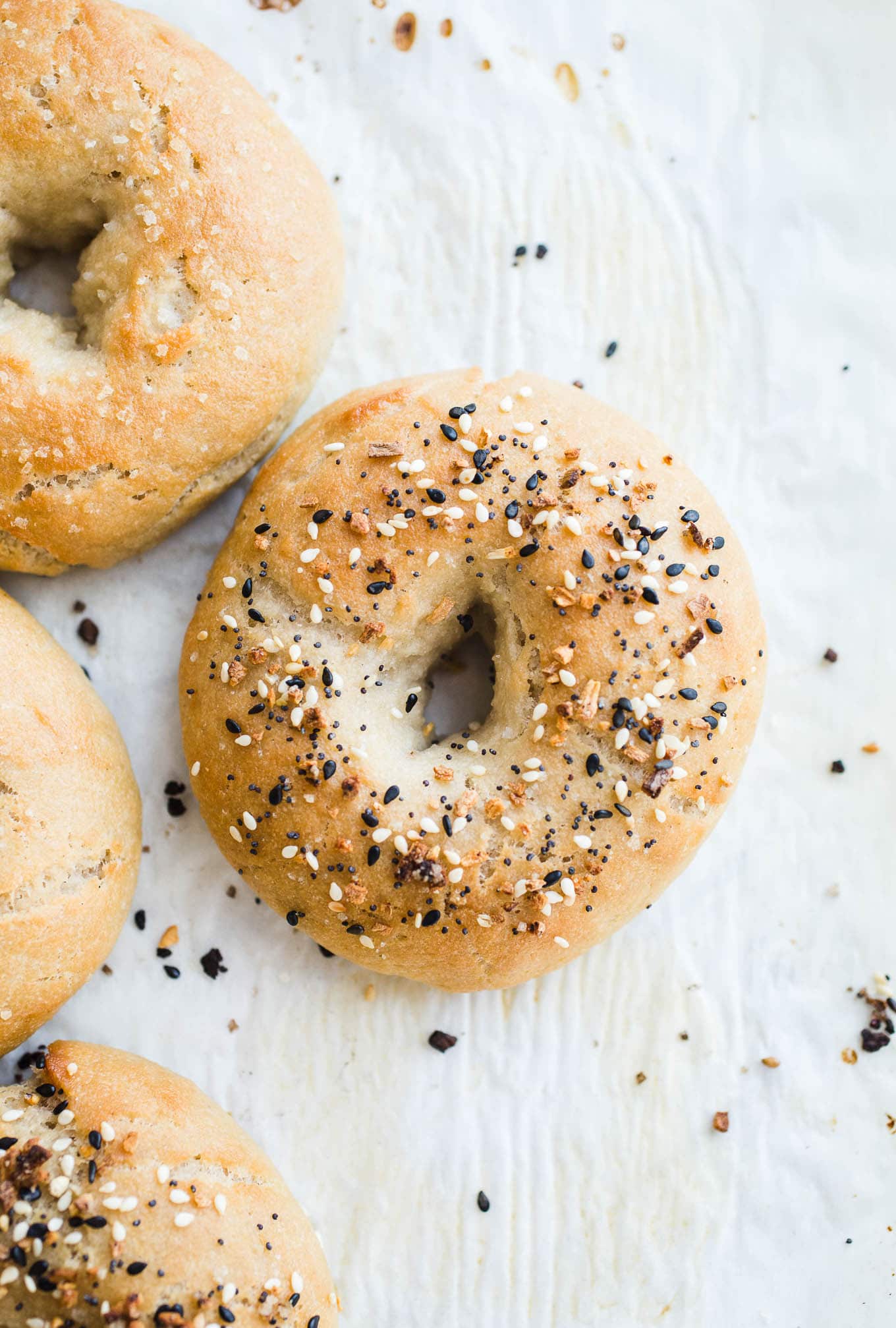 As with fresh bagels from your local bakery or bagel store, these bagels are best the day they are made. Even better still warm right out of the oven.
If you do have leftover bagels, wrap them individually and store at room temperature for up to two days.
You can also wrap them individually and store them in an airtight container in the freezer.
I'd recommend toasting your leftover bagels for the most enjoyment! Add some cream cheese or some homemade honey almond butter or your favorite jam or homemade compote.
Finding gluten-free and dairy-free breakfast options can be tricky sometimes. In addition to these satisfying bagels, this spinach tofu quiche is a real crowd-pleaser.
Not to mention this easy vegan hash!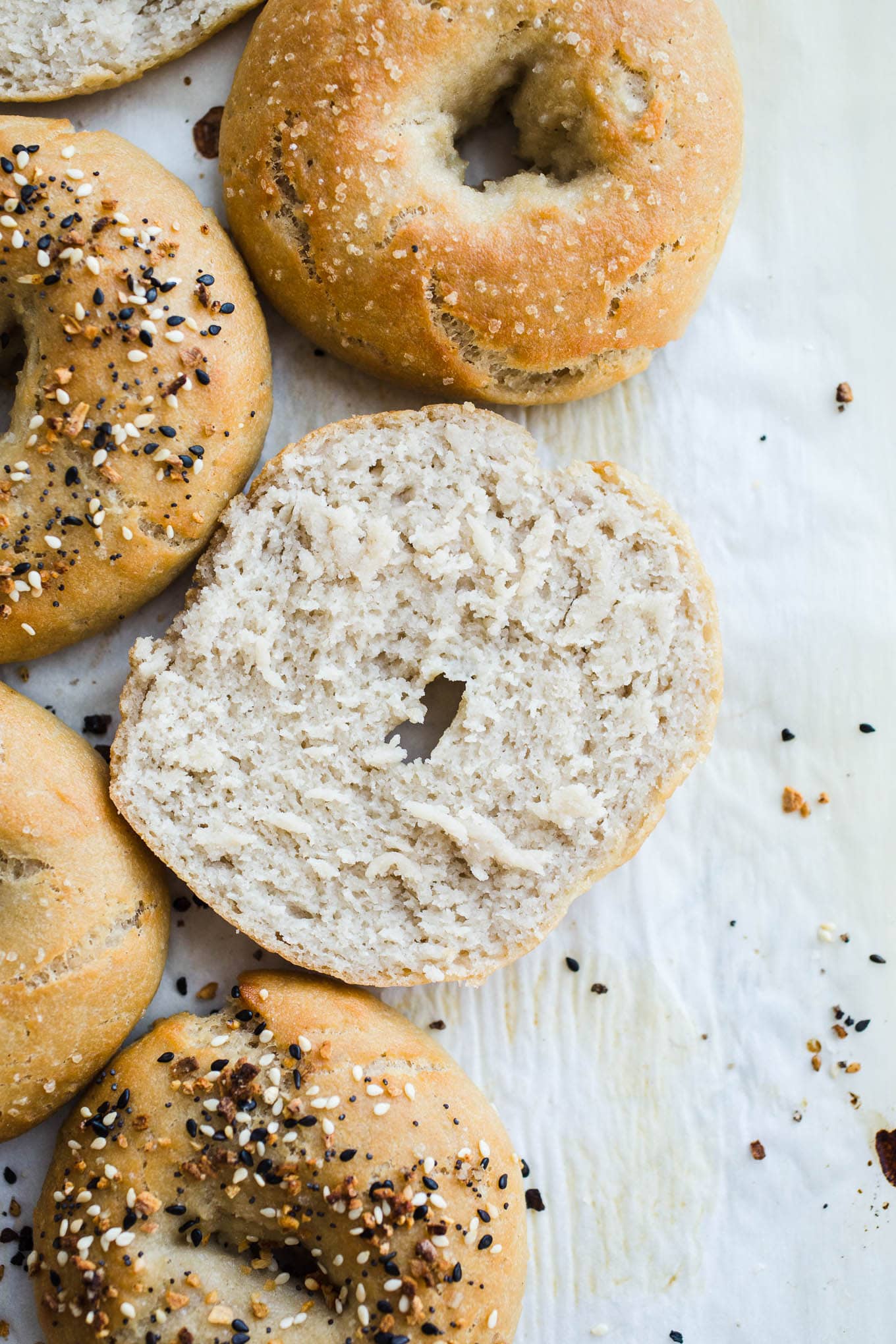 More Bread Recipes
Gluten-Free Cranberry Orange Bread
Gluten-Free Tahini Banana Bread
📖 Recipe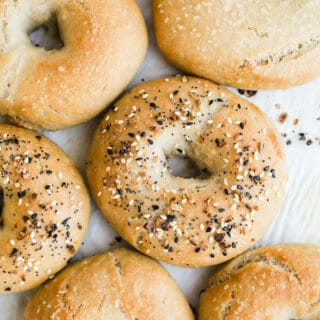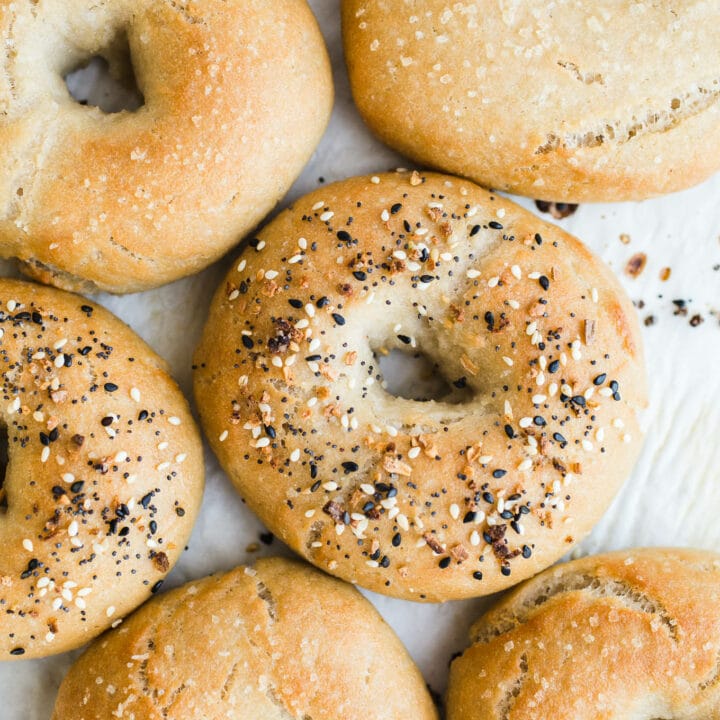 Gluten-Free Bagels Recipe (Vegan)
Easy Gluten-Free Bagels! Made with almond flour, white and brown rice flours, and arrowroot starch. The best gluten-free bagels can be yours. Dairy-free, egg-free, vegan.
Print
Pin
Rate
Save
Saved!
Instructions
Line a baking sheet with parchment paper. Take another sheet of parchment paper and cut into 6 squares (as pictured above) and place in rows on baking sheet. Set aside.

Warm your almond milk to 100 degrees Fahrenheit. I use a large glass measuring cup and heat for two to three 30 second intervals in the microwave. Almond milk should feel warm to touch, but not hot.

Add 1 tablespoon cane sugar and yeast to almond milk. Stir to combine and allow to sit for 5 minutes.

In a large bowl, combine brown, white, arrowroot starch, and almond flours, psyllium husk powder, and salt. Whisk to evenly combine.

Add olive oil to your almond milk mixture, stir to combine. Slowly add liquid to your flour mixture, stirring until dough forms and all dry pieces have been incorporated.

Spray a ½ measuring cup with cooking spray and scoop out the dough. Roll into a ball with your hands then place on a parchment square on baking sheet. Poke a hole in the center of the dough ball with your finger. Repeat until all six bagel dough balls are formed and placed on baking sheet.

Place baking sheet on top of oven and cover lightly with an additional sheet of parchment, followed by a tea towel. Preheat oven to 450 degrees Fahrenheit. Allow bagels to rise on top of oven or in a warm space in the kitchen for 30-40 minutes.

Bring a large pot or Dutch oven of water to a rapid boil. Add remaining 1 ½ tablespoons of cane sugar to water. Gently drop 1 to 2 bagels (2 max) into the boiling water. Allow to boil for 30 seconds, then flip bagel and allow to boil for 30 more seconds. Use a large slotted spoon to remove and transfer to baking sheet. Remove parchment square if it hasn't already come off. Continue until each bagel has been boiled.

Using a pastry brush, lightly brush bagels with olive oil. Sprinkle with sea salt or everything bagel seasoning. Bake for 15 to 20 minutes, bagels should be golden brown.

Place baking sheet on a wire rack to cool. Eat bagels warm if desired. Toast if desired.

Bagels are best the day they are made. To store, wrap individually in plastic wrap and keep up to two days.
Nutrition
Calories:
368
kcal
|
Carbohydrates:
65
g
|
Protein:
6
g
|
Fat:
10
g
|
Saturated Fat:
1
g
|
Polyunsaturated Fat:
1
g
|
Monounsaturated Fat:
4
g
|
Sodium:
486
mg
|
Potassium:
131
mg
|
Fiber:
5
g
|
Sugar:
6
g
|
Vitamin C:
0.003
mg
|
Calcium:
112
mg
|
Iron:
1
mg