An easy, no-bake treat packed with protein, these Strawberry Coconut Butter Cups with Chocolate-Almond Filling are gluten-free, vegan, and refined sugar-free.
The recipe you see before you today was not supposed to be strawberry coconut butter cups with chocolate-almond butter filling.
I had been trying my hand at making beet juice concentrate to naturally color some cookies when the glorious ruby red jar of beet juice I had sitting on the counter was promptly knocked over by the cord of my hand mixer.
Normally, I would have chalked this up to another kitchen fail, cleaned up my mess, and driven to the store to buy more beets. But, we just had our new white countertops installed and the deep red liquid that had somehow spread over the surface in seconds left me in instant panic mode.
Heath wasn't home, and while I frantically ran around the kitchen to grab the paper towels (there were none), I'm pretty sure the dogs were conferring about which one of them was going to call 911 because obviously, something was very wrong.
As my mind started to comprehend that there were no paper towels to be found, the following thoughts flew through my head:
Will the countertops stain? They're not marble, so maybe not?(!)
The countertops are definitely going to stain.
How dark is the stain going to be?
Should I think about getting a second job to pay for the replacement countertop that we will surely need?
What is the best way to explain to my husband that I dyed our countertop red?
I'm telling you, if you want to see me go from zero to FREAKED OUT, this was an excellent way to do it.
Luckily, thankfully, gratefully, there was no stain and I was so calm, cool, and collected (on the outside) when Heath walked in the door, you'd just never know I had decided to steer clear of the beet-dyed cookie recipe. For now.
Still determined to make a sweet treat for Valentine's Day using all-natural color, I went with something simpler. Freeze-dried strawberries.
Having used freeze-dried blueberries as "sprinkles" for blueberry donuts, I knew that crushed into powder form, freeze-dried fruit can make a wonderful all-natural colorant.
The outer shell of these mini cups is made up of homemade coconut butter mixed with the powdered strawberries. The inside chocolate-almond filling is just that—almond butter mixed with unsweetened chocolate and a touch of maple syrup.
In my first go-round with this recipe I sweetened the coconut butter mixture as well, but in the end, preferred to only sweeten the filling as the natural sweetness of the strawberries seem to be just enough to balance the tart.
Oh, and they definitely won't stain your countertops.
Make a Salted Plains recipe? I'd love to see! Tag your creations on Instagram with #saltedplains!
📖 Recipe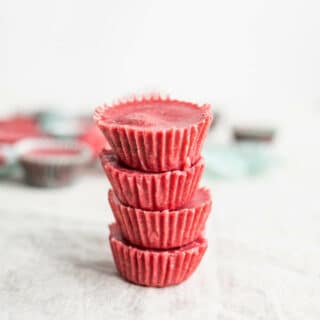 Strawberry Coconut Butter Cups with Chocolate-Almond Filling (Gluten-Free, Vegan)
A simple, no-bake treat sweetened with maple syrup and full of flavor.
Print
Pin
Rate
Save
Saved!
Ingredients
For Strawberry Coconut Butter Cups
For Chocolate-Almond Filling
Instructions
Line a mini muffin tray with 20 liners.
For Strawberry Coconut Butter Cups:
In a food processor, add the shredded coconut and process until smooth, stopping occasionally to wipe down sides of bowl with spatula (about 3-5 minutes).** Once the coconut becomes a smooth butter consistency, add melted coconut oil and vanilla extract and process once again until coconut oil and vanilla are combined. Add crushed freeze-dried strawberries and process until evenly incorporated.
For Filling:
In a medium bowl, combine almond butter, melted baking chocolate,* salt, maple syrup, and vanilla extract.
To Assemble:
Scoop one teaspoon of the coconut butter mixture into the bottom of each muffin cup. Gently shake the muffin tray to allow the mixture to settle evenly in cups. Scoop one teaspoon of the chocolate-almond filling and flatten into a disc with your fingers. Gently place on top of coconut butter mixture in cup.

Repeat until all cups have filling. Finally, place another teaspoon of the remaining coconut butter mixture on top of filling, smoothing with the back of the teaspoon if necessary.

Once complete, give the muffin tray a gentle shake once more. Place muffin tray in the freezer for 15-20 minutes to set. Remove from freezer and take cups out of muffin tray and place in an airtight container. Store in the fridge if not serving immediately.
Notes
**If your unsweetened shredded coconut is not processing into butter as it should, add a bit of melted coconut oil a little at a time until the mixture starts to turn to a butter consistency.
*To melt chocolate, place in a small microwave safe bowl and microwave for 30 seconds at a time, stirring between each interval until almost completely melted.
Inspired by Edible Perspective's vanilla bean coconut butter cups with chocolate filling.
The flavors are more prominent when the cups are at room temperature, but are still tasty right out of the fridge.
Nutrition
Serving:
1
cup
|
Calories:
159
kcal
|
Carbohydrates:
9
g
|
Protein:
2
g
|
Fat:
14
g
|
Saturated Fat:
9
g
|
Polyunsaturated Fat:
1
g
|
Monounsaturated Fat:
2
g
|
Sodium:
34
mg
|
Potassium:
144
mg
|
Fiber:
3
g
|
Sugar:
5
g
|
Vitamin A:
0.1
IU
|
Vitamin C:
21
mg
|
Calcium:
32
mg
|
Iron:
1
mg