Do tater tots have gluten? We explore the popular potato side-dish to find out more about how they fit into a gluten-free diet.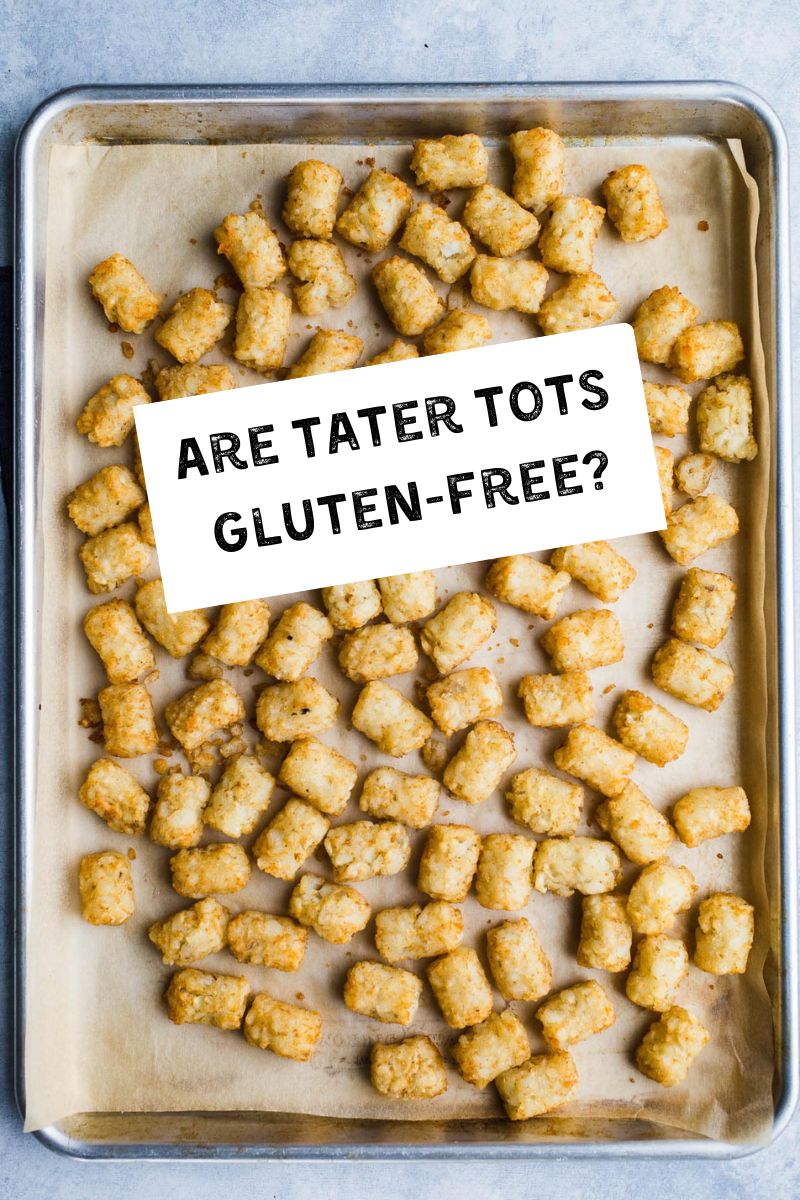 Jump to:
What are tater tots?
Tater tots are grated potatoes that have been formed into small cylinders and then either fried or baked.
The term "tater tot" was trademarked by the Ore-Ida company. Other store-bought brands may be called "tater puffs," "tater bites," or even just "tots."
Do tater tots have gluten?
Not all tots have gluten. Some tater tots include flour and some don't, while others contain seasoning that may have gluten-containing ingredients. Whether they are frozen or homemade do your due diligence before consuming.
Those tots that are prepared in restaurants can be at risk of gluten by either the ingredients used, the fryers they are cooked in, or both. Cross-contamination can easily happen if the restaurant fryer is frying other foods that contain gluten.
Making your own at home is one of the best ways to ensure safety from contamination.
What brands are gluten-free?
As with any packaged food, it is important to check the food label for the ingredients used and any allergen warnings.
Ore-Ida brand is labels their potato tots as gluten-free.
Other brands that don't use gluten containing ingredients but are not labeled as gluten-free on their package are:
Alexia - no gluten ingredients or allergen warnings
Simple Truth Potato Puffs - no gluten ingredients or allergen warnings
Cascadian Farms - Has a "No Wheat" label, no gluten ingredients
Kroger Tater Bites - no gluten ingredients
Lamb Weston Tater Puffs - no gluten ingredients
Sprouts Organic Potato Bites - Has a "No Wheat" label, no gluten ingredients
If you have celiac disease or are highly sensitive and are concerned about possible cross-contamination, contact the company directly to find out more about the facility and manufacturing procedures.
Serving suggestions
Crispy tots can be a great side dish replacement for fries or potato chips. But there are so many ways to serve this simple golden potato puff!
Helpful tips
The brand information in this article comes from the brand websites at the time this article was written. Going direct to the brand website is the fastest way to get the most up-to-date allergen information on a specific product.
If cross-contamination is a concern, make sure you check the product label for information regarding its gluten-free designation. If it is not clear, always contact the brand directly.
Remember, just because a product does not use gluten-containing ingredients, does not necessarily mean it wasn't processed in a facility that produces foods with gluten ingredients.
Please note: Always check labels as some manufacturers Include gluten or dairy, or process In the same facility as wheat. This article is meant to help aid in highlighting gluten-free products but is not an exhaustive list or medical advice. Please consult with your healthcare provider for best practices and care for your individual needs.