Chicken broth is a versatile ingredient that can be used in a variety of recipes. But is it gluten-free? Find out more about what to look for!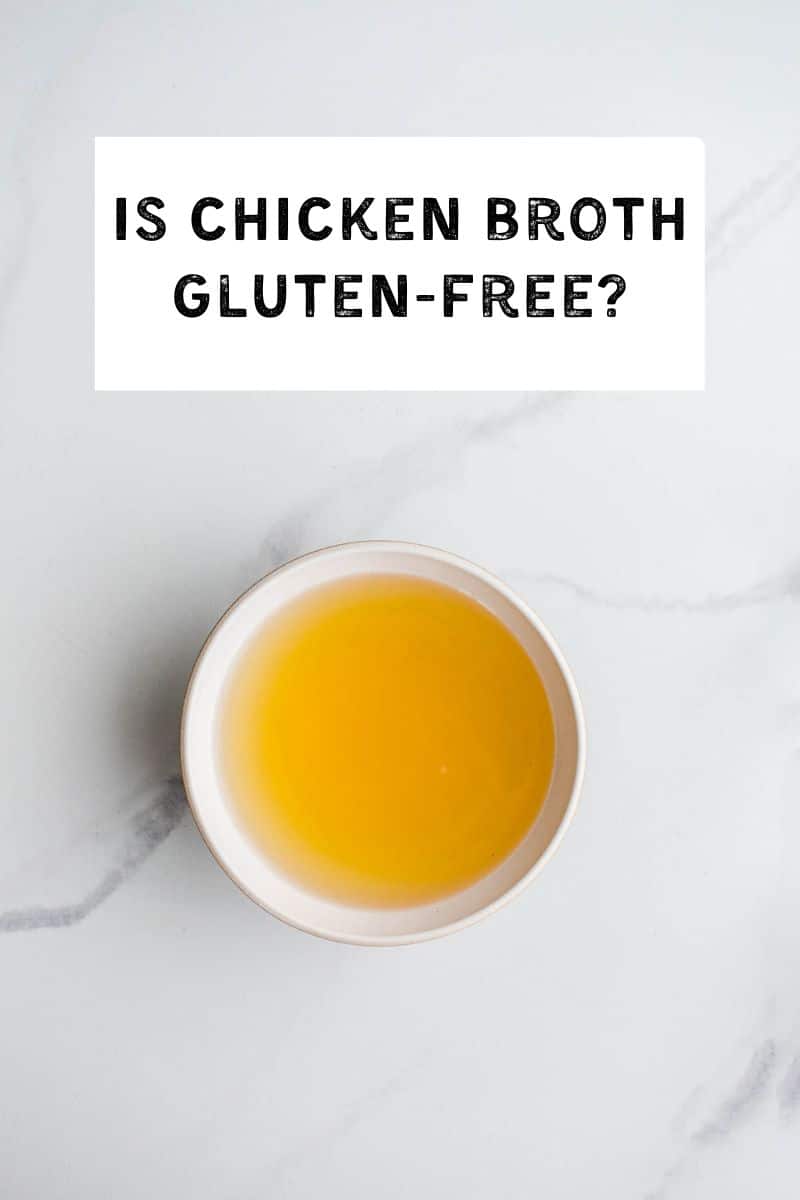 Is chicken broth gluten-free? In short, yes! But it depends on the specific brand or preparation method.
The basic ingredients in a homemade chicken broth are naturally gluten-free, but not all store-bought options are produced the same. 
Jump to:
What is chicken broth?
Chicken broth is a flavorful liquid made by simmering bone-in chicken parts and aromatic vegetables in water.
To make it, bone-in chicken parts are combined with water and vegetables like onions, carrots, celery, and herbs such as parsley, thyme, and bay leaves. The ingredients are simmered over low heat for an extended period allowing the flavors to meld together and creating a savory broth.
After simmering, the solids are strained out, leaving behind a liquid that is rich in chicken flavor and nutrients extracted from the bones and vegetables.
Is it safe for Celiac disease?
In its pure form, it is gluten-free, but different commercial chicken broth brands may use additives or artificial flavors containing gluten ingredients.
Choosing the right broth makes it suitable for those with Celiac disease, gluten intolerance, wheat allergy, non-celiac gluten sensitivity, and those on a gluten-free diet as long as it is labeled as gluten-free.
For this reason, it is important to check ingredients and allergen statements for possible cross-contamination or added ingredients in any product. Those that are worried about cross-contamination should choose brands that are certified gluten-free or produced in dedicated gluten-free facilities.
Additives and flavorings as sources of gluten to watch for:
Wheat-based thickeners
Hydrolyzed wheat protein
Wheat-based maltodextrin
Soy sauce
Yeast extract (possible cross-contamination)
Malt extract, malt flavoring, or barley malt
Natural flavors
Types
There are a variety of store-bought options depending on your needs. Check them out:
Basic - A classic, made by simmering chicken bones, meat, and vegetables in water. It serves as a neutral base and can be seasoned or enhanced further in recipes.
Organic - Organic is made using chicken that has been raised organically, without the use of antibiotics or hormones. The vegetables used are also organic. 
Low-Sodium - This type is made with reduced amounts of salt compared to regular. 
Flavored - Some are infused with additional flavors to enhance their taste. This can include herbs, spices, or other seasonings like garlic, ginger, or lemongrass. Flavored broth can add complexity to recipes without the need for additional seasoning.
Reduced-fat or fat-free - Reduced fat is made by skimming off excess fat during the cooking process or using leaner meat.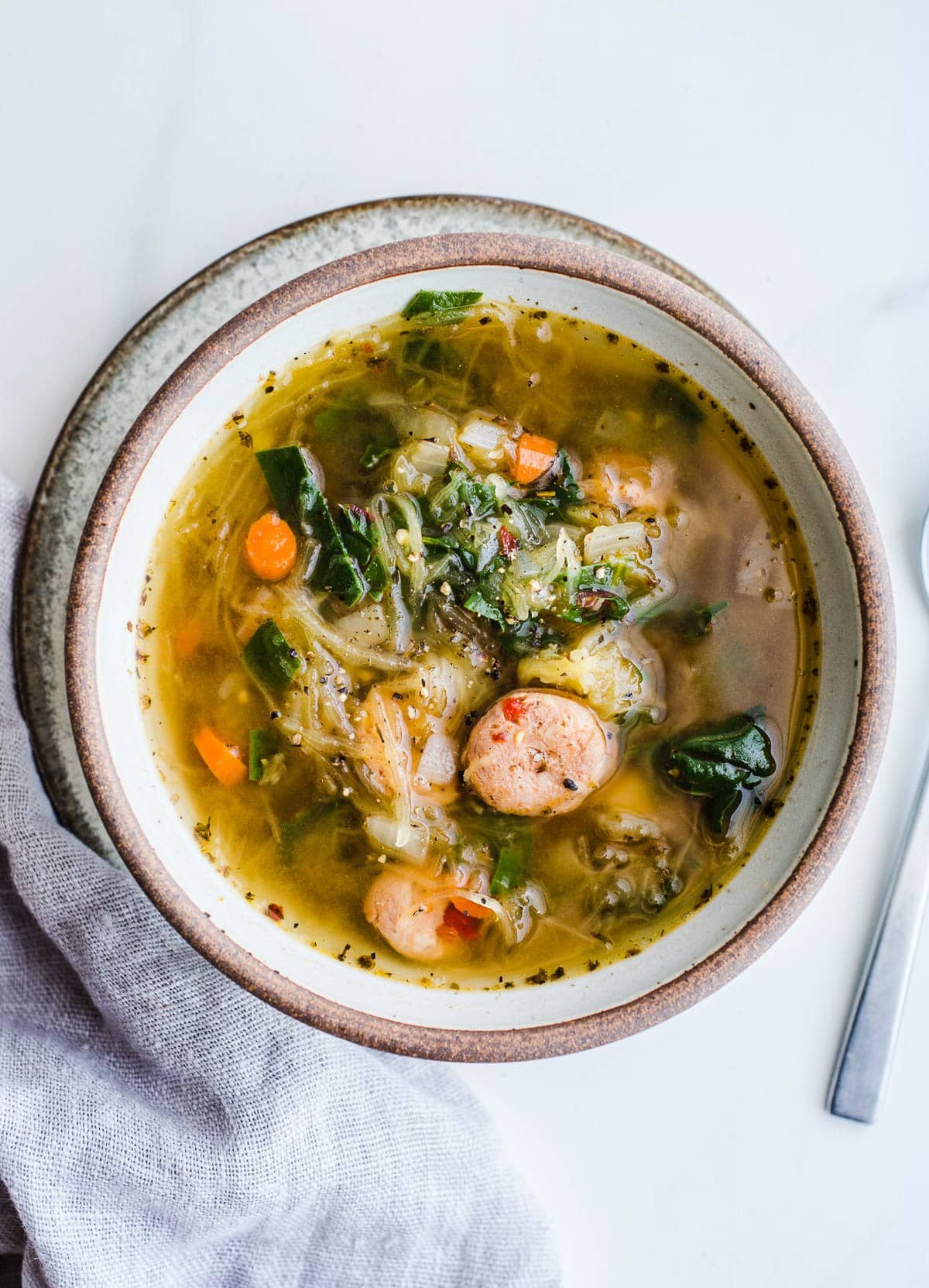 Uses
Some of our favorite recipes utilize gluten-free chicken broth. Its versatility makes it a great flavor enhancer and pantry staple.
Soups and stews - It serves as the base for a wide range of soups and stews. It forms a flavorful foundation and aromatic profile to classics like chicken noodle soup, vegetable soup, chilis, or hearty stews.
Sauces and gravies - Often used to create sauces and gravies it adds richness and depth to dishes like pan sauces, creamy sauces, and gravy.
Risottos and rice dishes - It is an essential ingredient in making creamy risottos, pilafs, and other rice-based dishes.
Braising and cooking meats - Used as a braising liquid for meats, such as chicken, pork, or beef, it can help to tenderize the meat and infuse it with flavor during the slow cooking process.
Cooking grains and legumes - When cooking grains like quinoa, couscous, or millet, or when preparing legumes such as lentils or beans, substituting water with the gold liquid adds depth and flavor to the final dish.
Flavoring vegetables - Vegetables can be cooked or steamed with it to enhance their taste and give a more robust flavor. 
Poaching and braising seafood - It can be used as a poaching or braising liquid for seafood, adding flavor and moisture to dishes like poached chicken or braised fish.
Brands
While chicken broth can be naturally without gluten (especially homemade broth), some brands may have cross-contamination during processing or product packaging in addition to potential gluten-containing ingredients. It is always important to check the ingredients label and allergen statements of the brands you are considering.
In the United States, the FDA regulates the "gluten-free label" and those products with a "certified gluten-free label" are done by independent organizations with their own set of standards. Most often, these standards are stricter than the FDA's and use dedicated gluten-free facilities, but still must meet the FDA criteria.
The following popular brands of chicken broth have a gluten-free claim:
Pacific Foods Organic Free Range
Imagine Organic
Swanson
College Inn Chicken & Broth Less Sodium and Organic products
Kettle & Fire Cooking Broth, Low Sodium Cooking Broth, and Bone Broth
Bonafide Provisions
You can find these gluten-free broth brands in most grocery stores and online. 
Helpful tips
The brand information in this article comes from the brand websites at the time this article was written. Going direct to the brand website is the fastest way to get the most up-to-date allergen information on a specific product. This is usually found in the FAQ section.
If the risk of cross-contamination is a concern, make sure you check the product label for information regarding its GF or certified gluten-free designation. If it is not clear, always contact the brand directly.
Remember, just because a product does not use gluten-containing ingredients, does not necessarily mean it wasn't processed in a facility that produces foods with gluten ingredients or gluten-containing grains.
Conclusion
In conclusion, while traditional chicken broth can be gluten-free, it's important to check the specific brand and product. Some brands may include gluten-containing additives, so reading the ingredients list is crucial.
By being mindful of ingredients and choosing the right brand, you can confidently enjoy gluten-free chicken broth in your cooking.
Recipes that can use chicken broth
Please note: Always check labels as some manufacturers Include gluten or dairy, or process In the same facility as wheat. This article is meant to help highlight gf products but is not an exhaustive list or medical advice. Please consult with your healthcare provider for best practices and care for your individual needs.