Stocking a Gluten-Free Dairy-Free Pantry can be overwhelming. Use this guide and printable gluten-free food list to help fit your needs.
Please note: Always check labels as some manufacturers Include gluten or dairy, or process In the same facility as wheat. This list is meant to help aid in being new to a gluten-free diet, but is by no means an exhaustive list or medical advice. Please consult with your healthcare provider for best practices and care for your individual needs.
If you are new to going gluten-free and dairy-free, it can be a bit overwhelming. I've been there.
Here I've shared gluten-free and dairy-free pantry staples below to help as a guide for you and your family's needs.
Jump to:
Baking Supplies
Gluten-Free Flours and Starches
There is a wide variety of naturally gluten-free flours that each have their own unique flavors and textures. If you are new to these flours, almond flour, and oat flour are great ones to start with.
Try it: Olive Oil Chocolate Chip Cookies, Air Fryer Oatmeal Chocolate Chip Cookies, Buckwheat Pancakes, Teff Almond Butter Cookies
Almond flour
Glutinous rice flour (sweet rice flour)
Quinoa flour
Coconut flour
Sorghum flour
Amaranth flour
Cornstarch
Potato starch
Gluten-Free Measure for Measure Flour
Our favorite brands: Bob's Red Mill, Anthony's, King Arthur
Gluten-Free Grains
Like flours, there are a wide variety of gluten-free grains that can enhance breakfast, lunch, and dinner.
Try it: Polenta bowls, quinoa bake, etouffee over rice, millet grits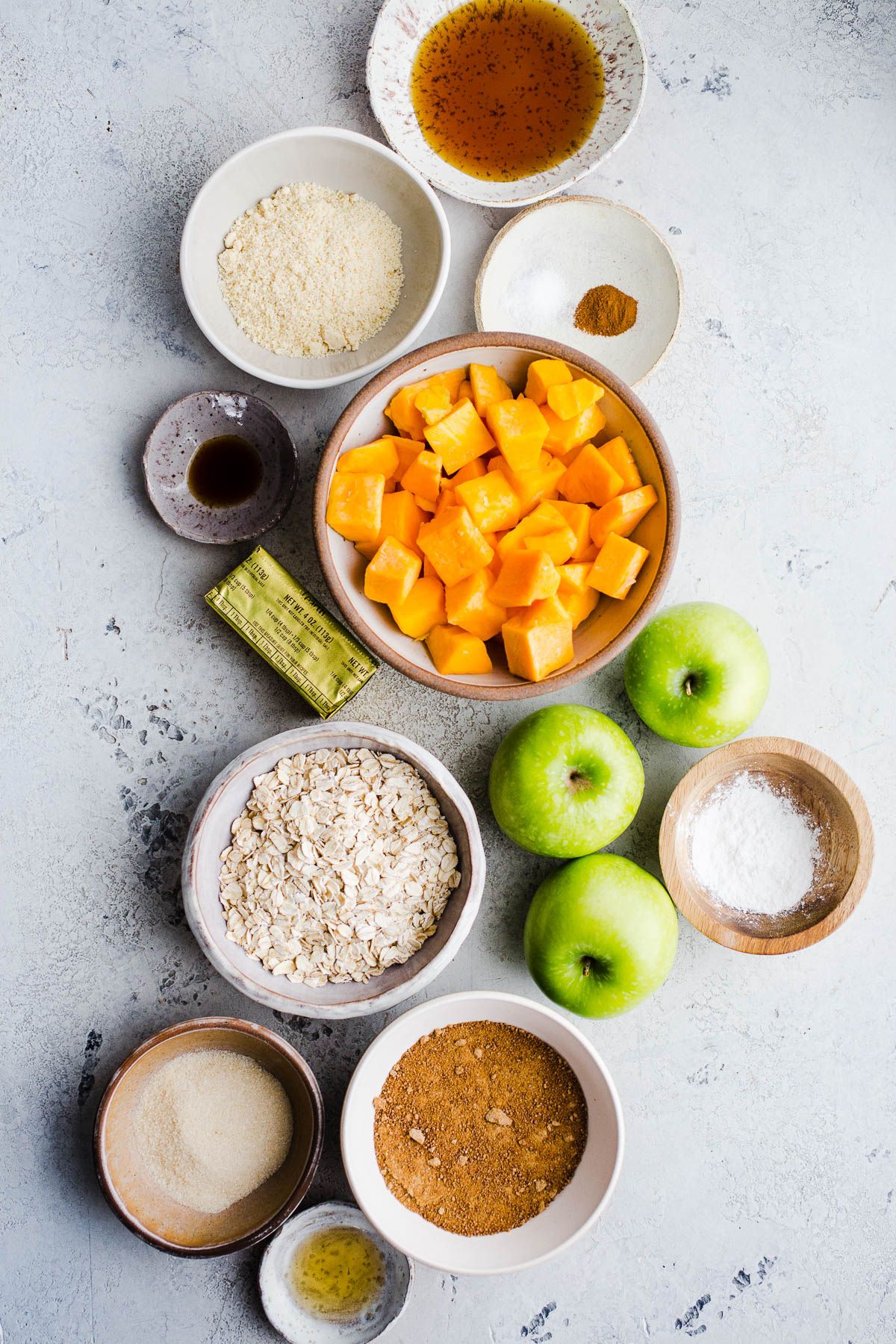 Baking Powder and Baking Soda
Most baking soda and baking powders are gluten-free, but be sure to check the labels as not all are.
Our favorite brands: Bob's Red Mill
Oils and Vinegar
These are oils and kinds of vinegar I always have on hand for cooking, baking, and sauces, and dressings.
Try it: Vegan Avocado Lime Dressing, Vegan Strawberry Butter
Olive oil, avocado oil, coconut oil
Vegan butter
Olive oil or avocado oil cooking spray - most are gf df, but check label as a few brands use flour.
Balsamic vinegar, apple cider vinegar, white vinegar
Our favorite brands: Earth Balance, Chosen Foods
Sweeteners
Unrefined sweetener options that I use often for baking, cooking, and making simple syrup!
Try it: Date Caramel, Maple Date Granola, Honey Roasted Almond Butter
Organic cane sugar
Coconut Sugar
Dates
Our favorite brands: Wholesome, Big Tree Farms
Pasta and Rice
Dairy-Free Gluten-Free Pasta
When it comes to pasta, there is quite a variety that is available now without gluten. Most gluten-free packaged pastas do not contain dairy. Stuffed pasta like ravioli or stuffed shells will unless buying a vegan or dairy-free version.
Try it: Dairy-Free Chicken Alfredo Bake, Spinach Artichoke Pasta, GF Ranch Pasta Salad
Brown rice pasta
White rice pasta
Chickpea pasta
Cassava pasta
Almond flour pasta
Corn pasta
Lentil pasta
Our favorite brands: Jovial, Lotus Foods
Bread, Tortillas, and Wraps
Dairy-free Gluten-free Bread
Dairy-free gluten-free bread can be found in the bread aisle and the refrigerated section. Not all gluten-free bread is dairy-free.
Try it: French Toast Casserole
White bread
Whole grain bread
Hamburger and hotdog buns
Our favorite brands: Little Northern Bakehouse (also egg-free) and Canyon Bakehouse.
Dairy-free Gluten-free Tortillas
Taco night, sandwich wraps, and quesadillas can still be yours.
Our favorite brands: Mission (gf version), Siete, Mi Rancho
Crackers and Chips
Having allergy-friendly snacks stocked in the pantry is always a good idea!
Our favorite brands: Simple Mills, From the Ground Up, Schar, Mary's Gone Crackers, Siete, Trader Joe's
Sauces and Condiments
Condiments and sauces are often places where gluten sneakily hides.
Gluten-free teriyaki sauce
Dairy-free gluten-free salad dressings
Gluten-free BBQ sauce
Our favorite brands: San-J , Primal Kitchen
Spices and Seasonings
Singular dried herbs and spices don't often have gluten. But seasoning mixes can occasionally include anti-caking agents that have wheat.
Always read the labels before purchasing and avoid spices and herbs from bulk bins.
Our favorite brands: Siete, McCormick gluten-free mixes, Simple Girl, Rodelle
Canned, Jarred, and Packaged Goods
Full-fat coconut milk
Coconut cream
Vegetable and chicken broth (make sure label says "gluten-free")
Almond butter
Peanut butter
Other nut butters or sunflower seed butter
Unsweetened applesauce
Beans, lentils, chickpeas
Try it: No Bake Chocolate Oatmeal Bars
Our favorite brands: Broth - 365 Whole Foods, Pacific Foods; Canned coconut milk and coconut cream: Native Forest, Whole Foods 365 Organic, Trader Joe's
Nuts and Seeds
Flaxseed
Almonds
Cashews
Sunflower seeds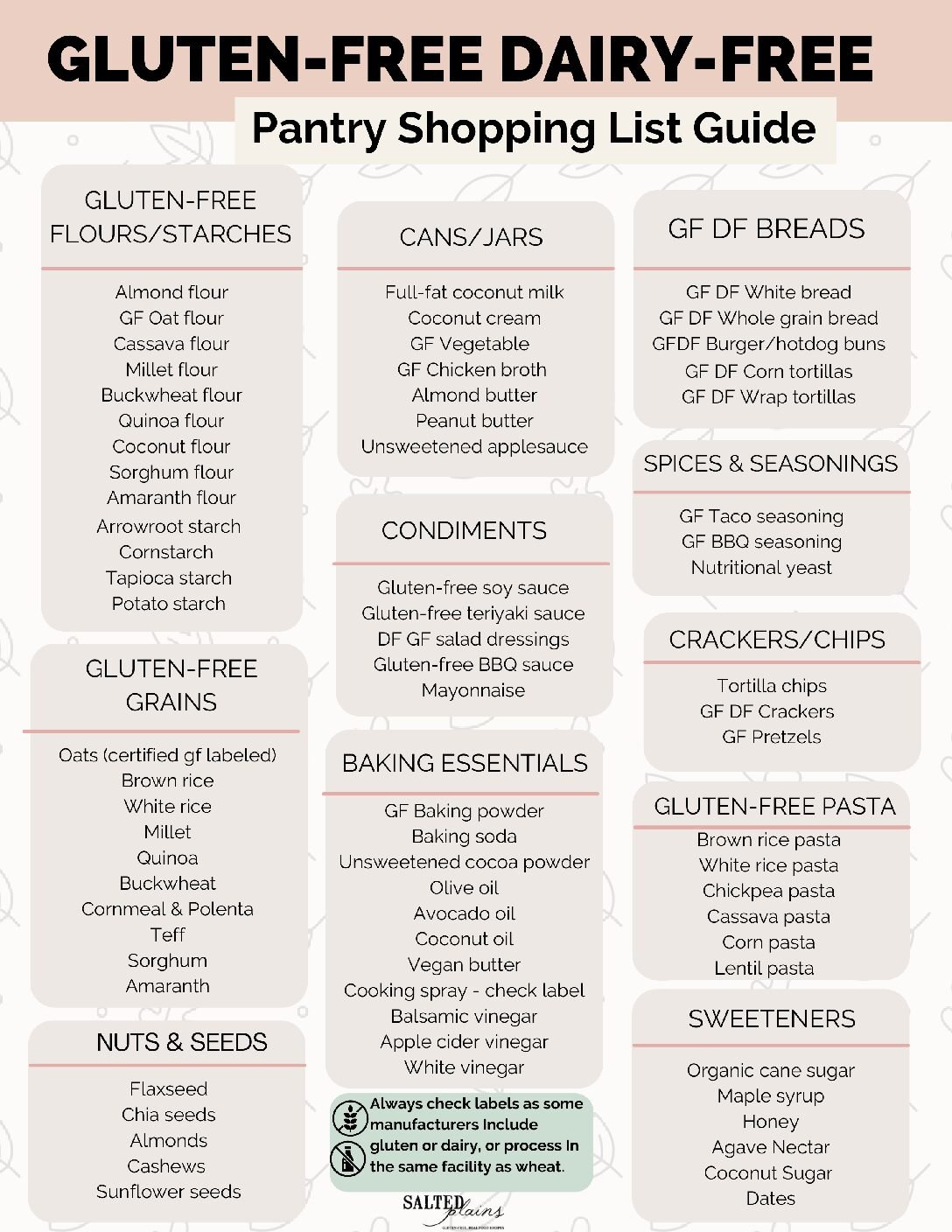 Click here for FREE Printable Gluten-Free Dairy-Free Pantry Shopping List Guide
Does wheat-free mean gluten-free?
Wheat is one type of gluten that may be present in food. A wheat-free label does not necessarily mean the item is gluten-free.