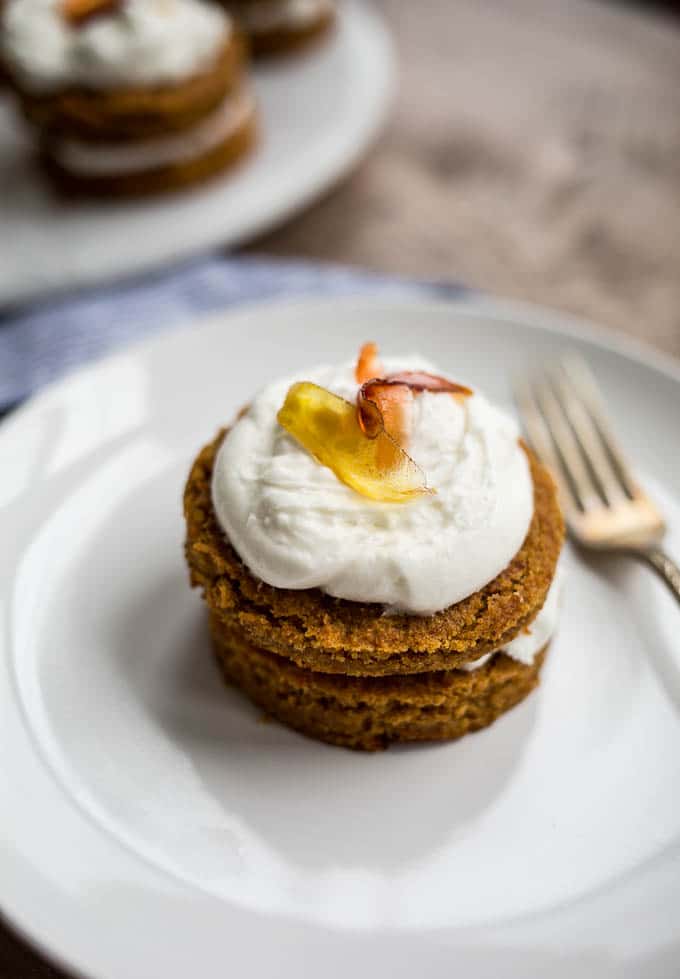 The phrase "In like a lion, out like a lamb," has crossed my mind several times this last week. As I write, the wind is whipping, and there is a lightning show illuminating the city in front of me. We've had some serious winds, warm temps, then a dusting of snow, then warm temps...you get the idea. And so that phrase about March and April that so many of us grew up learning is ringing true. (Let's hope April is lamb-like).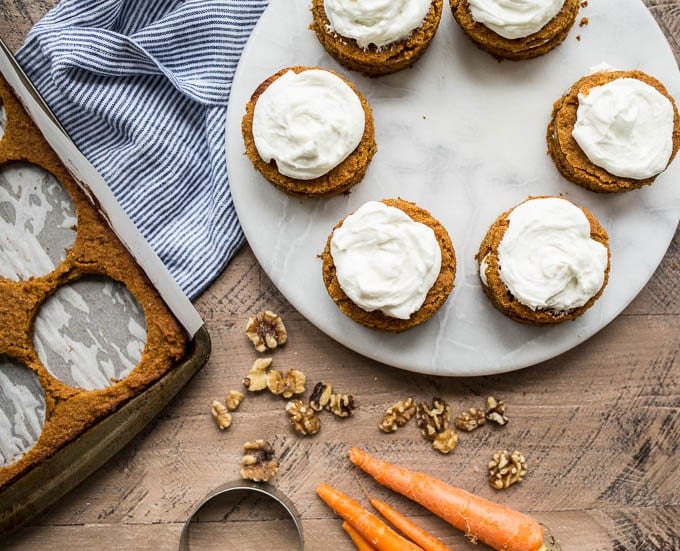 With Easter this weekend and March in full lion mode, I felt carrot cake was most appropriate for today's post. Miniature for extra cute factor. Candied carrot bling for a final touch. I adapted my coconut cake recipe that uses a blend of almond flour and coconut flour as the base that not only keeps things gluten-free, but grain-free as well. Loaded with carrots, walnuts, and spices, I was delighted how one cake transformed into another.
I have included the instructions below to make your own candied carrot topping or "sprinkles," but I think a dusting of crushed walnuts on top of each cake would look just as pretty. Or nothing at all. You decide.
Make a Salted Plains recipe? I'd love to see! Tag your creations on Instagram with #saltedplains!
Mini Gluten-Free Carrot Cakes (Dairy-Free)
Author:
Prep time:
Cook time:
Total time:
Mini Gluten-Free Carrot Cakes for your spring celebrations. Sweetened with coconut sugar and loaded with carrots, walnuts, and spices. Depending on the size of your biscuit cutter, you may have more mini cakes than designated below.
Ingredients
[i]Carrot Cake:[/i]
½ cup coconut flour
1½ cups almond flour/meal
2 teaspoons baking powder
3 teaspoons ground cinnamon
½ teaspoon ground nutmeg
½ teaspoon ground cardamom
1 cup coconut sugar
¾ cup coconut oil
3 eggs
1 cup unsweetened almond milk
1 teaspoon pure vanilla extract
3-4 medium carrots, grated
½ cup raw unsalted walnuts, chopped
[br]
[i]Frosting:[/i]
1 ½ cups non-hydrogenated palm shortening (I use Spectrum brand)
1 cup powdered sugar (I blitzed my own unrefined cane sugar in the blender)
2 tablespoons unsweetened almond milk
1 teaspoon pure vanilla extract
[br]
[i]Candied Carrot Sprinkles, optional[/i]
1 cup unrefined cane sugar
1 cup water
12-15 baby carrots or 1-2 peeled carrots
Instructions
Preheat the oven to 350 degrees Fahrenheit. Grease an 11 x 17 jelly roll pan with coconut oil and line bottom with parchment.
[i]Cake[/i]: In a medium bowl, whisk coconut flour, almond flour, baking powder, and spices. In a large bowl, cream coconut sugar and coconut oil with an electric hand mixer until light and fluffy in appearance. Add the eggs one at a time, mixing after each addition. Add almond milk and vanilla extract and stir until all ingredients are evenly combined.
Add dry ingredients to the wet and stir until all is incorporated. Fold in carrots and walnuts.
Pour batter into pan (it will be thick), smoothing with spatula to distribute evenly and bake for 25-29 minutes. The cake should be golden brown and a toothpick should come out clean. Allow cake to cool in pan on a wire rack. Refrigerate for 20-30 minutes before cutting out cakes.
[i]Frosting:[/i] While cake is cooling, add the palm shortening, powdered sugar, and almond milk to a medium bowl. Mix with electric hand mixer until smooth. Add vanilla extract and mix until combined.
[i]Assembly:[/i] Once cool, using a biscuit or cookie cutter, cut out the first layer of cakes and place on a plate or cake stand. Using a piping bag or offset spatula, pipe the first layer of frosting onto the top of each cake. Cut out another round of cakes, place one on top of each frosted cake, and repeat with frosting. Top with candied carrots or crushed walnuts if desired.
[b]Optional[/b] [i]Candied Carrots:[/i] Using a vegetable peeler, make carrot strips. Bring water and sugar to a boil, then reduce to simmer. Add carrot strips and simmer for 15 minutes. Remove from heat and allow to sit for 5 minutes. Strain using a slotted spoon or mesh strainer. Spread carrot strips on a piece of parchment and allow to dry overnight. You can use the strips to decorate before they are completely dry and they will be pliable. Otherwise, once completely dry, you can chop strips into smaller pieces and decorate as desired.
Notes
Adapted from my [url href="https://saltedplains.com/coconut-cake-with-blackberry-coconut-whipped-cream-and-mixed-berries/"]Coconut Cake with Blackberry-Coconut Cream Whipped Cream[/url]. Frosting adapted from [url href="http://www.dollyandoatmeal.com/blog/2014/1/21/mini-celebration-cakes" target="_blank"]Dolly and Oatmeal[/url].