Discover a variety of nutritious and delicious smoothie bowl toppings to elevate your breakfast. From fresh fruits and nuts to chia seeds and granola, explore the best choices for a healthy and satisfying smoothie bowl experience.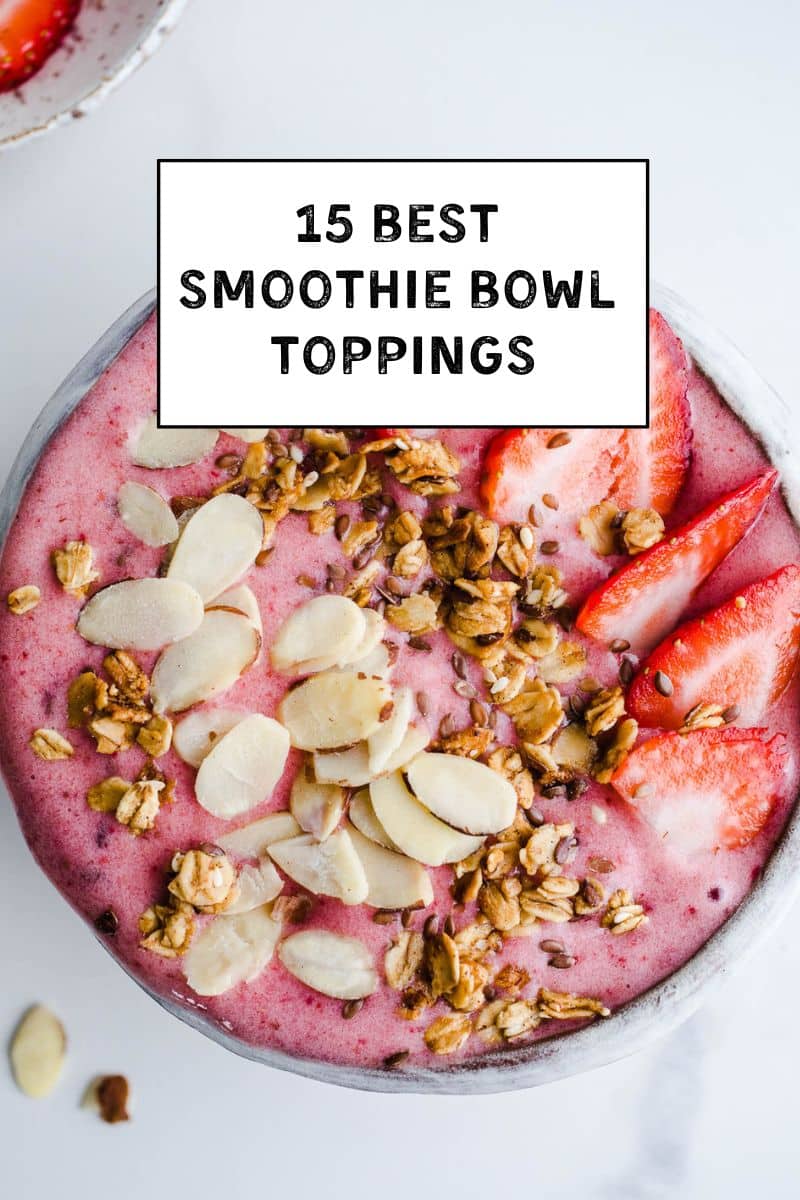 Smoothie bowls are all about the toppings.
Start with a smoothie base, like this easy strawberry smoothie bowl, then pick a combination of toppings that goes well with your chosen flavor.
Adding any one of these delicious toppings with make it a next-level healthy breakfast.
Jump to:
Best smoothie bowl toppings
1. Fresh fruit
Choose your favorite fruits! Sliced strawberries, bananas, kiwi, blueberries, or any other fruit you enjoy. They add natural sweetness, and texture and make for a colorful bowl.
Use mixed berries, a variety of tropical fruit, and any other favorite toppings!
2. Chia seeds
This ancient grain packs a powerful nutritional punch and for good reason. The little black seeds (or white seeds) boast healthy fats, protein, and versatility in a variety of recipes.
3. Nut butter (or seed butter)
Nut and seed butter are great for drizzling or stirring on top of your bowl. They are a good source of dietary fiber, protein, essential fatty acids, and other nutrients.
Almond butter, peanut butter, cashew butter, pistachio butter, or sun butter are great ways to add a little plant-based protein.
4. Flax seed
Similar to chia seeds, flax seeds add texture and a nutty flavor as well as omega fatty acids, lignans, and soluble dietary fiber.
Use them whole or ground!
5. Granola
Adding nutrient-dense foods like granola to the top of your smoothie base is an easy way to get different flavors and textures with just one topping.
Use homemade granola to control the type and amount of sweetener in the recipe. Sprinkle cinnamon apple granola, almond butter granola, almond joy granola, or maple date granola into your fruit breakfast bowl.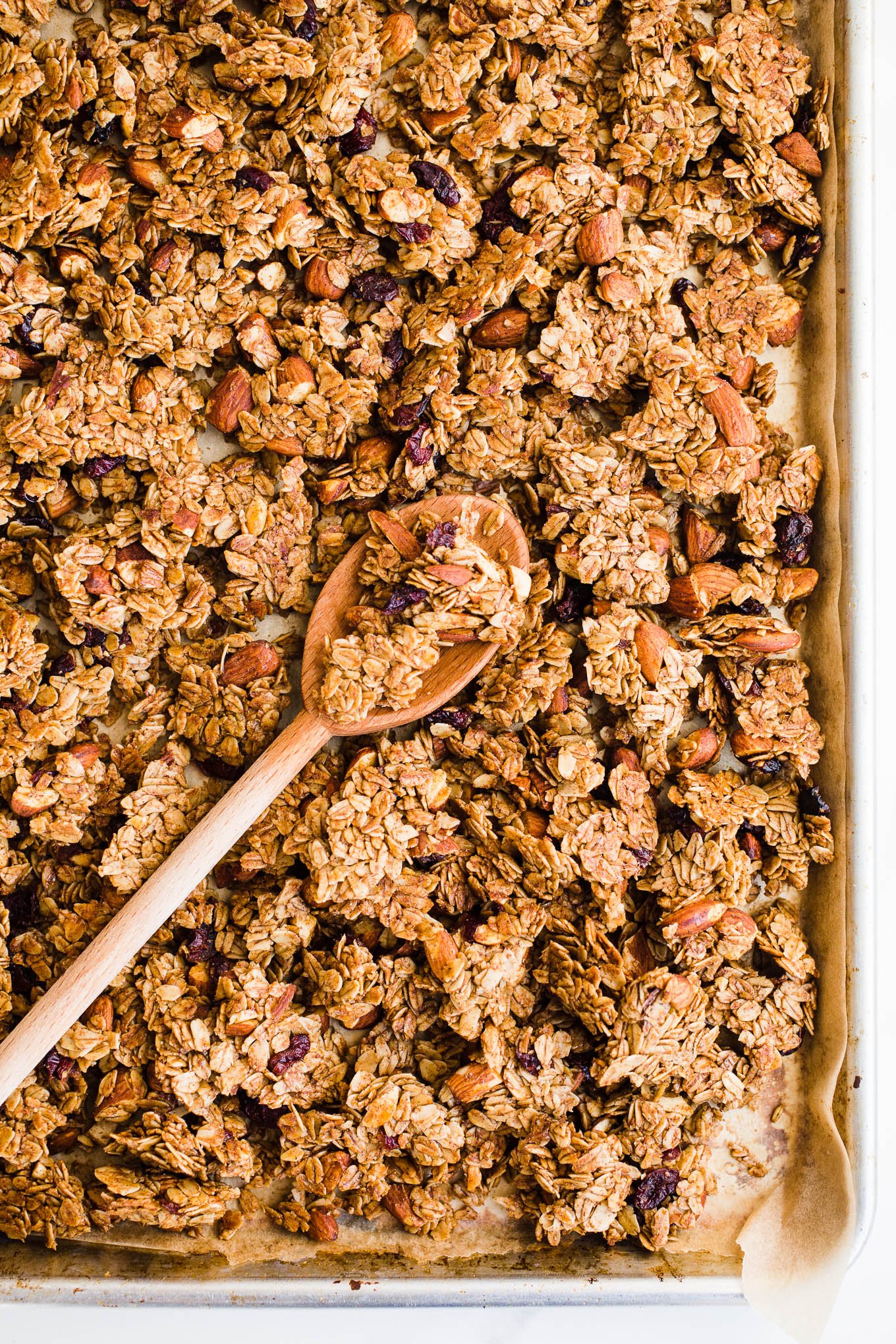 6. Coconut flakes
An easy source of dietary fiber and medium-chain fatty acids, use plain or toasted coconut flakes or shredded coconut.
Choose the unsweetened variety to avoid any added sugar.
7. Pepitas (pumpkin seeds)
Pepitas, also known as pumpkin seeds, are small, green seeds that are packed with nutrients and offer several health benefits such as protein and essential micronutrients.
They are definitely a great addition to your morning smoothie, but also are fantastic toppers for muffins, bread, and cookies!
8. Fruit compote
While some fruit compotes can be sugar-laden, making your own compote, allows you to control the amount and type of sweetener used. Compote adds a pop of flavor and color.
9. Granola butter
Made from whole grain oats, granola butter (also known as oat butter or oatmeal butter), adds the flavors of freshly baked granola with the ease of a plant-based butter.
10. Dried fruit
Dried fruit is a healthy and convenient option that provides a variety of essential nutrients, flavor, and chewy texture. Unsweetened is best to avoid added sugar.
11. Hemp seeds
Hemp seeds, also known as hemp hearts, are a good source of omega-6 and omega-3 fatty acids, plant-based protein, and minerals, as well as a great source of fiber.
For healthy breakfast bowls, this is a great addition for health benefits and crunch!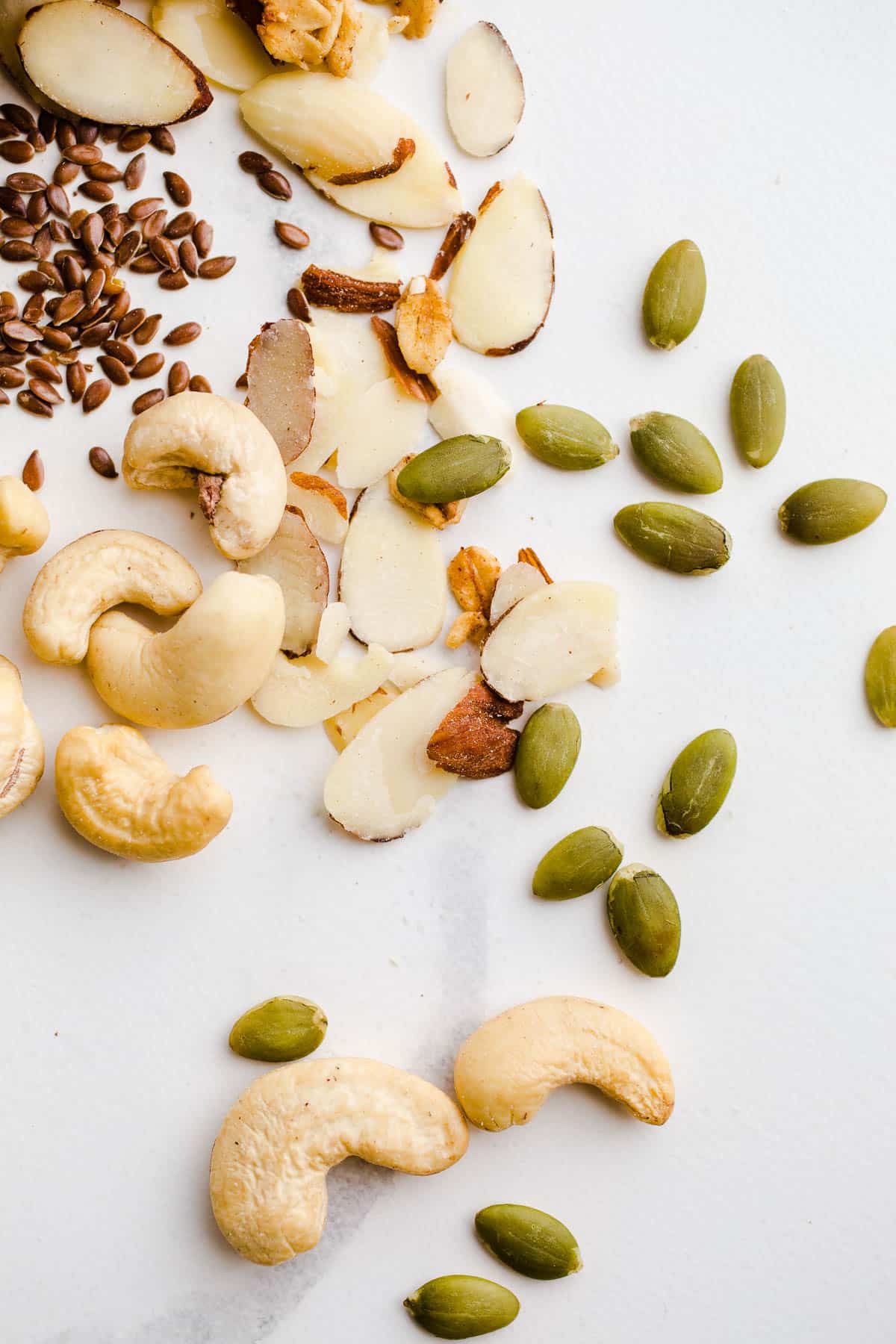 12. Nuts
Whether whole, sliced, or chopped into small pieces, nuts can add extra protein while also sharing heart-healthy benefits.
The most healthy way to make nuts a part of your delicious breakfast is to buy unsalted and unroasted raw nuts.
13. Cacao nibs
Cacao nibs are small pieces of crushed cacao beans that have a rich, intense flavor. They are often touted for their health benefits due to their nutritional content.
In lieu of chocolate chips, a little goes a long way with these crunchy bits.
14. Sunflower seeds
With antioxidant, anti-inflammatory, and anti-microbial properties, sunflower seeds are a great nut-free option that adds flavor and texture.
Purchase unsalted and unroasted raw sunflower seeds to avoid added salt and oil.
15. Goji berries
Goji berries, also known as wolfberries, are bright red berries native to China. They have been used in traditional Chinese medicine for centuries and offer several health benefits due to their nutritional composition
Their nutritional benefits, bright red color, and texture make them one of the best toppings.
FAQs
What's the difference between regular smoothies and smoothie bowls?
The biggest difference between traditional smoothies and bowls is the consistency. Smoothie bowls have a thicker consistency than regular smoothies and therefore use less liquid. 
What are the essential must-haves for making a smoothie bowl?
To make a smoothie bowl you'll need a high-speed blender, fresh or frozen fruit, add-ins like chia seeds, flaxseeds, or protein powder, and your favorite toppings. 
More healthy breakfast recipes