Healthy and nutritionally packed, these easy Teff Almond Butter Cookies pair beautifully with coffee or tea. Gluten-free, vegan, and refined sugar-free.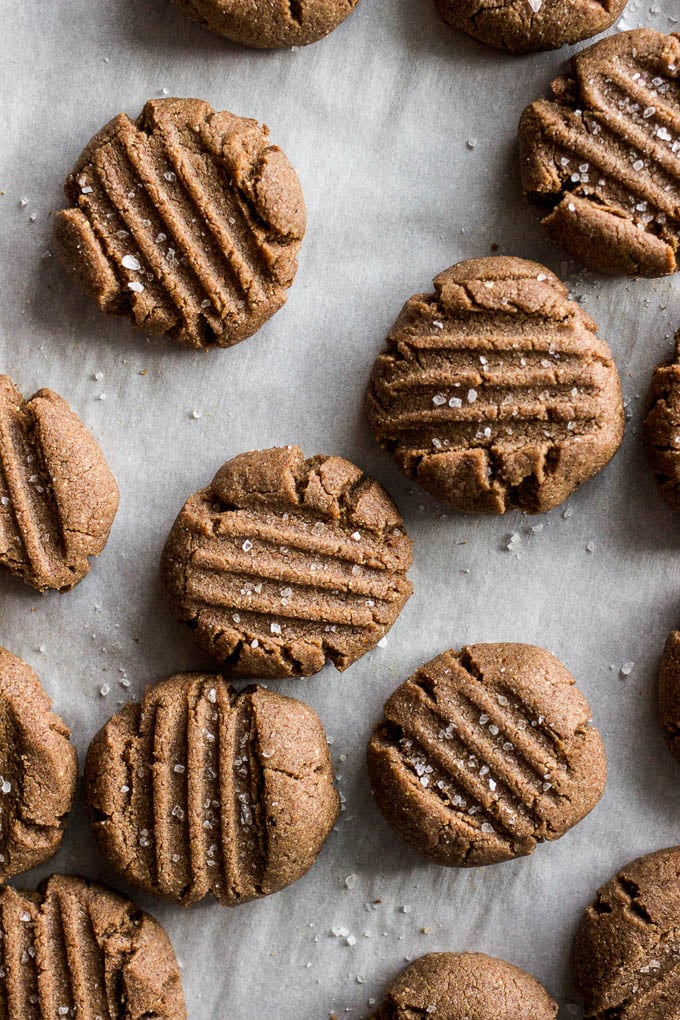 The increased amount of sun this week has made everything feel a bit easier. Daylight savings and Spring seemed to have coordinated their schedules because we couldn't have asked for a more beautiful introduction to March. It also felt like a good time to take our Christmas wreath with its festive lights down off the front door. I know. I did, though, stop turning the wreath lights on at the close of January.
Clearly, you can see where my priorities are not.
Much of my attention recently has been given to these teff almond butter cookies. I have been wanting to do more with teff as it seems like it has a variety of uses. Touted as a nutritional powerhouse, full of amino acids, fiber, and protein, it is one gluten-free grain that I haven't experimented with much.
After researching cookie recipes that used teff and nut butters, the ratios of teff flour to nut butter all seemed to be the same. But I played anyways, using a little more teff, a little less, sweetening with coconut sugar, switching up and sweetening with maple syrup, more salt, less salt, a touch with cinnamon, some without.
I ended up resorting back to the seemingly tried and true ratio of teff flour to nut butter, then sweetening with maple syrup, adding ground cinnamon for some warmth, and enhancing the almond butter base with some almond extract. These cookies have a delicate texture, are slightly crumbly, and remind me a little of a softer shortbread cookie.
I also tinkered with the cooking time quite a bit, maybe a little too obsessively, but came to the conclusion that a slightly undercooked cookie center made for the best outcome. Overbaking by a couple minutes sucks the moisture out of these little bites and leaves you running for the nearest beverage. Speaking of beverage, these cookies do pair nicely with coffee or tea.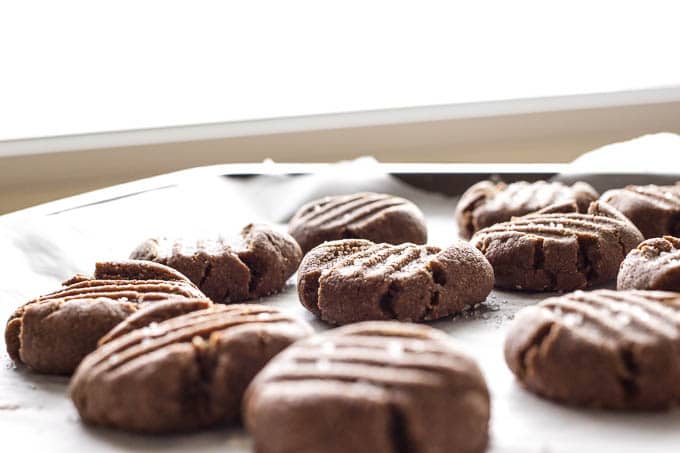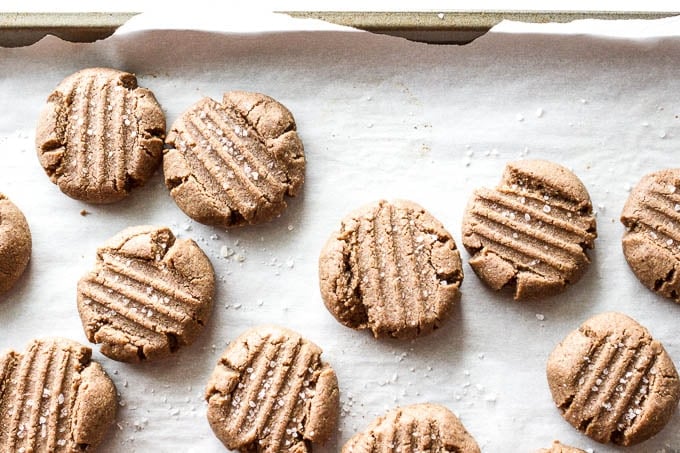 Teff Almond Butter Cookies (Gluten-free, Vegan)
Healthy and nutritionally packed, these simple cookies pair beautifully with coffee or tea. If using salted almond butter, you will need to reduce the amount of salt called for in the recipe.
Print
Pin
Rate
Ingredients
1 ½

cups

teff flour

½

teaspoon

salt

¼

teaspoon

ground cinnamon

1

cup

unsalted almond butter

½

cup

maple syrup

½

cup

melted coconut oil

¼

teaspoon

pure almond extract

1

teaspoon

pure vanilla extract

Sea salt for sprinkling
Instructions
Preheat oven to 350 degrees Fahrenheit. Line a cookie sheet with parchment paper or a Silpat.

In a large bowl, combine teff flour, salt, and cinnamon. Add almond butter, maple syrup, coconut oil (make sure it is no longer hot), and almond and vanilla extracts. Stir with a rubber spatula until well combined.

Roll cookie dough into small balls and place on cookie sheet. With a fork, flatten balls about halfway down. Sprinkle cookies with sea salt.

Bake for 10-11 minutes. Overtaking will result in a dry cookie. Remove from cookie sheet and allow to cool on a wire rack.

Store in an airtight container.
Notes
Granulated sugar will not work well as a substitute for maple syrup in this recipe.
Adapted from Maskal Teff.
Nutrition
Calories:
100
kcal
|
Carbohydrates:
8
g
|
Protein:
2
g
|
Fat:
7
g
|
Saturated Fat:
3
g
|
Polyunsaturated Fat:
1
g
|
Monounsaturated Fat:
2
g
|
Sodium:
34
mg
|
Potassium:
62
mg
|
Fiber:
1
g
|
Sugar:
3
g
|
Vitamin A:
1
IU
|
Vitamin C:
1
mg
|
Calcium:
37
mg
|
Iron:
1
mg
SaveSave