Is cocoa powder gluten-free? In its natural form, yes!
You may recognize it in its natural state when labeled as "unsweetened cocoa powder" and occasionally as "natural cocoa powder."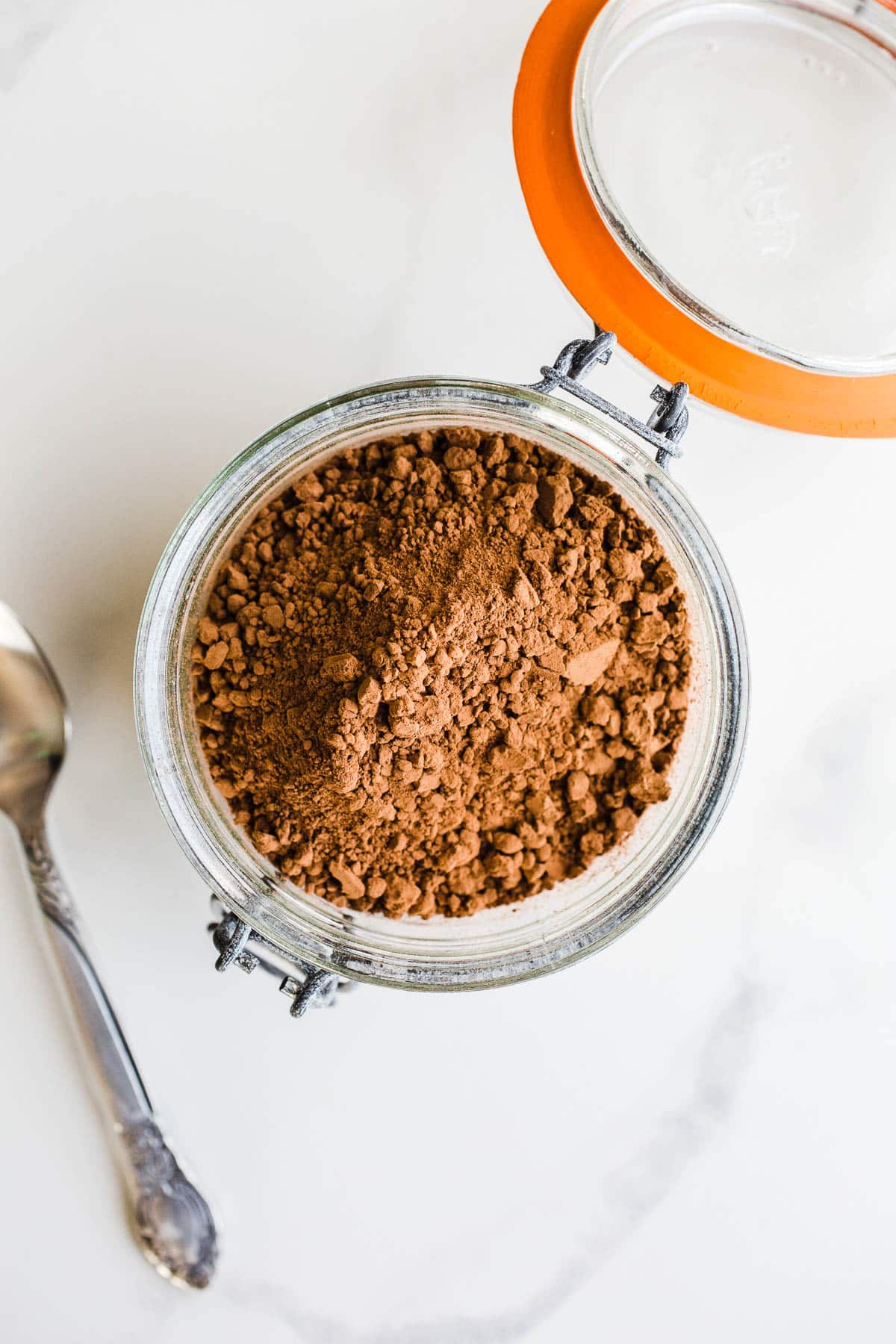 Made from cacao beans, the beans are first dried and then the fat (cocoa butter) is extracted from the remaining cocoa solids. The dried cocoa solids are then ground into a fine powder.
This powder is used in baked goods, chocolate bars, cookies, and drinks, giving them a rich chocolate flavor. Unsweetened cocoa powder is a great pantry staple to have on hand for gluten-free baking.
Although naturally gluten-free, there are some essential things to look for to ensure it is safe for a gluten-free diet.
Jump to:
Can you eat cocoa powder with Celiac disease?
Due to cross-contamination, it is vital for those with a gluten allergy, gluten intolerance, or Celiac disease to buy brands labeled as certified gluten-free.
Read the ingredients label for allergen information. This is crucial in determining whether a product has been made in a facility that processes other gluten-containing ingredients.
Is cocoa powder vegan?
If you are wondering if cocoa powder is also dairy-free and vegan, the answer is also yes! Unsweetened or natural pure cocoa powder is without dairy or animal products.
It is important to always check the ingredient list to make sure nothing else has been added.
Which cocoa powder is gluten-free?
The following brands are labeled certified gluten-free and should not risk cross-contamination. It is not an exhaustive gluten-free list but it is a great place to start.
Anthony's
Navitas Organic Cacao Powder
NOW Organic Cocoa Powder
Hershey's Cocoa 100% Cacao Natural Unsweetened
Hershey's Cocoa Special Dark 100% Cacao
Better Body Foods
Viva Naturals Organic Cacao Powder
What are the two types of cocoa powder?
Cacao powder (natural cocoa powder) - This is an unsweetened cocoa powder (or non-alkalized) with no additives and minimal processing. This results in a more acidic and bitter chocolate flavor.
Dutch-process cocoa powder - This type of unsweetened cocoa powder is also known as alkalized cocoa powder.
Cocoa beans are washed with an alkaline wash (potassium carbonate solution) to reduce acidity and create a smoother, darker powder.
Ultra Dutch powder is labeled as black cocoa powder. This is due to the heavy alkalizing process and the very dark color that is produced.
Dark cocoa powders provide chocolate recipes with a rich, dark color and smooth flavor. (Think Oreo cookies!)
Are hot cocoa mixes gluten-free?
Hot chocolate mixes are usually made with gluten-free ingredients and contain dairy and added sugar.
Ingredients in most mixes are gluten-free but many brands are processed on the same equipment as wheat ingredients and gluten-containing foods.
Other ingredients commonly found in hot chocolate powders are sugar, corn syrup, modified whey, xanthan gum, artificial flavor, soy lecithin, milk powder, and dipotassium phosphate.
Therefore, checking the product label and purchasing a certified gluten-free mix is recommended. It is easy to make your own homemade hot chocolate free of allergens too!
Helpful tips
The brand information in this article comes from the brand websites at the time this article was written. Going direct to the brand website is the fastest way to get the most up-to-date allergen information on a specific product.
If cross-contamination is a concern, make sure you check the product label for information regarding its gluten-free designation. If it is not clear, always contact the brand directly.
Remember, just because a product does not use gluten-containing ingredients, does not necessarily mean it wasn't processed in a facility that produces foods with gluten ingredients.
Please note: Always check labels as some manufacturers Include gluten or dairy, or process In the same facility as wheat. This article is meant to help aid in highlighting gluten-free products but is not an exhaustive list or medical advice. Please consult with your healthcare provider for best practices and care for your individual needs.