Looking for a healthier agave nectar substitute? Explore our guide to find the best alternatives such as honey, maple syrup, and brown rice syrup. Learn how to make the substitutions and keep your recipes sweet.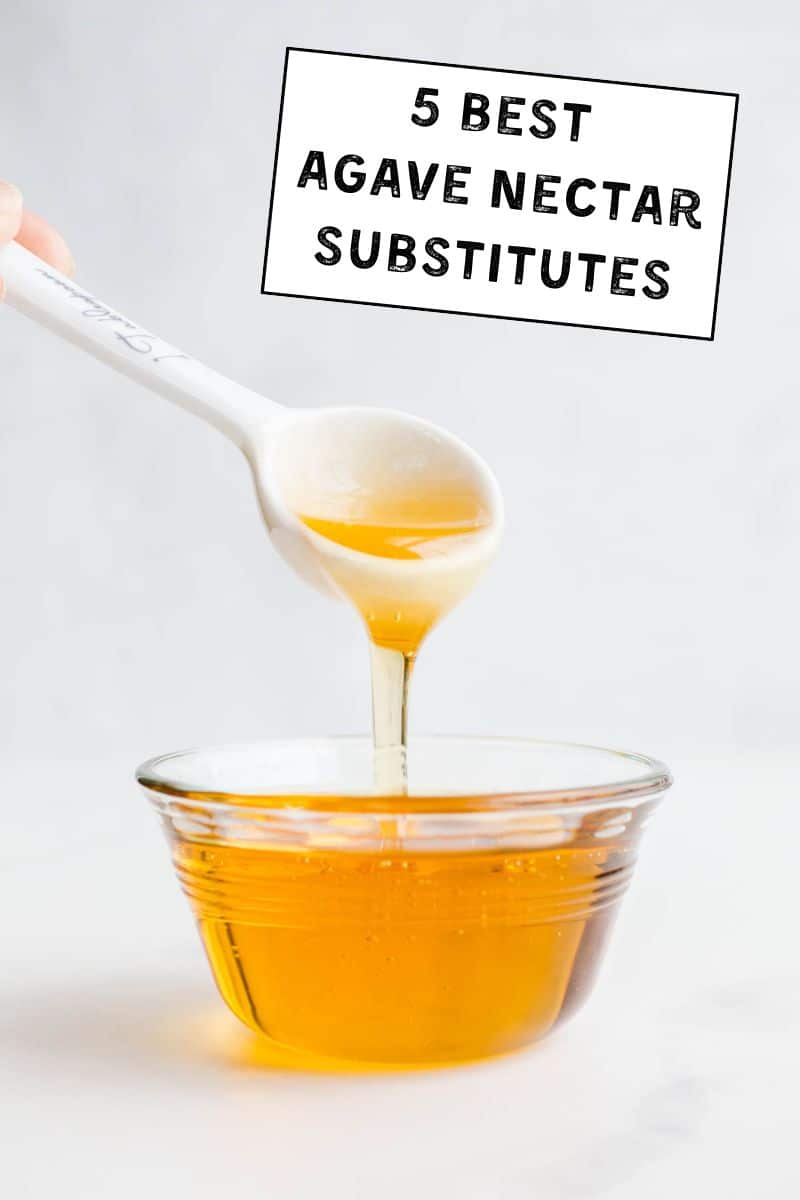 Jump to:
What is agave nectar?
Agave nectar is a liquid sweetener derived from the sap of the agave plant. Also referred to as agave syrup, it is a natural alternative sugar substitute to refined sugar and has a low glycemic index. It is a good option for those watching their sugar intake and blood sugar levels.
Compared to other sweeteners, it is a good source of vitamins, minerals, and polyphenols. However, it's important to use it in moderation. It is still a form of sugar and can have negative health effects if consumed in excess.
Types
There are several types that differ in their flavor, color, and production method. They include:
Light - This is the most widely available type and has a mild, neutral flavor.
Amber - Amber syrup is darker in color and has a slightly richer flavor than the light variety.
Dark - This has the strongest flavor of all the varieties and is often compared to molasses or caramel.
Raw - Produced at lower temperatures, this helps to preserve more of the natural enzymes and nutrients in the agave plant.
Blue - Blue agave nectar is made exclusively from the blue agave plant. Blue agave is native to Mexico and is used to make tequila.
What is agave nectar used for?
The versatile sweetener is commonly used as a honey substitute. It is a natural alternative to refined sugar or corn syrup and can be used in a variety of recipes and applications, including:
Baking: The syrup can be used in place of sugar or honey in baking recipes like cookies, bread, and cakes. It adds a sweet flavor and helps to moisten baked goods.
Beverages: It can be used as a sweetener for cold and hot beverages, such as tea, coffee, hot chocolate, smoothies, and cocktails.
Sauces and Dressings: In homemade salad dressings and sauces add sweetness and balance out the acidity.
Canning and Preserving: Used as a healthier alternative in canning and preserving recipes.
Granola and Snacks: It can be used in homemade granola, energy bars, granola bars, and other healthy snacks.
What is a good substitute for agave nectar?
If you don't have this golden nectar on hand, what is the best option to achieve a similar level of sweetness?
When looking for healthy alternatives, there are several options you can consider without artificial sweeteners. Some of the best substitutes include:
1. Honey
Honey is a natural sweetener that can be used in its place. It has a comparable consistency but is more viscous. With a similar sweetness, it is not as sweet as but does have a bit stronger flavor.
It can be used in baking, cooking, or as a sweetener for tea or coffee. When baking with honey, keep in mind that browning will occur faster.
To substitute, use a 1:1 ratio. One tablespoon of honey for one tablespoon of agave.
2. Maple syrup
Pure maple syrup is another excellent substitute and a vegan-friendly option as well. It has a different flavor profile that is distinctly sweet and slightly smokey. Like honey, maple syrup is a bit thicker and more viscous in comparison.
It can be used in baking, cooking, drinks, or as a topping for pancakes and waffles.
To substitute, use a 1:1 ratio. One tablespoon of maple syrup for one tablespoon of agave.
3. Coconut nectar
Coconut nectar is a low-glycemic sweetener that is made from the sap of the flowers of the coconut palm. It has a similar consistency and sweetness level with a subtle coconut flavor and a slight caramel taste. It is a great option for those following a paleo diet.
To substitute, use a 1:1 ratio. One tablespoon of coconut nectar for one tablespoon of agave.
4. Brown rice syrup
Brown rice syrup is a thick syrup that is made from fermented brown rice. It has a mild flavor, darker amber color, and is less sweet.
To substitute, use a 1:1.5 ratio. For every tablespoon of agave syrup called for in a recipe, use one and a half tablespoons of brown rice syrup. Due to the thicker consistency, you may need to add additional liquid when baking to adjust.
5. Simple syrup
Simple syrup is a 1:1 ratio of cane sugar and water, making an easy homemade sweetener in liquid form. This type of syrup is often used in cocktails and beverages and has a strong sweet taste.
To substitute, use a 1:1 ratio. Since simple syrup is made with water, you may need to adjust the amount of other liquids called for in a recipe. Or, reduce the amount of simple syrup.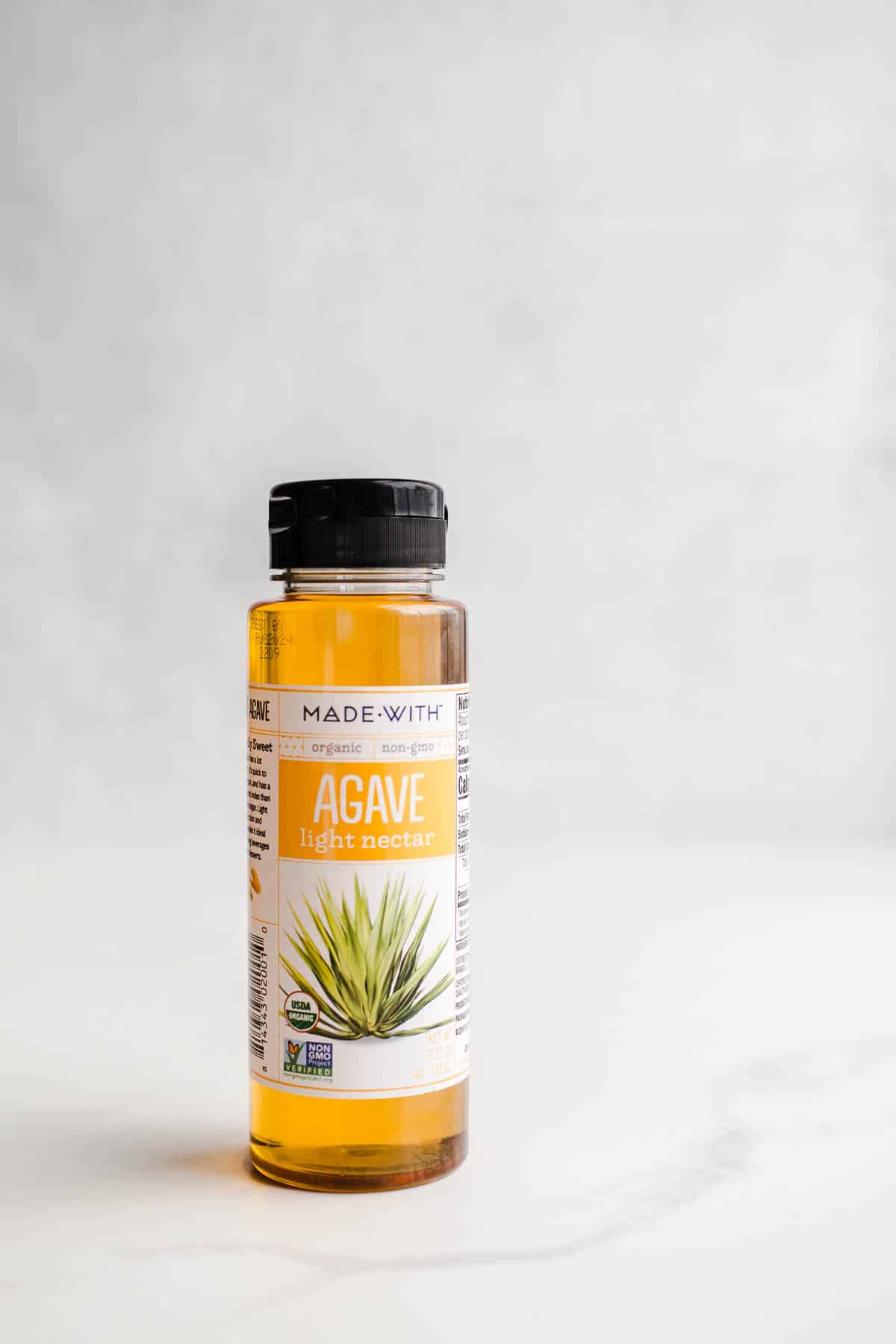 FAQs
Where do you buy agave nectar? 
You can purchase it at most grocery stores and health food stores in the baking aisle as well as online. 
Does agave syrup need to be refrigerated?
Agave syrup does not need to be refrigerated but should be kept in a cool, dry place. The high sugar content in the syrup acts as a preservative. Make sure to store away from heat or direct sunlight.
Conclusion
There are several good substitutes for agave nectar, including honey, maple syrup, coconut nectar, and brown rice syrup. Each of these substitutes has its own unique flavor profile and consistency, so it's important to choose the right one for your recipe.
When substituting, be sure to adjust the ratio and liquid content accordingly and keep in mind the potential impact on the final flavor of your dish.