Cheerios are a popular cereal that is used as a breakfast food or snack. But are they gluten-free?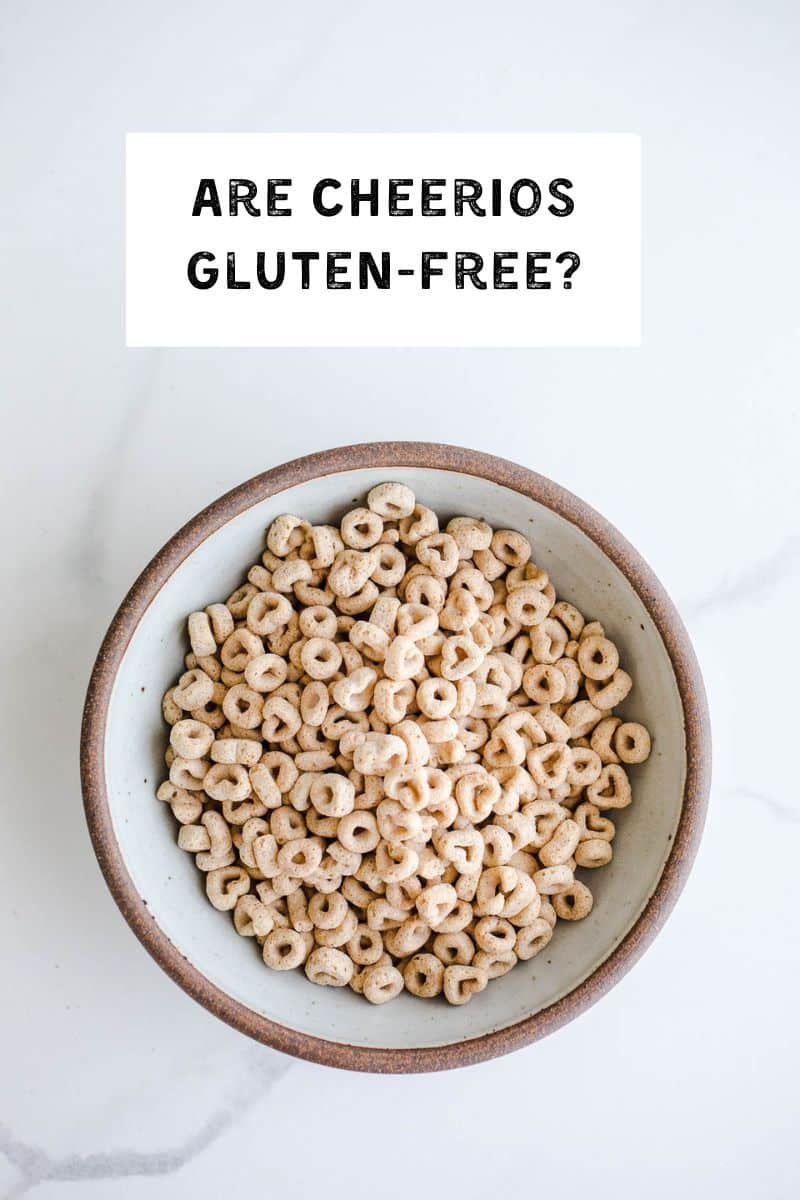 Are Cheerios gluten-free? In short, yes and no! The Cheerios brand now has gluten-free Cheerios cereals options, but not all of their cereals are gluten-free.
The basic ingredients are naturally gluten-free, but to be safe for a gluten-free diet, it comes down to the way the oats are processed for this cereal.
Jump to:
What are Cheerios?
Cheerios is a breakfast cereal made by the General Mills Cereals company. They are small, round, and typically toasted oat cereal rings.
Packaged in a yellow box, it's one of the most popular breakfast cereals out there. 
Cheerios come in various flavors and varieties, including the original plain flavor, as well as honey nut, apple cinnamon, and more.
The o-shaped cereals are often served with milk as a breakfast cereal but can also be used in various recipes or enjoyed as a snack. Cheerios are known for being a low-fat and whole-grain cereal option.
Do oats contain gluten?
Oats, the main ingredient, are naturally gluten-free. However, due to the way they are processed, there is often cross-contamination. This can take place during harvesting, processing, packaging, or in storage.
Oats have always been a controversial subject in terms of their safety, so it is imperative that you consult your doctor, read the packaging and ingredients list, and choose what is best for your health and diet.
In the United States, in order to make sure the oats or oat flour you are consuming are not contaminated, purchase gluten-free oats that have been certified gluten-free and processed in a gluten-free facility.
Other countries have different regulations and labeling regarding health risks.
For food in the United States to be labeled gluten-free, the FDA standard limits foods to 20ppm of gluten.
Are Cheerios safe for Celiac disease?
Cheerios offers gluten-free varieties that are considered safe for people with Celiac disease. But not all varieties of Cheerios are considered without gluten. 
Made with whole grain oats, the Cheerios website states the gluten-free standards and manufacturing process used to eliminate cross-contamination.
Look for the gluten-free label or certification on the packaging to ensure it meets Celiac dietary requirements, as cross-contamination can occur in the production facility.
If you are not in the US, Cheerios may not be deemed safe. The Canadian Celiac Association released its statement regarding the breakfast cereal and recommendations.
Are Cheerios dairy-free?
Plain (original) Cheerios are considered dairy-free as they do not contain any dairy ingredients. 
Always check the product's label or allergen information on the packaging.
Formulations can vary, and some flavored or specialty versions may contain dairy or be processed in facilities that handle dairy products, potentially leading to cross-contamination.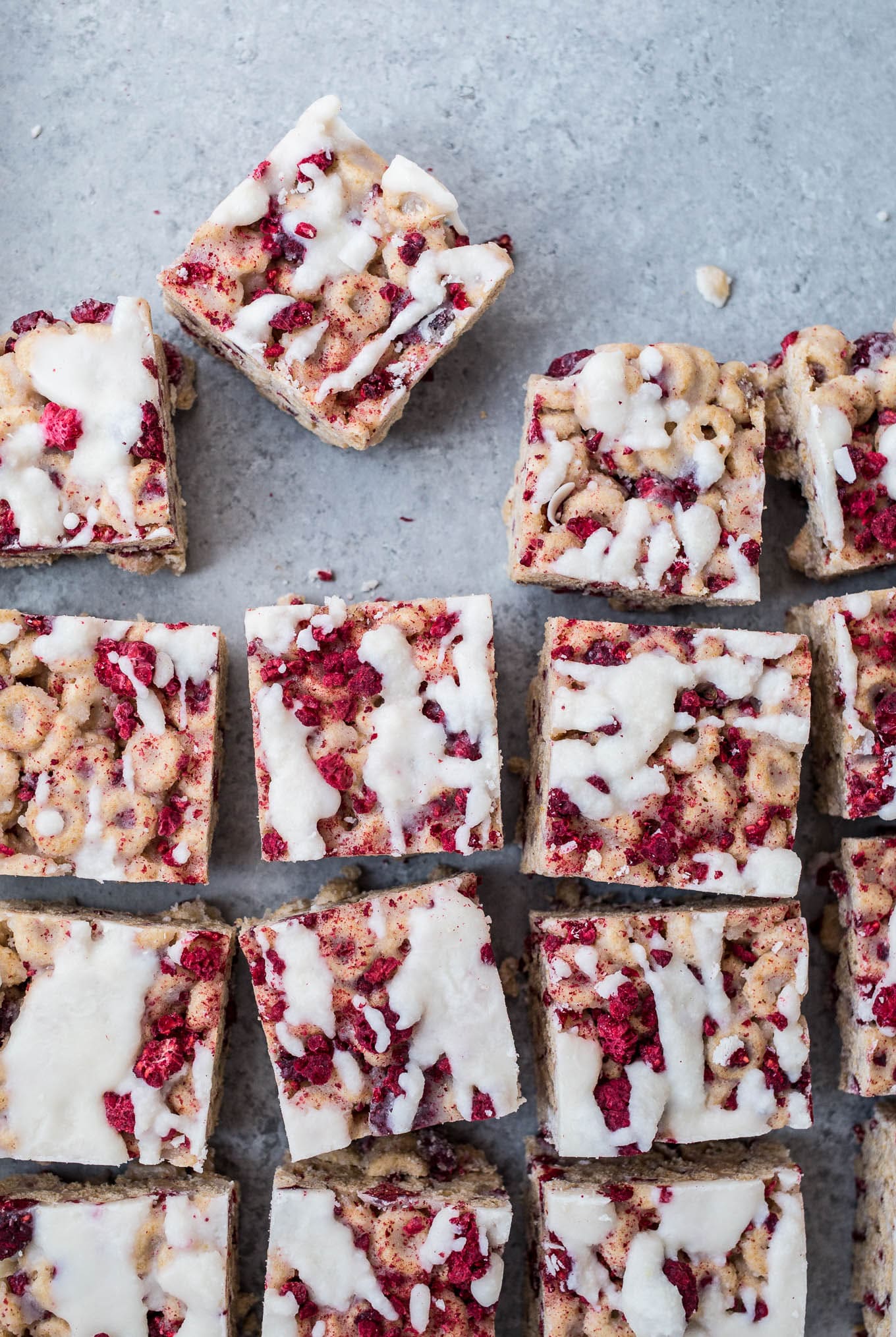 Types
There are now many types to choose from. The following are labeled gluten-free:
Original
Honey Nut
Very Berry
Blueberry
MultiGrain
Apple Cinnamon
Pumpkin Spice
Frosted
Cinnamon
Chocolate
Uses
Cheerios can be used in so many more ways than in a cereal bowl!
Breakfast cereal - The most common use, served with milk or a milk substitute.
Snacking - They can be eaten as a dry snack.
Baking - Crushed they can be used as a coating for baked or fried foods, like chicken tenders or fish.
Yogurt topping -They can be sprinkled on top of yogurt or smoothie bowls for added texture and flavor.
Trail mix - A fun mix-in in homemade trail mix or granola bars.
Ingredient in recipes - Some recipes incorporate breakfast cereal into dishes like energy bars or no-bake treats.
Health benefits
They offer several potential health benefits:
Whole grains - They are made from whole grains, providing fiber and essential nutrients.
Low in sugar - The plain variety is low in sugar, making it a healthier cereal option.
Heart health - Has soluble fiber which may help lower cholesterol levels and promote heart health.
Nutrient fortification - Many varieties are fortified with vitamins and minerals, including iron, folic acid, and thiamin. They also contain vitamin D, vitamin C, and vitamin E.
Low in fat - They are naturally low in fat, making them a healthy breakfast option.
Brands similar to Cheerios
The following brands are labeled GF cereal and are similar to the popular oat cereal:
Love Grown Power O's
Nature's Path Whole O's
Seven Sundays Oat Protein Cereal
Three Wishes Grain-Free Cereal
Forager Project Grain-Free O's
Helpful tips
The brand information in this article comes from the brand websites at the time this article was written. Going direct to the brand website is the fastest way to get the most up-to-date allergen information on a specific product. This is usually found in the FAQ section.
If the risk of cross-contamination is a concern, make sure you check the product label for information regarding its GF designation. If it is not clear, always contact the brand directly.
Remember, just because a product does not use gluten-containing ingredients, does not necessarily mean it wasn't processed in a facility that produces foods with gluten ingredients or gluten-containing grains.
Please note: Always check labels as some manufacturers Include gluten or dairy, or process In the same facility as wheat. This article is meant to help highlight gf products but is not an exhaustive list or medical advice. Please consult with your healthcare provider for best practices and care for your individual needs.
More gluten-free food articles