Looking for a brown rice flour substitute? Explore our guide to find the best alternatives such as white rice flour, quinoa flour, and sorghum flour. Learn how to make substitutions for similar results in a variety of recipes.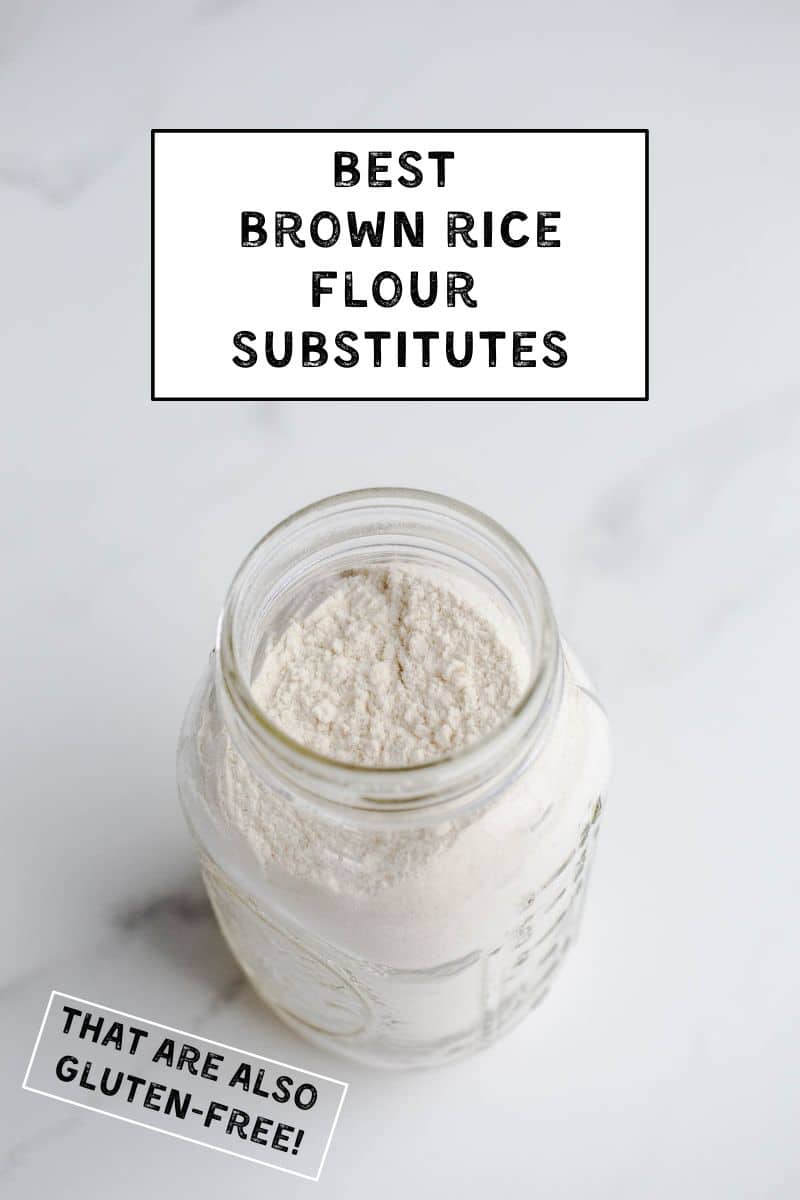 Jump to:
What is brown rice flour?
Brown rice flour is a type of flour made from ground whole-grain brown rice. It is a whole-grain rice that retains its outer bran layer, which gives it a characteristic brown color. To make the grain into flour, the grains are milled or ground into a fine powder.
Brown rice flour is naturally gluten-free and vegan and a great choice to have on hand in a gluten-free pantry. It is a popular ingredient in gluten-free baking, especially for those with dietary restrictions, Celiac disease, or gluten sensitivity.
Types
Three types of rice flour are used most often in cooking and baking. Rice flour can be made from either white or brown rice.
The resulting flour will have a different texture and flavor depending on the type of rice used. 
Brown rice flour has a slightly nutty flavor and a coarser texture. White rice flour has a milder flavor and a finer texture.
Sweet rice flour, also known as glutinous rice flour, is a type of flour made from glutinous rice. It is commonly used in Asian desserts like mochi and other baked goods.
Despite its name, sweet rice flour does not contain any sugar and is not necessarily sweeter than regular rice flour.
Uses
Gluten-Free Baking: It can serve as a whole wheat flour substitute, especially when combined with other gluten-free flour. It can be used to make bread, cookies, cakes, muffins, crackers, pancakes, and other baked goods.
Thickening Agent: Used as a thickening agent in soups, sauces, and gravies, it helps to create a smooth and slightly thickened consistency.
Coating and Breading: It can be used as a coating or breading for meat, fish, or vegetables. It helps to provide a crispy and golden exterior when frying or baking.
Binders: You can use it as a binder in recipes to help hold ingredients together, like in veggie burgers, meatballs, or meatloaf.
Gluten-Free Blends: It is often combined with other gluten-free flour and starches to create custom gluten-free flour blends.
These blends may include flour like sorghum flour, tapioca flour, potato starch, arrowroot starch, or almond flour to improve the texture and overall performance in gluten-free recipes.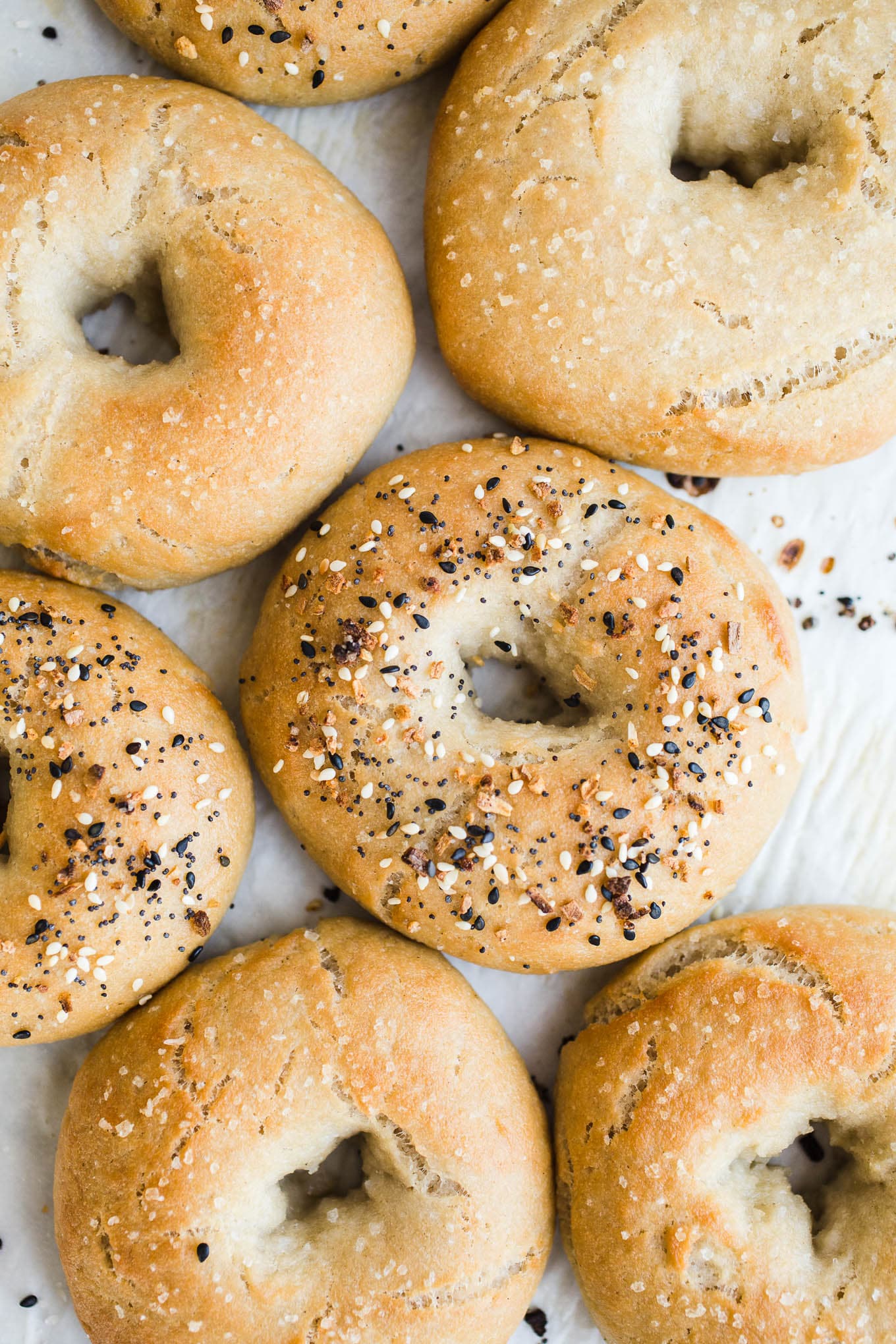 What is a good substitute for brown rice flour?
There are several substitutes available, depending on the recipe and dietary restrictions.
Here we take a look at the best substitutes that are also safe for a gluten-free diet. 
1. White rice flour
White rice flour is made from milled white rice grains, which have had the bran and germ removed. It has a lighter texture and milder neutral flavor.
It works well as a substitute for cookies, cakes, cupcakes, pancakes, and bread and muffins.
To substitute, use white rice flour as a 1:1 substitute by weight for brown rice flour in most recipes.
2. Sorghum flour
Sorghum flour is derived from ground sorghum grains. It has a mild, slightly sweet flavor and a fine texture, making it a versatile ingredient in baking.
It is best used as a substitute for bread, muffins, cakes, and cookies.
To substitute, use a 1:1 replacement by weight in most recipes, but some adjustments may be needed depending on the specific recipe and desired outcome.
3. Quinoa flour
Quinoa flour is made from ground quinoa seeds and is a great option for gluten intolerance. It has a slightly earthy and nutty flavor.
It is best used as a sub for bread, pancakes, and cookies. 
To substitute, use a 1:1 substitution by weight. Quinoa flour tends to have a denser texture compared to brown rice flour. To compensate for this, you can try adding a small amount of additional liquid to the recipe, such as water, milk, or oil, to help maintain the desired texture and moisture level in the final product.
4. Oat flour
Oat flour, made from ground oats, is another viable substitute with a mild, nutty flavor. To make sure it is a gluten-free flour option, buy certified gluten-free oat flour or make your own oat flour from certified gluten-free oats.
Oat flour works well in recipes where a hint of sweetness and nuttiness is desirable, such as in cookies, muffins, or pancakes.
To substitute, use a 1:1 ratio by weight. Oat flour is more absorbent, so you may need to increase the amount of liquid in the recipe slightly.
5. Buckwheat flour
Despite its name, buckwheat is not related to wheat and is totally gluten-free.
It has a strong nutty flavor and is best used as a gluten-free alternative where a robust, earthy flavor is desired, such as in pancakes, crepes, and quick bread.
If the recipe calls for a very mild flavor, buckwheat may not be the best option.
To substitute, use a 1:1 ratio by weight. Buckwheat flour has a denser texture. This can result in a slightly heavier and denser final product.
To help counterbalance this, you can consider using a combination of buckwheat flour with other gluten-free flour or starches by weight, such as white rice flour, tapioca flour, or potato starch.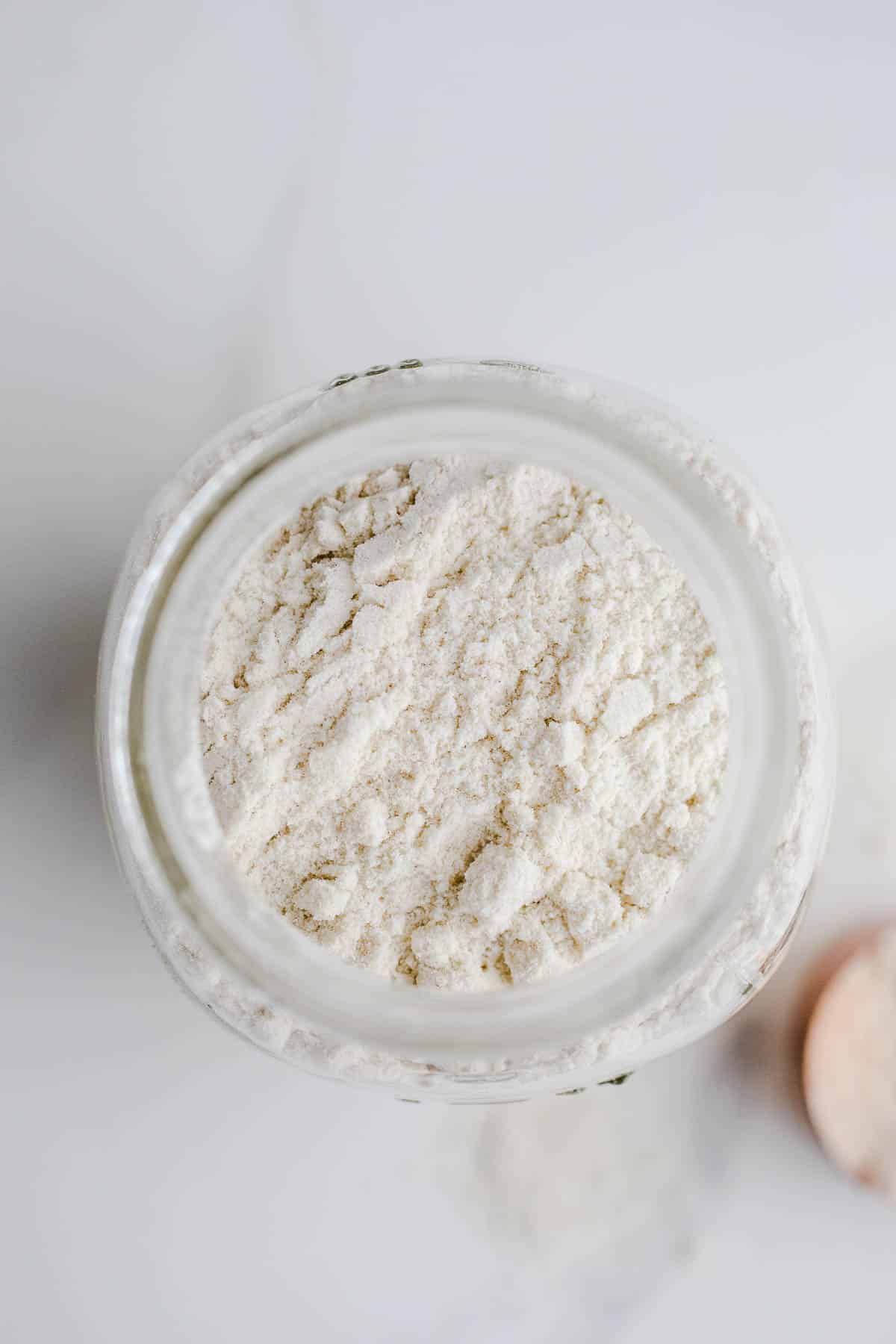 Tips
When substituting with an alternative flour start by measuring the same amount of the substitute flour as the recipe calls for brown rice flour.
Some whole-grain flours are more absorbent, so a little extra liquid may be needed.
FAQs
Can brown rice flour and white rice flour be used interchangeably? 
In most recipes, brown and white rice flour can be used interchangeably. However, it is important to take into account the density and flavor profile of the recipe. Brown rice flour is slightly coarser, denser, and has a nutty flavor compared to white rice flour. 
Can I substitute coconut flour for brown rice flour?
Coconut flour is not an ideal direct substitute due to its high absorbency which impacts texture and moisture in recipes. 
Conclusion
In conclusion, when it comes to substituting brown rice flour in recipes, there are several options available. While no single substitute perfectly replicates the texture and flavor of brown rice flour, various alternatives can still yield delicious results.
More gluten-free substitute articles