Healthy Samoas Cookie Bars are made with an almond flour cookie crust, date caramel, and shredded coconut. An easy and healthier way to enjoy the flavors of a favorite Girl Scout cookie! Gluten-free, dairy-free, vegan.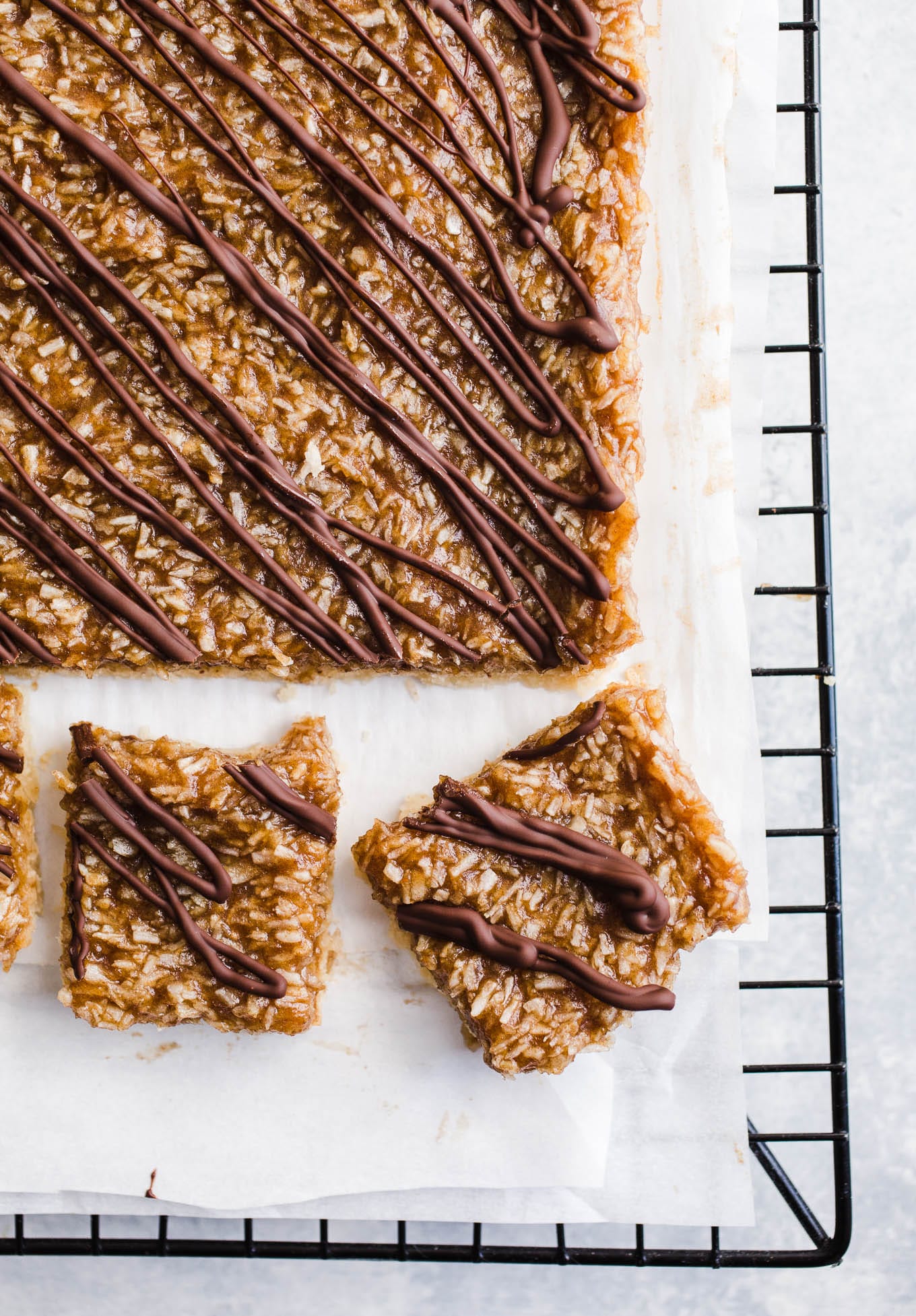 If there were one Girl Scout cookie that I would magically turn gluten-free, it would be the Samoa cookie. Or as I grew up knowing it, the Caramel deLite.
It wasn't until I lived in different parts of the country that I realized more people knew that shortbread cookie topped with caramel, coconut, and chocolate as a Samoa cookie.
I thought everyone had lost their minds.

Healthy Samoas Cookie Bars Ingredients
In reality, there are two names for this cookie (and some slight differences). But the flavors remain the same.
Swapping out dairy-based caramel for date caramel and a simple almond flour cookie layer, a healthier Samoas bar recipe is possible. Here's what you'll need:
Medjool dates
coconut or almond milk
maple syrup
unsweetened shredded coconut
almond flour
coconut oil or vegan butter
dairy-free chocolate chips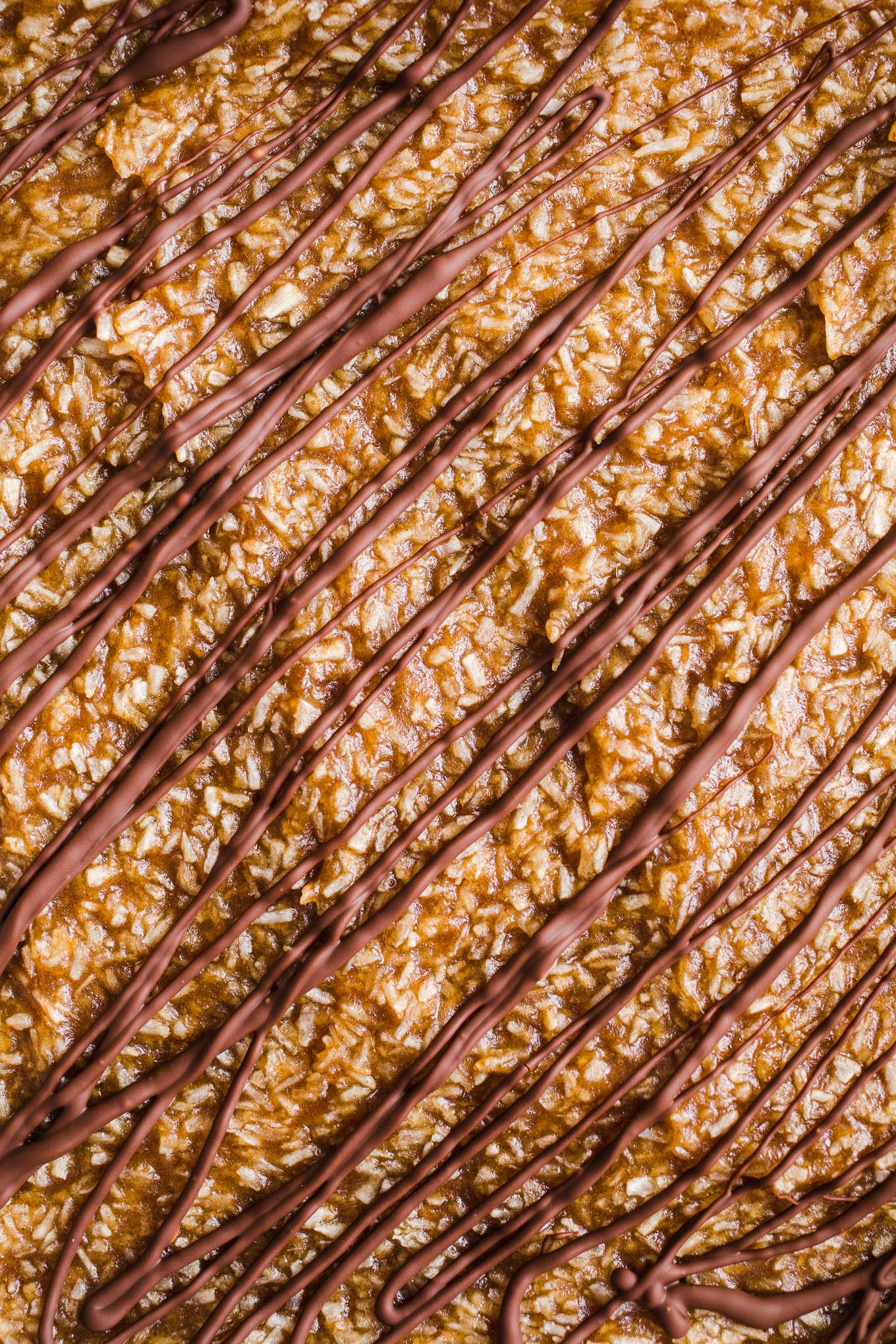 If you haven't had date caramel yet, get ready. I'd say it has ruined regular caramel for me (which is totally okay).
While your cookie crust is baking, prepare your date caramel in a high powered blender. I suggest soaking your dates in hot water for at least 5 minutes prior to blending. This ensures a smoother caramel.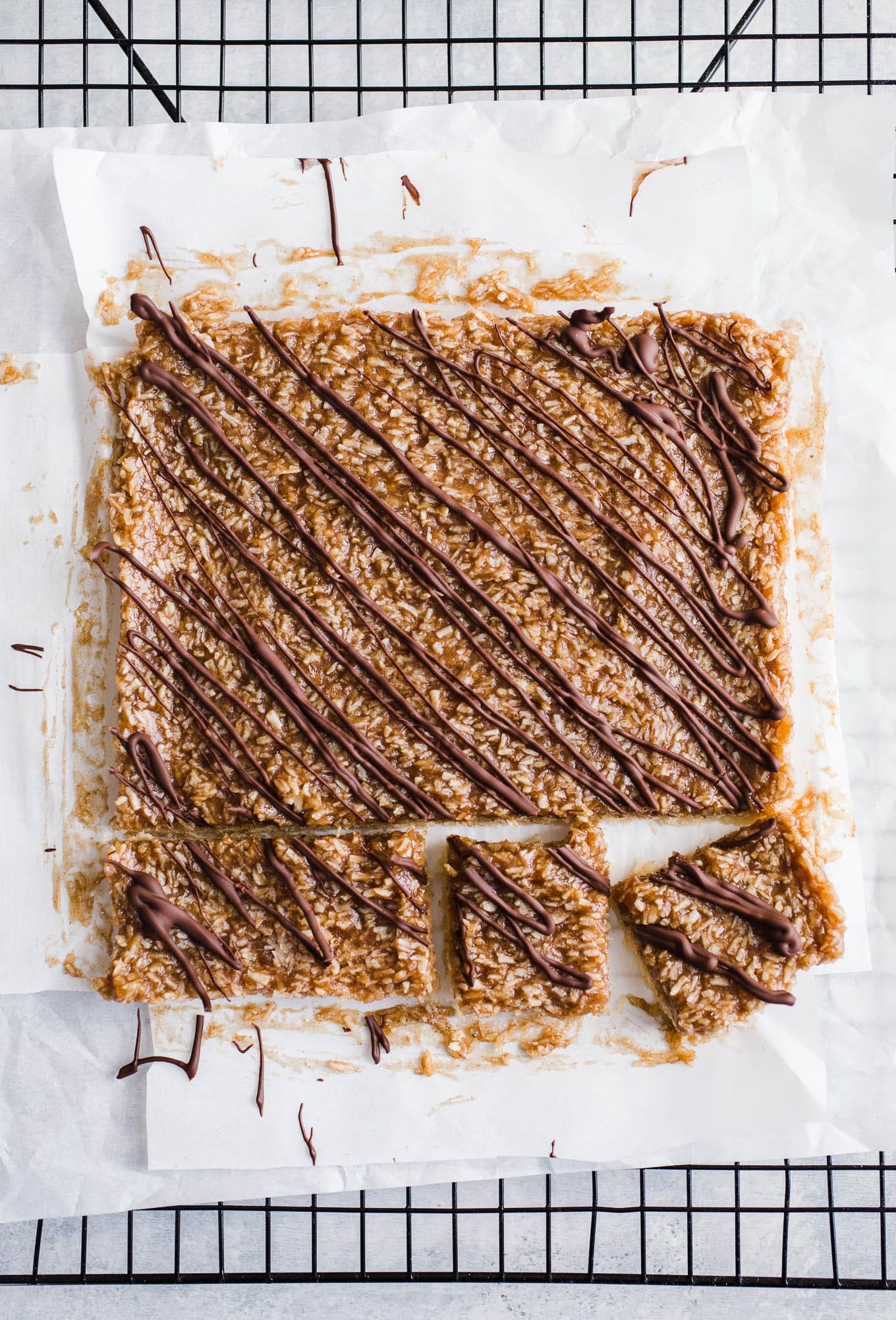 When the date caramel is ready, stir in your unsweetened shredded coconut and spread atop your cookie crust.
Once set, drizzle your dairy-free chocolate and you've got yourself vegan gluten-free Samoas cookie bars. The longer you allow these easy cookie bars to chill in the fridge, the more set they will become.
A little sprinkle of sea salt on top doesn't hurt either!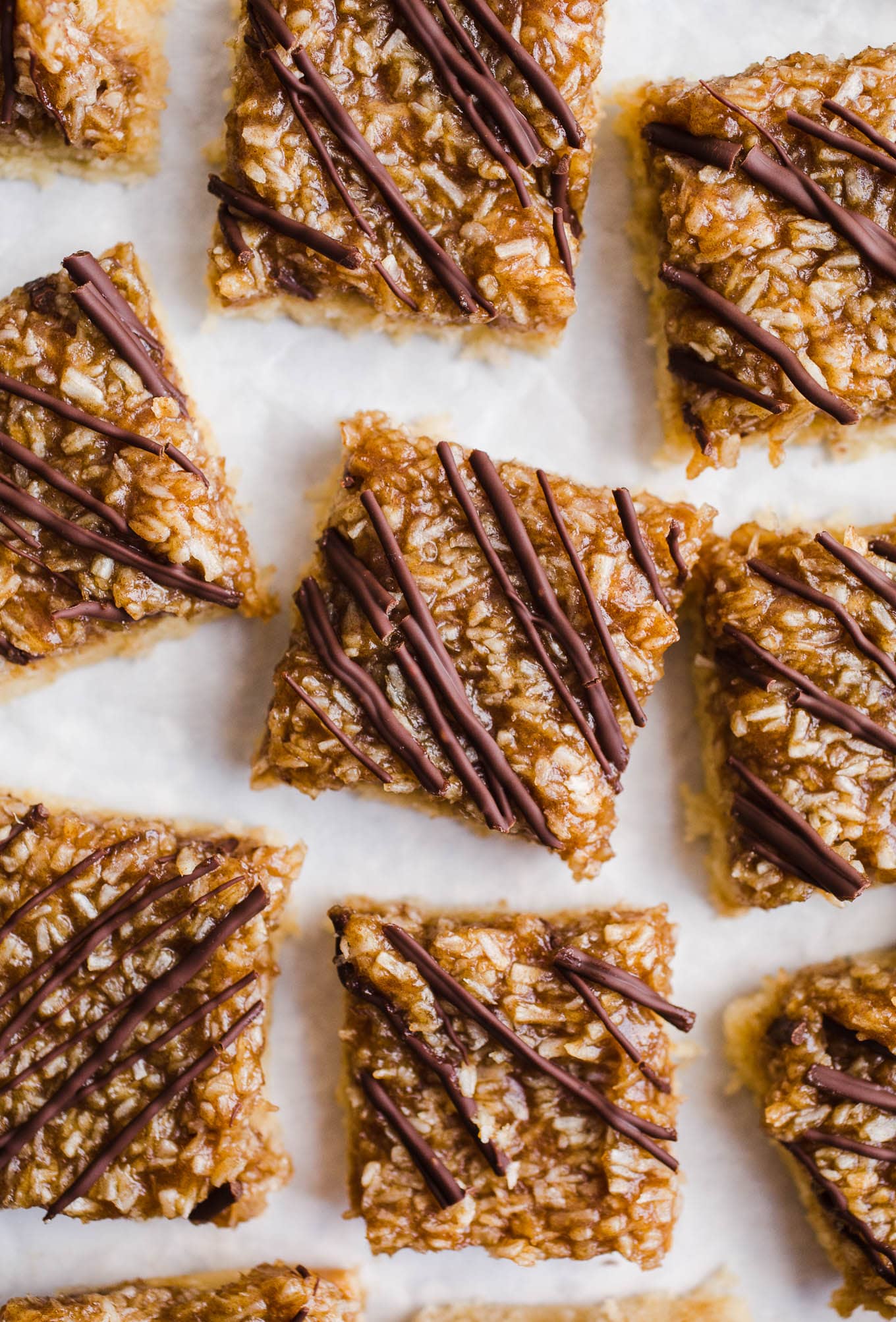 If you are on the hunt for more healthy-ish brownie and bar recipes, check out Laura's black bean brownies. So sneaky!
More Cookie Bar Recipes
Gluten-Free Oatmeal Chocolate Chip Bars
Healthy Samoas Cookie Bars
Ingredients
Crust
1 1/2

cups (174g)

almond flour

1/4

teaspoon

salt

3

tablespoons

coconut oil or vegan butter

melted and slightly cooled

2

tablespoons

maple syrup
Instructions
Preheat oven to 350 degrees Fahrenheit. Grease an 8x8 pan and line with parchment paper.


In a large bowl, whisk together almond flour and salt. Add coconut oil or vegan butter and maple syrup. Stir to combine until dough forms and all dry bits are incorporated. Transfer dough to prepared pan. Press dough into an even layer. Use an extra piece of parchment paper to help smooth it out.

Bake for 12-14 minutes, crust should start to brown on edges and lightly on top. Remove from oven and set aside.

While crust is baking, pit and slice your dates and cover them in a small bowl with hot water. Allow to soak for at least 5 minutes. Once soaked, drain and transfer dates to a high powered blender. Add salt, coconut milk, maple syrup, and vanilla extract. Blend on high until smooth.

Transfer date caramel to a medium bowl. Add shredded coconut. Stir to combine. Spread date caramel mixture in an even layer on top of baked crust. Refrigerate for at least 1 hour to set.

In a small microwavable bowl, add chocolate chips and heat for two 30-second intervals in the microwave to melt. Remove bars from fridge and drizzle melted chocolate on top. (I put melted chocolate in a baggie, cut the tip, and drizzle.)

Refrigerate for another 30 minutes before removing from pan and slicing into bars.

Store Samoas cookie bars in the refrigerator up to 4 days.
Related Posts