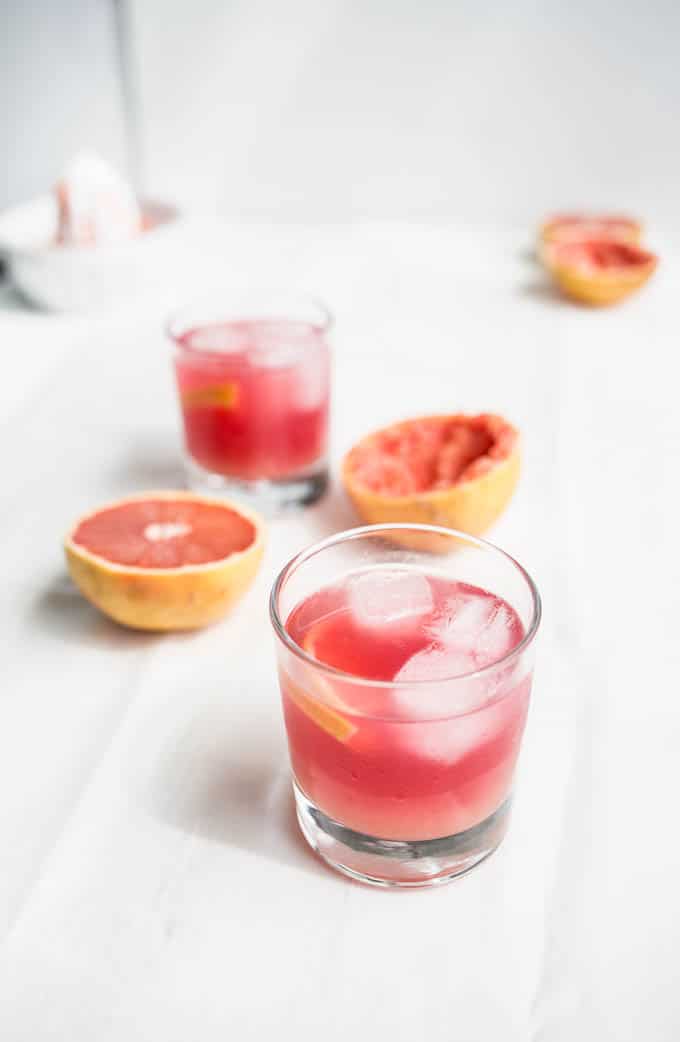 With the long holiday weekend last week, Heath and I jumped in the car and set our sights on Chicago. Since leaving New York City five years ago, Chicago has been our easy big city fix. And it does the job quite well. Good food, drink, and plenty to explore on foot. While it was a much needed getaway break, I sometimes enjoy the time in the car on the road most of all. Just me and him and an open road is pretty much all I need.
And maybe this cocktail. While it was sunny and perfect in Chicago on Easter Sunday, it was snowing in Kansas City. I've had this cocktail on my mind for the last few weeks after having a similar concoction out one night with my girlfriends. I couldn't help but think on our drive home how well this hibiscus grapefruit cocktail bridges the gap from winter to spring. Red, juicy grapefruit with the floral and berry-tart hint of hibiscus combines for a fruity, sweet elixir that both seasons can celebrate.
Better yet, this cocktail is simple. I infused a honey simple syrup with hibiscus tea, added it to fresh squeezed red grapefruit with a splash of lemon juice, and pretty soon after I didn't care if I was supposed to wear my winter coat or my shorts.
Cheers, my friends! Here's to a lovely weekend.
Make a Salted Plains recipe? I'd love to see! Tag your creations on Instagram with #saltedplains!
Hibiscus Grapefruit Cocktail
Author:
Prep time:
Total time:
This fruity-tart cocktail is made with a hibiscus honey simple syrup, fresh grapefruit juice, lemon juice, and vodka. If vegan, you can substitute the honey with agave syrup.
Ingredients
[i]Honey Simple Syrup:[/i]*
1 wild hibiscus tea bag (I used Heart-tee brand)
¼ cup honey (or agave syrup if vegan)
¼ cup water
[br]
[i]Cocktail:[/i]
3 ounces fresh red grapefruit juice (1 medium grapefruit yields 6-8 ounces juice)
1 ½ ounces vodka
½ ounce hibiscus honey simple syrup
juice of half a small lemon
[br]
[i]Garnish:[/i]
1 half slice of grapefruit or lemon
Instructions
Place water in a small saucepan over medium-high heat until it starts to simmer. Turn heat to low and add hibiscus tea bag. Allow to steep for 2 minutes. Remove tea bag from saucepan and add honey. Stir frequently until dissolved. Remove saucepan from heat.
Place 2 to 3 cubes of ice into an old fashioned glass. Add grapefruit juice, vodka, hibiscus honey simple syrup, and lemon juice. Stir. Garnish with grapefruit or lemon slice if desired.
Notes
*Hibiscus honey simple syrup recipe will make about 2 ounces of syrup, enough for 4 cocktails.