These Gluten-Free Oatmeal Cream Pies are just like the Little Debbie version you grew up loving but gluten-free and vegan. Made with a delicious cashew cream filling!
I have had for years now an ever growing list of "make that gluten-free" recipes. Oatmeal cream pies have been on that list for awhile now.
It wasn't until a few weeks ago when a friend mentioned that I should have a version up on the blog, that I got in gear and finally did it.
Why this took me so long, I'll never know. But I'm excited to share this recipe with you!
Gluten-Free Oatmeal Cream Pies Ingredients
Not only are these sandwich cookies gluten-free, but I wanted to keep them egg-free and dairy-free as well. So, what are these oatmeal cream pies made of? Here's the major players:
gluten-free oats
coconut sugar
organic cane sugar
almond flour
oat flour
vegan butter
almond butter
raw cashews
maple syrup
organic powdered sugar
almond milk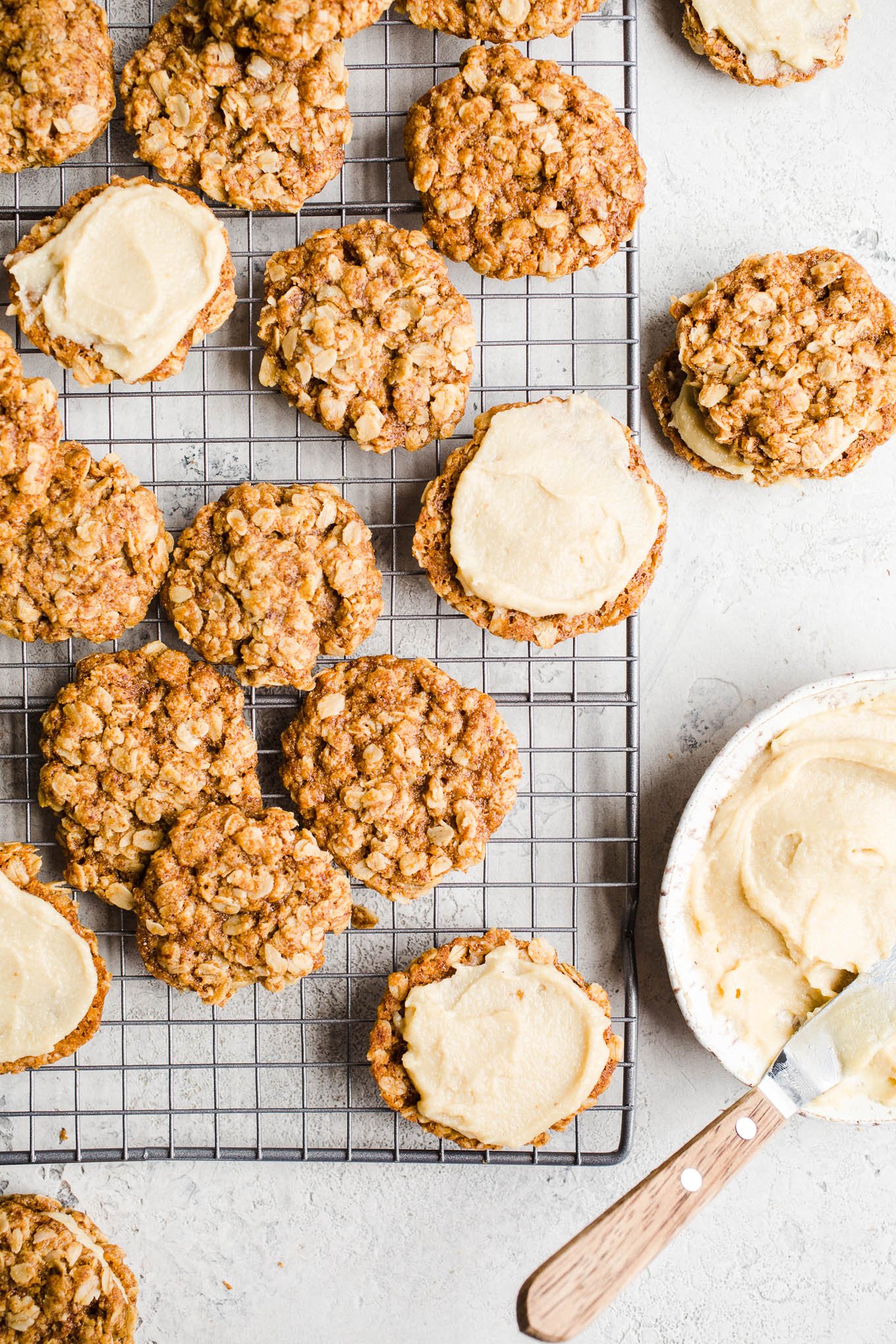 The great thing about this recipe is that you can prepare the cream filling while the cookies bake and cool. Raw cashews, maple syrup, and a bit of powdered sugar make up the filling and are blended into a creamy treat.
Warning: You might want to eat it with a spoon.
This gluten-free oatmeal cream pies recipe will give you enough cookie dough for 24 perfectly sized oatmeal cookies, resulting in 12 cream pies.
Now, if you are tempted to have a cookie straight out of the oven and off the pan, then you'll want to just eat a second one. You know, to make things even.
Plus, that gives you a little more cashew cream filling for the rest of the batch.
More Oatmeal Cookie Recipes
Gluten-Free Carrot Oatmeal Cookies
Chocolate Oatmeal No Bake Cookies
Print
Gluten-Free Oatmeal Cream Pie (Vegan)
Ingredients
Oatmeal Cookies
½

cup (66g)

coconut sugar

¼

cup (50g)

organic cane sugar

8

tablespoons

vegan butter

room temperature

1

teaspoon

pure vanilla extract

¼

cup

unsalted creamy almond butter

(cashew butter works as well)

¼

cup (25g)

gluten-free oat flour

¼

cup (25g)

almond flour

½

teaspoon

baking powder

¼

teaspoon

baking soda

½

teaspoon

ground cinnamon

½

teaspoon

salt

1 ½

cups

gluten-free oats
Cashew Cream Filling
1

cup

raw cashews

2

tablespoons

maple syrup

2

tablespoons

powdered sugar

1

teaspoon

pure vanilla extract

4

teaspoons

unsweetened almond milk
Instructions
Preheat oven to 350 degrees Fahrenheit. Line a large cookie sheet with parchment paper.

In a large bowl, add coconut sugar, organic cane sugar, and vegan butter. Use an electric mixer and cream vegan butter and sugars until incorporated. Add vanilla extract and almond butter and mix again.

In a small bowl, combine oat flour, almond flour, baking powder, baking soda, cinnamon, and salt. Whisk to combine. Add flour mixture to butter mixture and stir to combine. Fold in the gluten-free oats. Using a tablespoon, scoop dough and roll into a ball. Place dough balls 2 inches apart on lined cookie sheet. You want 24 cookies total.

Bake for 9-10 minutes until edges are set and tops are golden brown. Allow cookies to cool for 5-8 minutes on cookie sheet before transferring cookies to a wire rack to cool completely.
Cashew Cream Filling
While the cookies are baking, place your cashews in a blender and cover with hot water for at least 10 minutes. Drain cashews and return to blender. Add remaining Cashew Cream Filling ingredients and blend on high until smooth, stopping occasionally to wipe down sides.

Store Cashew Cream Filling in an airtight container in the refrigerator until ready to assemble oatmeal cream pies.
Assembling Oatmeal Cream Pies
Divide the Cashew Cream Filling by topping the flat side of 12 of the cookies. Top filling with another cookie, flat side down. Serve immediately.

Gluten-free Oatmeal Cream Pies can be kept in an airtight container at room temperature or in the refrigerator. I prefer to keep mine in the refrigerator as they don't soften as quickly.