Chocolate Chip Cookie Dough Pots are a perfect single-serving dessert. Soft cookie outer layer with a warm gooey center. Gluten-free, dairy-free.
With cooler weather comes more movie nights, more Netflix binging, and infinitely more cravings for a little something sweet. With the holidays upon us, I realize so is the season for cookies, pies, and other festive treats. But, for all those moments in-between family gatherings and parties, those colder nights in need something special too. 
The first time I made these little chocolate chip cookie dough pots was just one of those nights in. I was secretly hoping that my husband would be as excited as I was about them, and luckily, it was love at first bite.
A simple batter made with almond flour keeps the cookie dough pots gluten-free, coconut sugar gives sweetness, and using a vegan butter keeps them dairy-free. Regular butter can be used as well - either way, you won't be disappointed.
With crisp, light brown tops, the pots are baked just enough so that the center is ooey-gooey. I highly recommend a scoop of your favorite vanilla ice cream of choice. Let the nights in commence!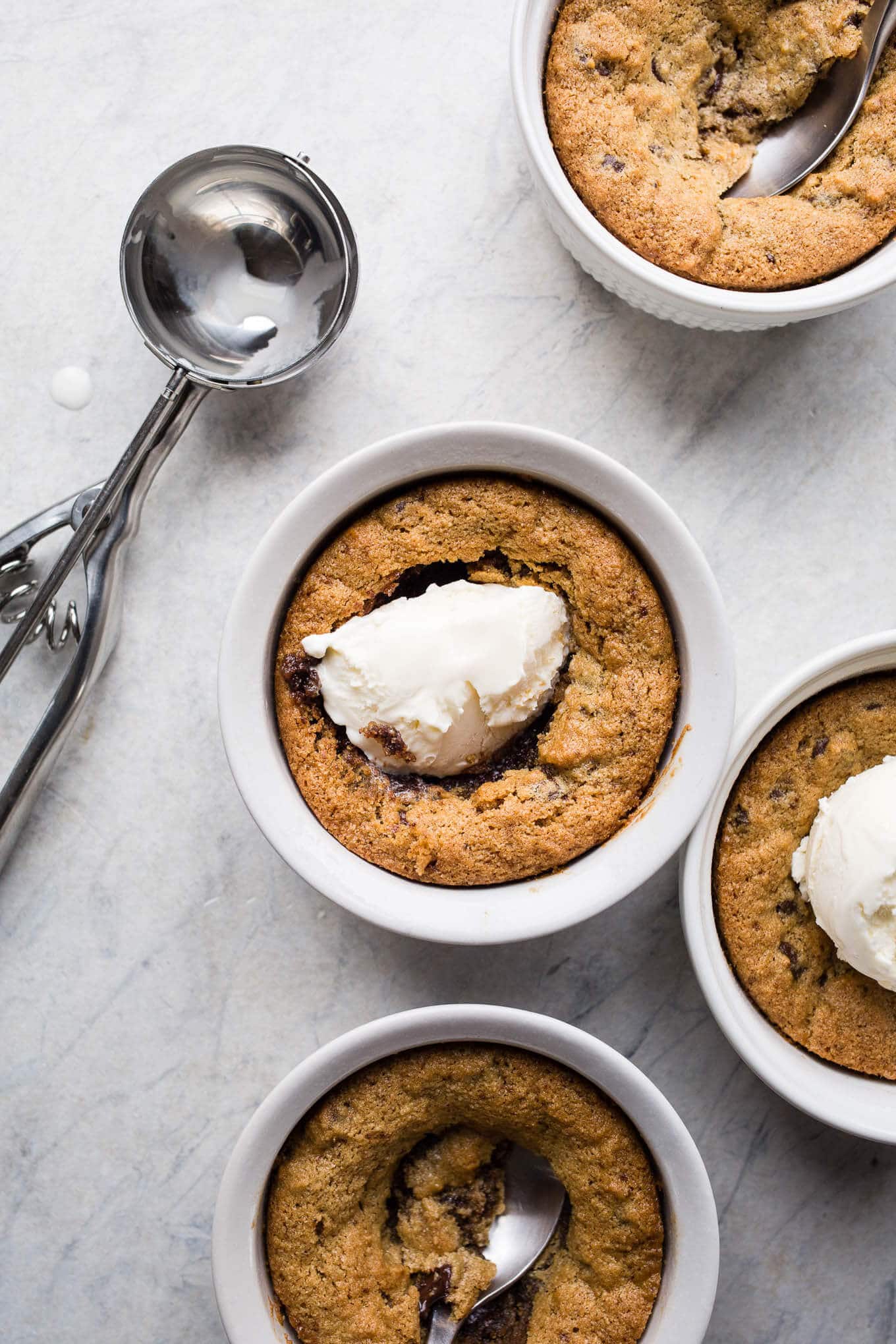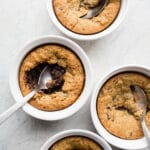 Print
Chocolate Chip Cookie Dough Pots
Instructions
Preheat oven to 350 degrees Fahrenheit. Spray lightly with cooking spray 4-4 ounce ramekins. Set aside.

In a large bowl, combine butter and coconut sugar. Beat with an electric mixer until mixture is light and fluffy. Add vanilla and egg, beat to combine.

Add almond flour, salt, and baking soda. Beat once more until batter forms. Fold in chocolate chips. Divide batter between ramekins. Smooth tops with the back of a spoon. Bake for 15-18 minutes or until tops are starting to look golden brown.

Serve with vanilla ice cream of choice.

Want to save and eat later? Allow pots to cool, then cover and refrigerate. When ready to warm up pots, preheat oven to 300 degrees F. Allow pots to sit at room temperature until oven is ready. Place ramekins on baking sheet and heat in oven for 10-15 minutes.
SaveSave
SaveSave
SaveSave
SaveSave
SaveSave
SaveSave
SaveSave
SaveSave
SaveSave
SaveSave
SaveSave
SaveSave