Discover a delicious collection of gluten-free pumpkin recipes for flavorful cooking and baking. From pies to chili, we've got your pumpkin cravings covered!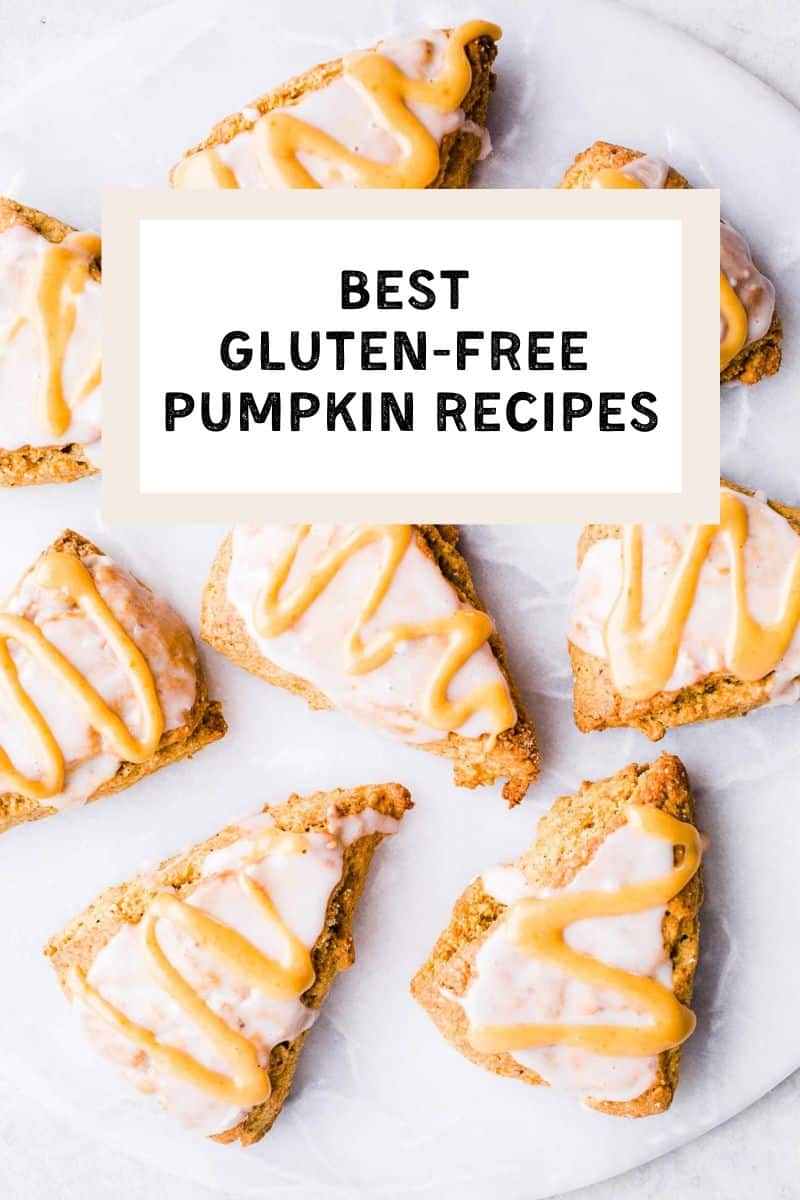 Pumpkin is often thought of as an ingredient for pie. But there are so many delicious ways to use it during pumpkin season!
The humble orange squash is great in muffins, scones, cookies, granola, bread, brownies, and savory recipes.
The gluten-free recipes below are all dairy-free and many are vegan as well.
Simple ingredients and naturally gluten-free flours, easy recipes, and full of pumpkin flavor!
Jump to:
Breads and muffins
Gluten-Free Pumpkin Muffins
These easy muffins are made with almond and oat flour and full of pumpkin and spice. Sweetened with coconut sugar for a healthier muffin. Vegan too.
Get Recipe
Gluten-Free Pumpkin Scones
These gluten-free vegan pumpkin scones are made with almond flour and arrowroot starch and topped with glaze. A copycat recipe of the favorite Starbucks pumpkin scones!
Get Recipe
Gluten-Free Pumpkin Bread
This easy pumpkin bread is made with almond flour and naturally sweetened with honey. Garnish the top with pumpkin seeds or chocolate chips! An easy one-bowl recipe baked right in a loaf pan!
Get Recipe
Healthy Pumpkin Spice Granola
This healthy granola recipe is made with gluten-free oats, almonds, pumpkin puree, pumpkin spice, and chocolate chips! Vegan too. Eat it for breakfast or have as a snack!
Get Recipe
Dairy-Free Pumpkin Spice Coffee Creamer
Transform your black coffee with this dairy-free homemade pumpkin spice coffee creamer! A coffee creamer recipe made with cinnamon, ginger, nutmeg, allspice, and cloves and sweetened with pure maple syrup. Ready in 15 minutes! Gluten-free and vegan.
Get Recipe
Cookies and bars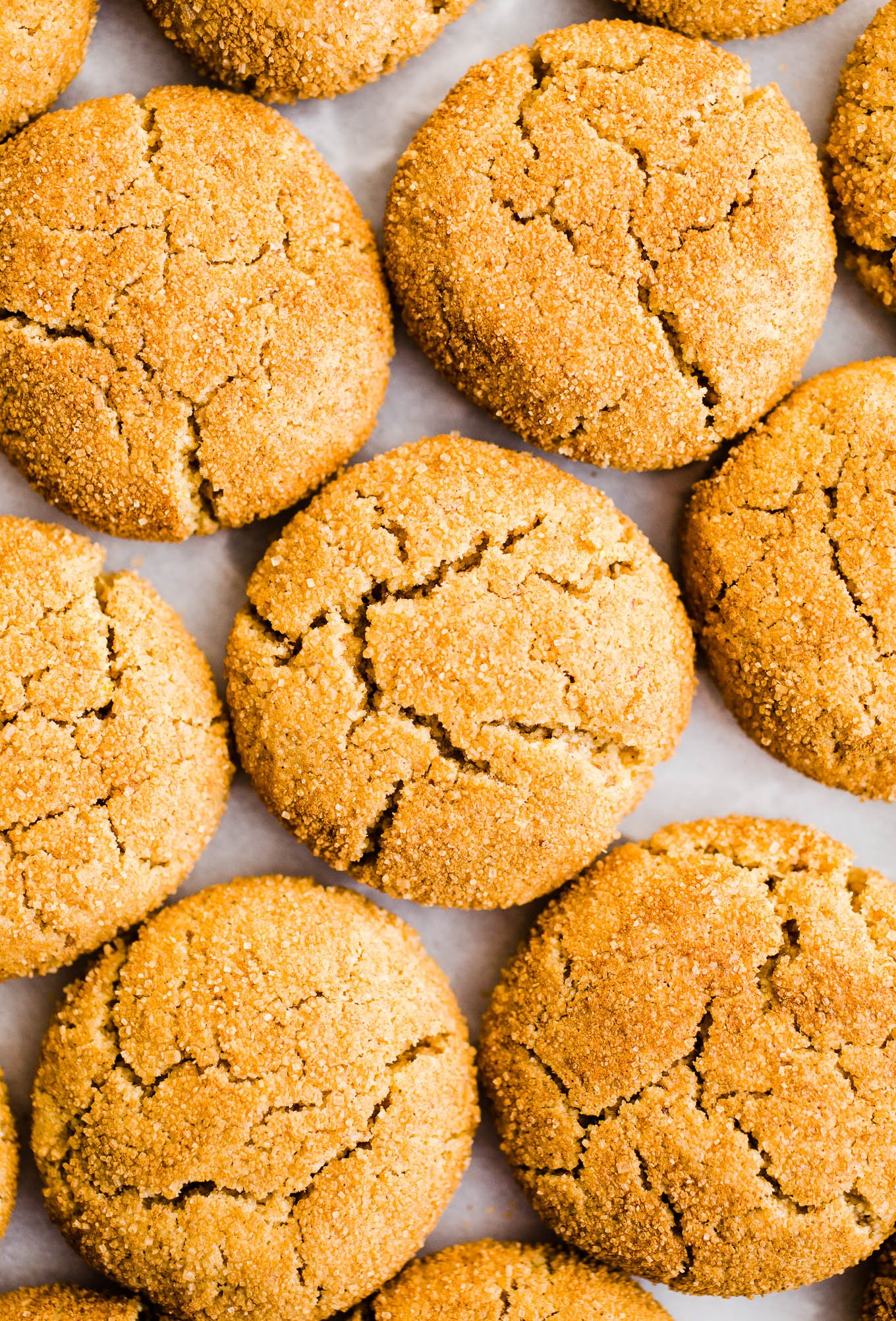 Gluten-Free Pumpkin Cookies
These soft pumpkin cookies made with almond flour, coconut flour, pumpkin, and spices for a healthier cookie recipe! Vegan too.
Get Recipe
Pumpkin Breakfast Cookies
These healthy gluten-free pumpkin breakfast cookies are made with oats, almond butter, coconut oil, and almond flour for a delicious and protein-packed cookie. Vegan too.
Get Recipe
Gluten-Free Pumpkin Snickerdoodles
These soft and chewy gluten-free pumpkin snickerdoodles are made with almond flour, tapioca starch, maple syrup, and pumpkin spice! Dairy-free and egg-free. 
Get Recipe
Pumpkin Blondies with Chocolate Chips
These gluten-free pumpkin bars are an easy treat made with healthy almond flour, coconut flour, and almond butter, and bursting with pumpkin spice! Gluten-free, vegan, and refined sugar-free.
Get Recipe
Pies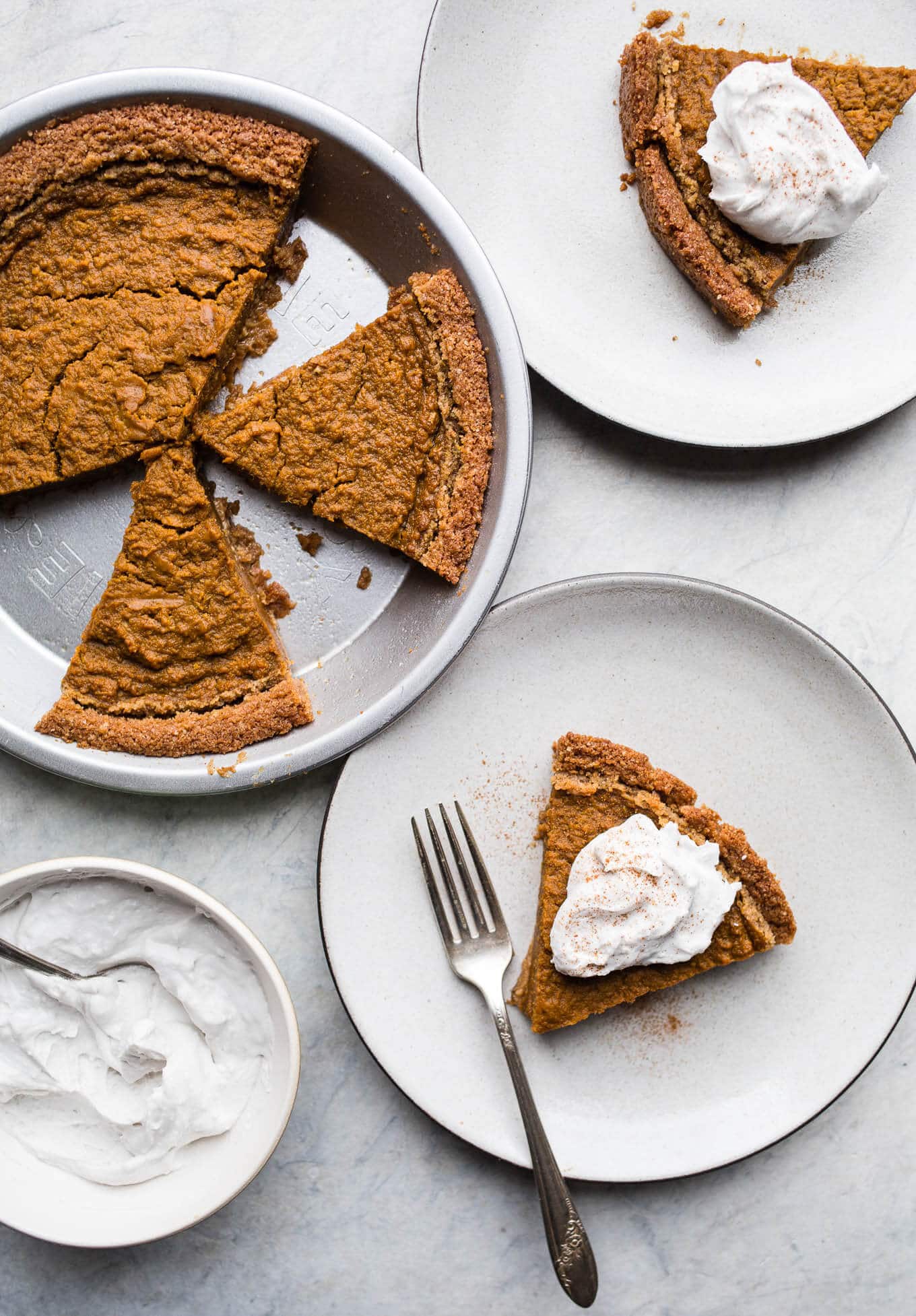 Gingersnap Pumpkin Pie
A twist on traditional pumpkin pie, this gingersnap pumpkin pie is made with a gingersnap cookie crust and sweetened with coconut sugar and maple syrup. Gluten-free, vegan, and refined sugar-free!
Get Recipe
DIY Pumpkin Pie Spice
Learn how to make your own DIY pumpkin pie spice at home with a warming blend of cinnamon, ginger, nutmeg, allspice, and cloves. The easiest way to fall flavor. 
Get Recipe
Entrees
Vegan Pumpkin White Bean Chili
This vegan pumpkin white bean chili recipe is an easy weeknight meal made with white beans, sweet potatoes, canned pumpkin, tomatoes, green chilis, and spice. Gluten-free and vegan. 
Get Recipe
Serving suggestions
Many of these sweet pumpkin treats would be delicious with the following:
Baking essentials
Many of these delicious recipes will require the following baking tools:
Recently gone gluten-free? Check out my gluten-free dairy-free pantry guide!
FAQs
Does canned pumpkin have gluten?
Canned pumpkin puree typically does not contain gluten as it is made from pure pumpkin puree with no added wheat or gluten-containing ingredients.

It's always a good practice to check the label on the specific brand and product you are using, as cross-contamination can occur during processing or gluten ingredients can be added.
What flavors complement pumpkin?
Pumpkin pairs well with cinnamon, nutmeg, cloves, ginger, and other warm spices. It also goes nicely with brown sugar, vanilla, and savory herbs like thyme and sage.
What's the difference between canned pumpkin and canned pumpkin pie filling?
Canned pumpkin contains pureed pumpkin with no added ingredients, while canned pumpkin pie filling is pre-sweetened and spiced, ready to use in making pumpkin pie.