Rice Krispies are a great cereal staple and are eaten worldwide in a variety of recipes. But are they gluten-free?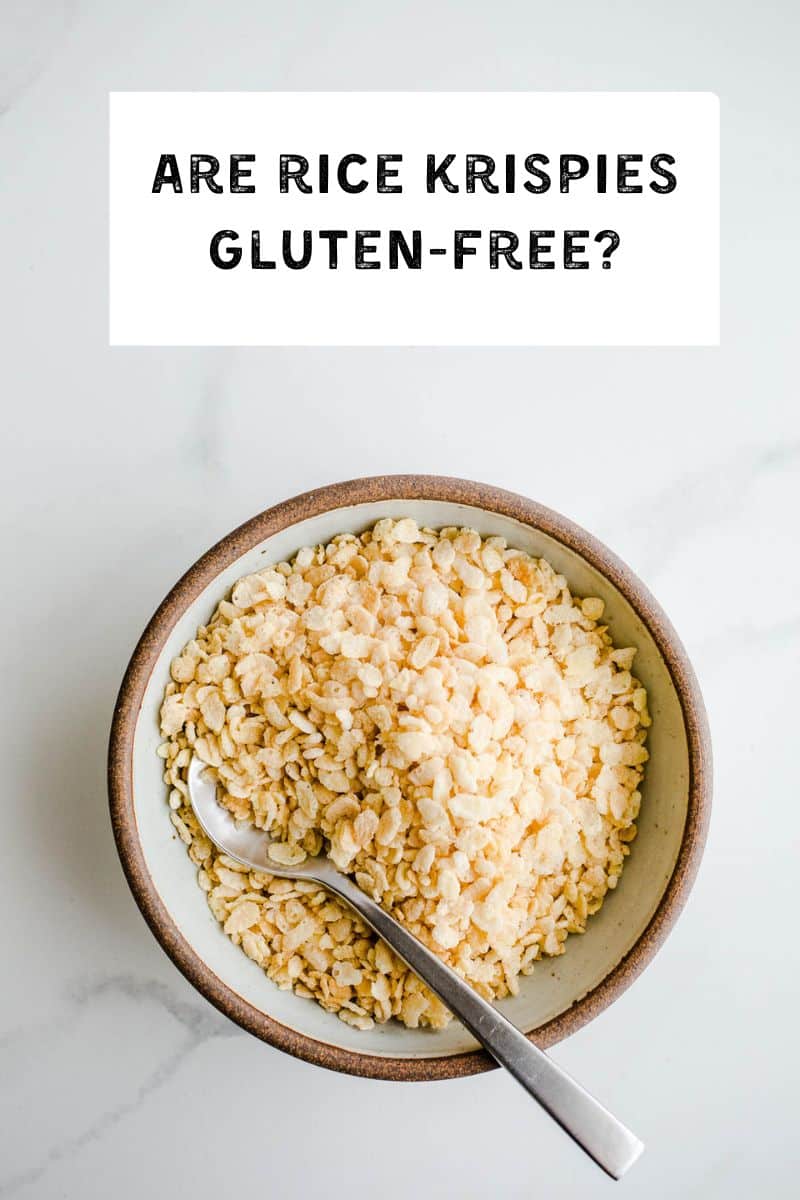 Are Rice Krispies gluten-free? The short answer is no. But also yes.
Original Rice Krispies although made with rice, contains malt flavoring. Malt flavoring is derived from barley, which is not gluten-free. In recent years, the Rice Krispies brand came out with Gluten-Free Rice Krispies. 
But are other crispy rice cereals gluten-free? In this article, we look more into the favorite cereal and ones like it and share which of those are safe for a gluten-free lifestyle.
Jump to:
​Are Rice Krispies vegan?
Traditional Kellogg's Rice Krispies cereal is not considered vegan because it contains vitamin D3, which is derived from lanolin. Lanolin is a substance obtained from sheep's wool.
Therefore, vegans may choose to avoid consuming the original version of Rice Krispies due to the presence of this animal-derived ingredient.
Uses
Despite being a popular breakfast cereal, there are so many more ways to enjoy them than with just milk. Here are some common uses:
Rice Krispies treats - The classic treat made with simple ingredients like gooey marshmallows and butter can be found in many flavor variations. S'mores, cake batter, and chocolate are a few of the no-bake desserts to try!
Pie crusts - Crushed and mixed with other ingredients, they can be used as a base for pie crusts.
Coating for sweet treats - They can be used in and to coat various sweet treats, such as chocolate-covered strawberries, truffles, or chocolate blueberry clusters.
Toppings for ice cream or yogurt - Sprinkle some on top of your favorite ice cream or yogurt to add a crispy element to your dessert.
Energy bars and cereal treats - When combined with ingredients like nut butter, honey, dried fruits, and nut, they create homemade energy bars, crispy treats, or cereal treats.
Crispy coating for fried foods - Crushed into a fine meal, they can be used as a whole grain coating for fried foods like chicken tenders or onion rings. 
Brands
In the United States, the FDA regulates the "gluten-free label" and those products with a "certified gluten-free label" are done by independent organizations with their own set of standards. Most often, these standards are stricter than the FDA's and use dedicated gluten-free facilities, but still must meet the FDA criteria.
While Kellogg's Rice Krispies brand original cereal is not gluten-free, they now make a gluten-free version. Some brands of crispy rice cereal that use gluten-free ingredients may manufacture their products in facilities that process other gluten-containing grains and gluten ingredients. It's important to always check the ingredient list and allergen statement.
If you are concerned about potential cross-contamination, the following are cereal brands that have the certified gluten-free label and are safe for those with Celiac disease, gluten sensitivity, or who follow a gluten-free diet.
Nature's Path Organic Crispy Rice
One Degree Sprouted Brown Rice Crisps
Arrowhead Mills Puffed Brown Rice Cereal
The following are not certified gluten-free cereals but use gluten-free ingredients.
Malt-O-Meal Crispy Rice Cereal
365 Brown Rice Crisps
You can find these brands at most grocery stores, health food stores, and online sellers like Amazon and Thrive Market.
Words to watch for that are gluten-containing products:
malted barley
malt syrup
malt extract
malt flavoring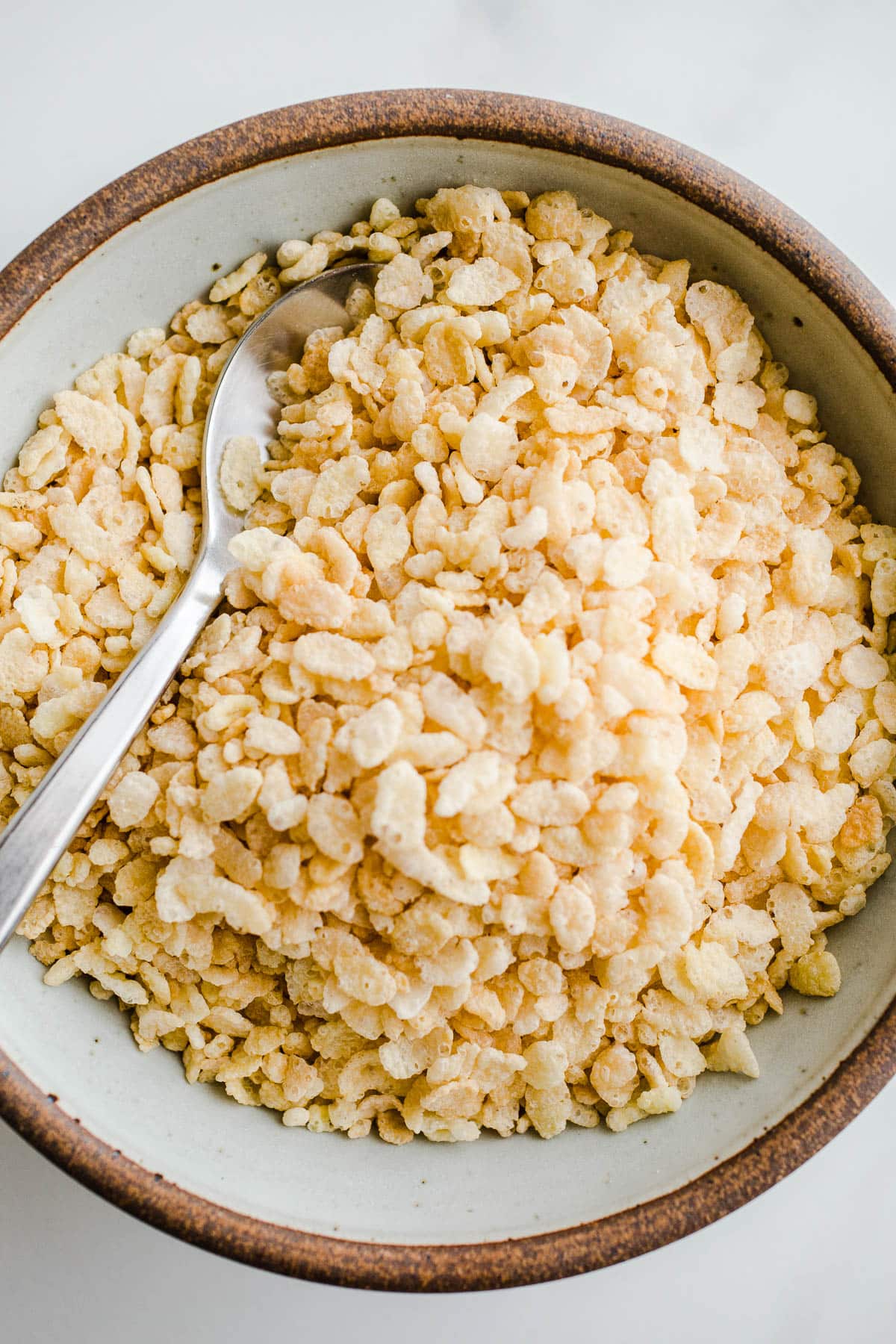 Helpful tips
The brand information in this article comes from the brand websites at the time this article was written. Going direct to the brand website is the fastest way to get the most up-to-date allergen information on a specific product.
If cross-contamination is a concern, make sure you check the ingredient label for information regarding its gluten-free designation. If it is not clear, always contact the brand directly.
Remember, just because a product does not use gluten-containing ingredients, does not necessarily mean it wasn't processed in a facility that produces foods with gluten ingredients.
Conclusion
The availability of gluten-free Rice Krispies and certified gluten-free rice cereals provides safe options for enjoying the crispy goodness of rice cereal. Gluten-free rice krispie treats are possible (and other easy gf recipes)!
Look for labeled gluten-free options and consult with professionals for personalized dietary guidance.
More gluten-free food articles