Nutritional yeast is known for its cheesy, tangy flavor and is used in a variety of savory recipes. But is it gluten-free?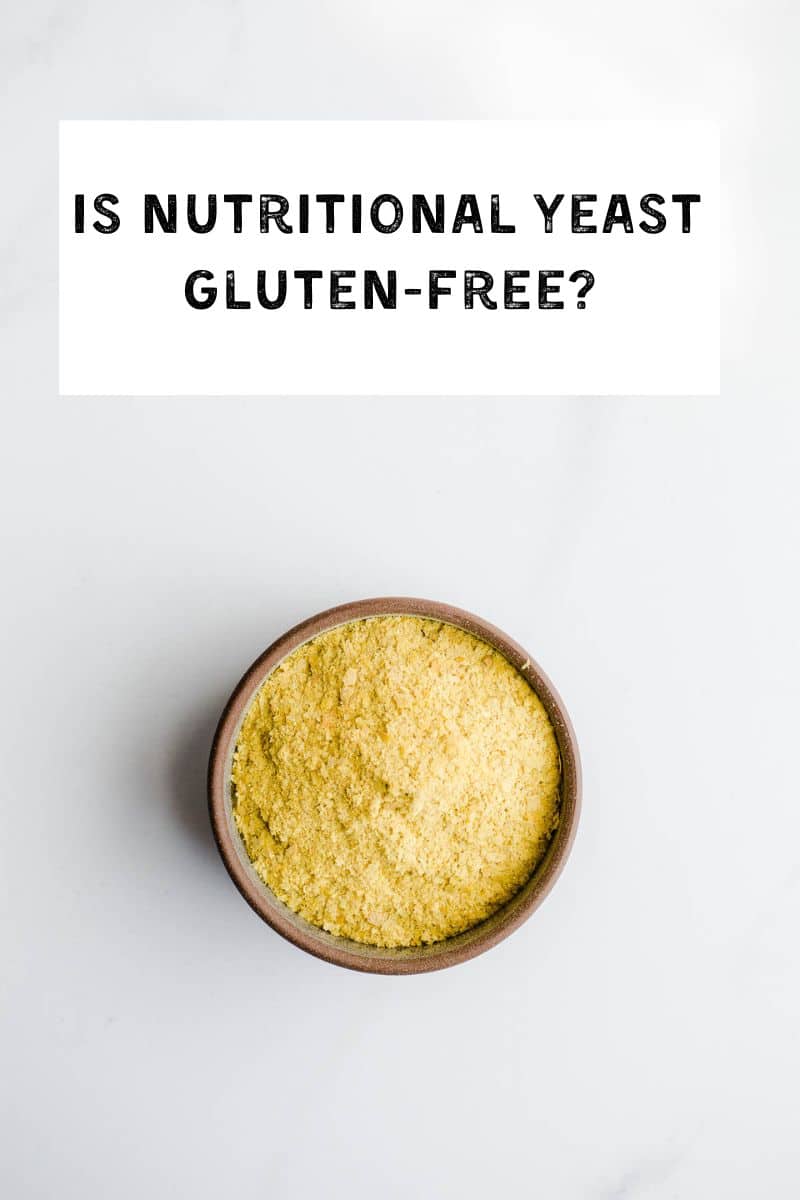 Is nutritional yeast gluten-free? In short, yes!
Nutritional yeast does not contain gluten. The basic ingredients are naturally gluten-free, but not all store-bought options are produced the same.
Jump to:
What is nutritional yeast?
Nutritional yeast is a type of inactive dry yeast also known as Saccharomyces cerevisiae. This species of yeast is commonly found in bread and beer, known as baker's yeast and brewer's yeast.
In recent years, it has also gained the nickname, "nooch."
To make it, the yeast cells are grown on molasses or sugar cane then harvested, washed, and deactivated through a heating and drying process. The resulting product is a flaky or powdery substance with a yellowish color.
It is popular among vegans and vegetarians, due to its savory, cheesy, nutty flavor that can be used as a substitute for cheese in various dishes.
It is also a rich source of essential vitamins and nutrients.
Is it safe for Celiac disease?
In its pure form, it remains gluten-free, but different brands may potentially have gluten-containing ingredients or produce the yeast in a facility with cross-contamination.
When there is no risk of cross-contamination, it is suitable for those with Celiac disease, gluten sensitivity, or gluten intolerance.
For this reason, it is important to check ingredients and allergen statements for possible cross-contamination or added ingredients in any nutritional yeast product.
Those that are worried about cross-contamination should purchase brands choose brands that are certified GF or produced in dedicated gluten-free facilities.
Types
Nutritional yeast options include flakes, powders, or granules. The most common form is the flaky or powdery variety.
There are a few different types available that you can find at your local grocery stores or online retailers:
Unfortified - This form does not add vitamins or minerals.
Fortified - Many brands offer a fortified version. This means that additional vitamins may be added to enhance the nutritional content.
This can be beneficial for individuals who follow a plant-based diet and may have limited natural sources of certain nutrients.
Flavored - These products are typically seasoned with herbs, spices, or other flavorings to provide a specific taste profile, such as garlic, onion, or chili.
Uses
There are a variety of uses when it comes to these yeast products that work for a gluten-free diet.
Cheese substitute - Often used as a cheese substitute in vegan and vegetarian dishes, it provides a cheesy, savory flavor.
Sprinkle it on top of pasta, pizza, hot popcorn, or salads.
Seasoning - It can be used as a seasoning or flavor enhancer in various recipes. It adds a depth of umami flavor to soups, stews, sauces, and dips.
Sauces and dressings - As a popular ingredient in vegan sauces and salad dressings, it can be used to create creamy textures and impart a cheesy flavor to dishes like vegan cheese sauces, vegan homemade pesto, or vegan Caesar dressings.
Baked goods - Some recipes for bread, rolls, pizza dough, vegan quiche, or vegan egg muffins incorporate it to enhance the flavor and provide a subtle savory taste.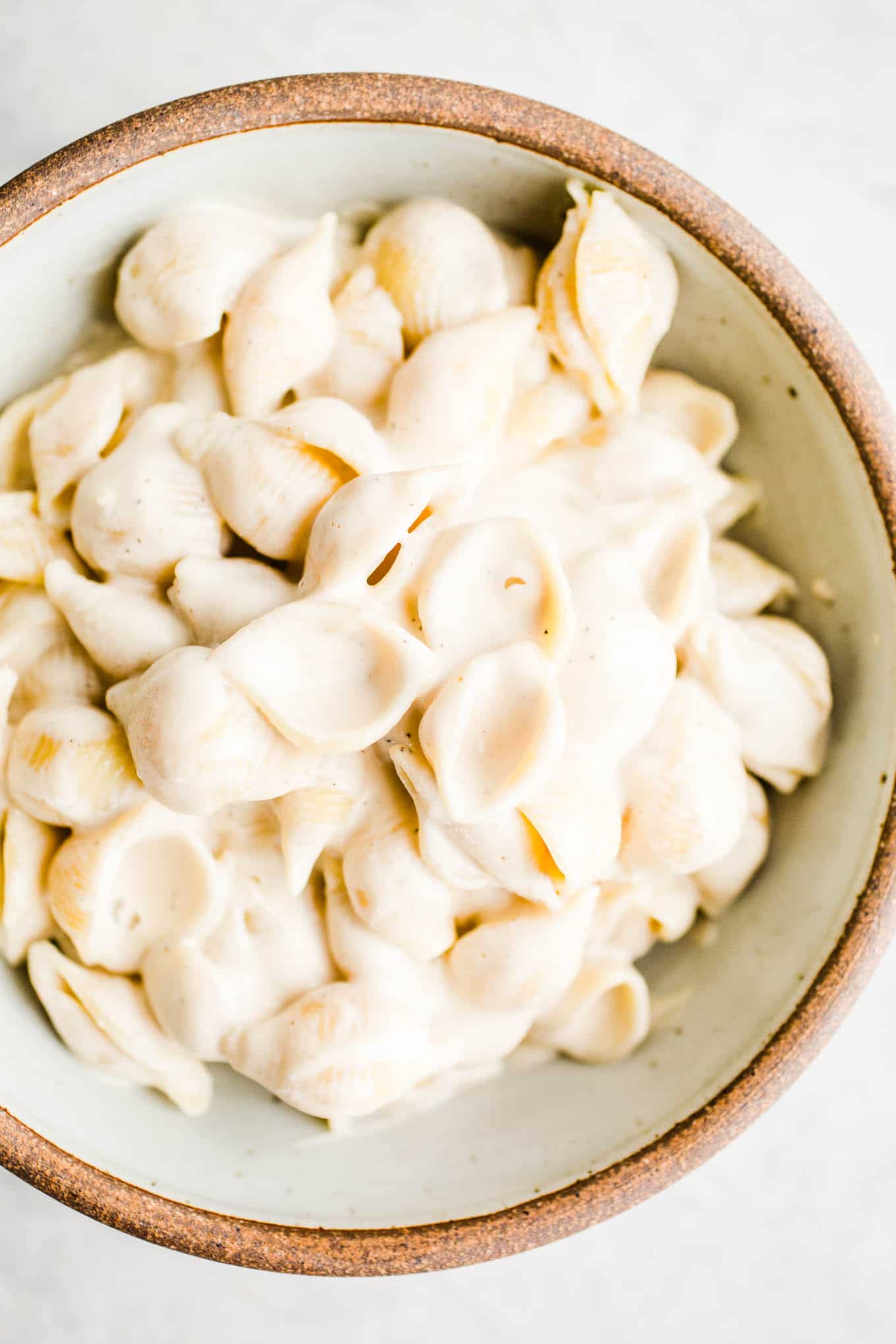 Health benefits
​There are several health benefits of this type of yeast when used in moderation.
It is rich in dietary fiber, a good source of B vitamins, and minerals such as zinc, selenium, magnesium, copper, and iron. These nutrients play important roles in energy production, metabolism, immune function, and overall well-being.
​The yellow-colored flakes are also considered a complete protein as they include all nine essential amino acids.
Brands
While naturally without gluten, some brands may have cross-contamination during the manufacturing process. It is always important to check the ingredients list and allergen statements of the brands you are considering.
The following brands are certified gluten-free or made in a facility free from wheat and other gluten-containing products:
​Bob's Red Mill
Anthony's Goods (batch-tested)
Red Star
Sari Foods
These brands do not use gluten-containing ingredients:
Bragg's
365 by Whole Foods
Helpful tips
The brand information in this article comes from the brand websites at the time this article was written. Going direct to the brand website is the fastest way to get the most up-to-date allergen information on a specific product. This is usually found in the FAQ section.
If the risk of cross-contamination is a concern, make sure you check the product label for information regarding its GF designation. If it is not clear, always contact the brand directly.
Remember, just because a product does not use gluten-containing ingredients, does not necessarily mean it wasn't processed in a facility that produces foods with gluten ingredients or gluten-containing grains.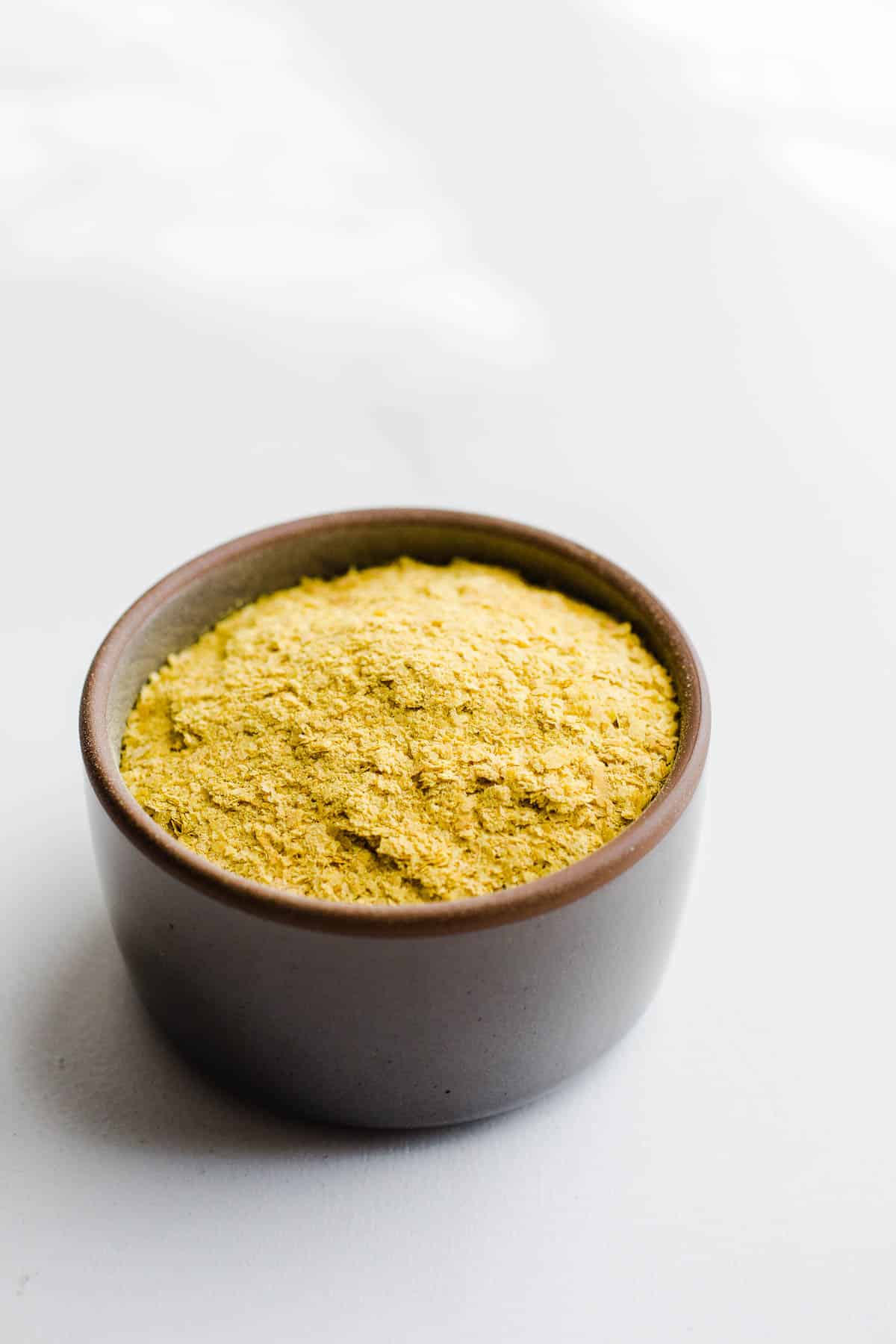 FAQs
Does nutritional yeast have MSG?
No, nutritional yeast does not naturally contain monosodium glutamate (MSG). MSG is a flavor enhancer commonly found in processed foods, but it is not naturally present in nutritional yeast. 
Does nutritional yeast need to be refrigerated?
No, it does not need to be refrigerated. It should be kept in a cool, dark place and can be stored in the refrigerator. 
What is nutritional yeast used instead of?
Nutritional yeast is commonly used as a substitute for cheese, Parmesan cheese, breadcrumbs, seasonings, creamy sauces, and as an egg binder in vegan recipes.
Conclusion
In conclusion, nutritional yeast is generally considered gluten-free. It can be used in a variety of dishes and has nutritional value.
While it does not inherently contain gluten, individuals with celiac disease, severe gluten intolerance, or even non-celiac gluten sensitivity should be cautious due to potential cross-contamination during manufacturing.
It is recommended to look for nutritional yeast products that are specifically labeled as gluten-free or certified gluten-free to ensure safety.
More recipes with nutritional yeast
Please note: Always check labels as some manufacturers Include gluten or dairy, or process In the same facility as wheat. This article is meant to help highlight gf products but is not an exhaustive list or medical advice. Please consult with your healthcare provider for best practices and care for your individual needs or medical condition.