Vegan Tahini Brownies made with rich cocoa powder, tahini, maple syrup, chocolate chips, and topped with sea salt for a healthier, flourless brownie. Gluten-free.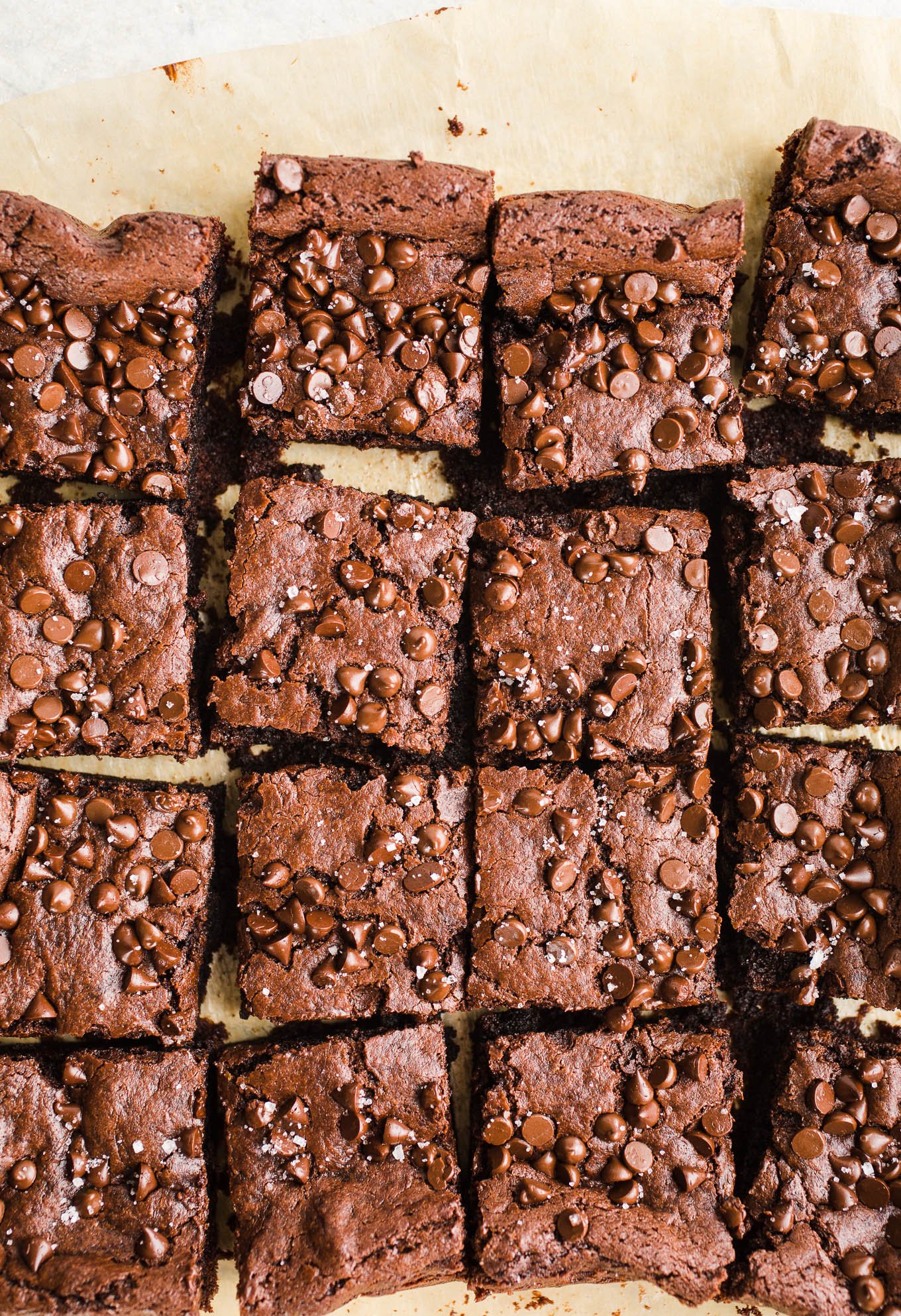 Fall weather whooshed in this past week and I'm solely blaming that on my nonstop need for something sweet and most definitely chocolate. Or the full moon. Something.
I'm happy to report that today's vegan tahini brownies satisfy all sweet cravings in the best sweet-but-not-too-sweet way.
The batter of these tahini brownies is made largely of tahini itself for an easy flourless brownie. Unlike other nut butters, such as peanut and almond, tahini does not have a sweetness to it.
Its roasted sesame seed flavor pairs beautifully with the sweetness of the cocoa powder, maple syrup, and coconut sugar, making for a rich chocolate brownie.
And what's really beautiful about these healthier brownies, is the short ingredient list. Here are the major players:
Vegan Tahini Brownies Ingredients
Unsalted tahini
Cocoa powder
Ground flaxseeds
Maple syrup
Coconut sugar
Vanilla extract
Chocolate chips
Sea salt
Now, the most important finishing touch to these gluten-free tahini brownies is the sea salt. A sprinkling of sea salt on top of the brownies right after you've pulled them from the oven puts each bite over the top.
I promise, you won't be sorry.
Want to make your own tahini? My friend Amanda has a great tutorial for how to make homemade tahini.
Other Tahini Recipes
Gluten-Free Tahini Banana Bread
Roasted Sweet Potato, Black Bean, and Fried Quinoa with Maple-Tahini Sauce
Print
Vegan Tahini Brownies (Gluten-Free)
Vegan Tahini Brownies made with rich cocoa powder, tahini, maple syrup, chocolate chips, and sea salt for a healthier brownie. Gluten-free.

Instructions
Preheat oven to 350 degrees Fahrenheit. Grease a 9x9 square baking pan with cooking spray, then line with parchment paper so that it hangs over two sides.

In a medium bowl combine tahini, maple syrup, flax eggs, and vanilla extract with an electric mixer on medium speed. Add coconut sugar, cocoa powder, baking soda and salt and mix until combined.

Pour batter into prepared baking pan and spread into an even layer. Batter will be sticky, use parchment or your hands to help spread. Sprinkle chocolate chips over top.

Bake for 30 to 35 minutes until a toothpick comes out clean.

Remove from oven, place pan on wire to cool. Sprinkle with sea salt.

When cool, slice into bars.
Related Posts