Chickpeas are a great pantry staple and alternative flour used in various sweet and savory recipes. But are they gluten-free?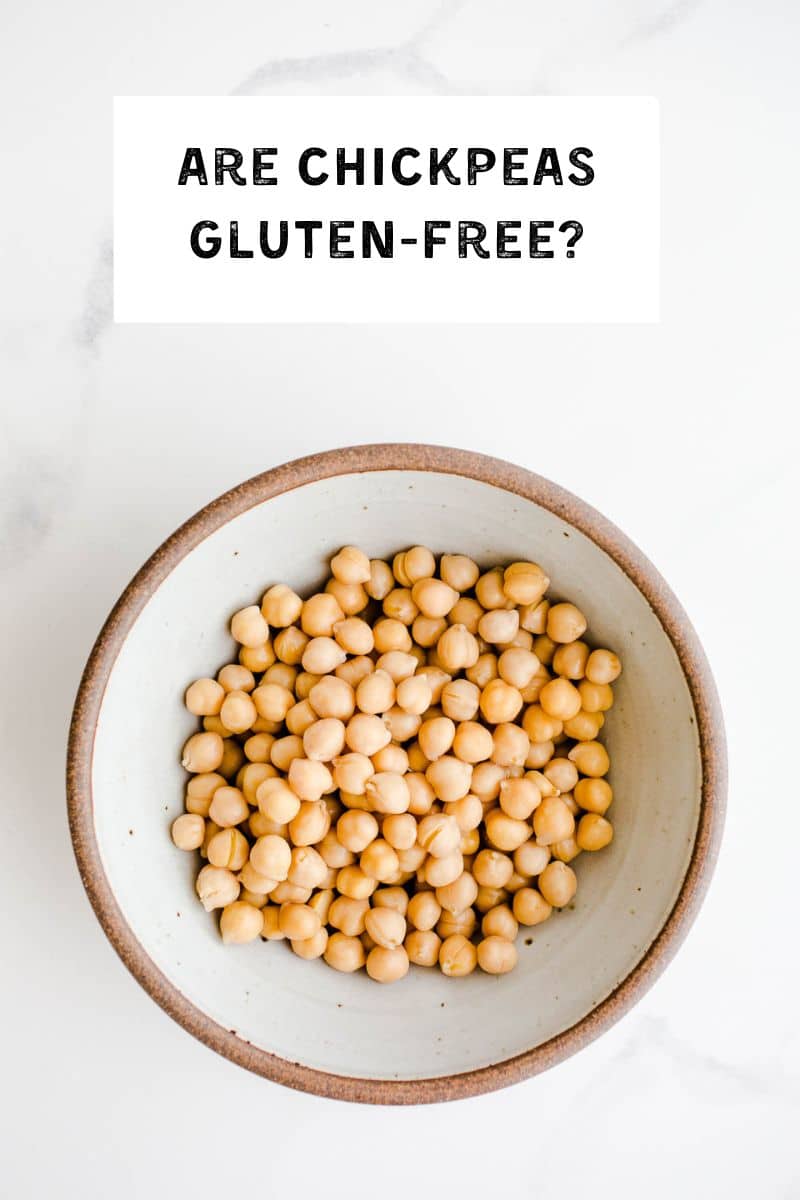 Are chickpeas gluten-free? In short, yes! Natural chickpeas do not contain gluten. They are naturally gluten-free, but not all store-bought options are produced the same. 
Jump to:
Chickpeas, or garbanzo beans (Cicer arietinum), are a type of legume belonging to the Fabaceae family. They are a highly nutritious and versatile crop widely cultivated and consumed across the globe.
The chickpea plant produces small, pea-like seeds, which are the edible part of the plant. These seeds can vary in color and size depending on the variety.
They are valued for their nutritional content and health benefits. Due to their versatility, chickpeas are used in various cuisines and dishes around the world and are great for a gluten-free diet.
Are chickpeas safe for Celiac disease?
Chickpeas are generally safe for individuals with celiac disease, as they are naturally gluten-free. Since chickpeas do not contain gluten, they can be a suitable food option for those with celiac disease, gluten intolerance, gluten sensitivity, or other gluten-related disorders.
For this reason, it is important to check ingredient lists and allergen statements for possible cross-contamination or added ingredients in any chickpea product.
Those that are worried about cross-contamination should purchase brands choose brands that are certified GF or produced in dedicated gluten-free facilities.
Types
There are several different types available that can all be part of a gluten-free lifestyle. You can find them both canned and dried.
Desi - The Desi variety is smaller and darker in color compared to other varieties. They have a rough coat and a stronger flavor compared to Kabuli chickpeas. They are typically processed into flour.
Kabuli - These kinds are larger, lighter in color (usually beige or cream), and have a smoother coat. Kabuli chickpeas are the most common type found in North America and the United States.
Green - Green garbanzo beans are young, fresh chickpeas that are harvested before they fully mature. They have a green color and a sweeter taste compared to dried chickpeas.
Black - These have a smaller size and dark brown to black color. This variety has a slightly nutty flavor.
Red - With a reddish-brown color and is commonly used in Indian dishes. They have a slightly different taste compared to the more common beige chickpeas.
Uses
Whether you need raw chickpeas, crunchy chickpeas, or gluten-free flour, this mighty legume is a great addition to your favorite recipes. Some of the most common uses include:
Hummus - Chickpeas are a key ingredient in hummus, a popular Middle Eastern dip or spread. Made with olive oil, tahini, and lemon juice it's often served as a dip with pita bread, and vegetables, or used as a spread in sandwiches and wraps.
Falafel - They are one of the main ingredients in falafel. Ground chickpeas are mixed with herbs and spices, shaped into balls, and then deep-fried until crispy. Falafel is typically served in pita bread with vegetables and sauces.
Chickpea burger - Garbanzo beans are the star of this vegetarian option. A great way to incorporate the legume into a healthy diet. Perfect for a vegetarian and vegan diet.
Salads - They can be added to salads to enhance both their taste and nutritional value. They provide a great source of plant-based protein for salads.
Curries and stews - Commonly used in various curries and stews. They add texture and flavor to these dishes and pair well with various spices and vegetables.
Snacks - Love a crunchy snack? Roasting them makes for a delicious and healthy snack. After being seasoned with spices and baked until crunchy, they become an excellent alternative to traditional processed snacks.
Soups - Used in both soups and broths to add thickness and nutrition to the dish. They can be added as whole-cooked chickpeas or blended to create a creamy texture.
Side dishes - Garbanzo beans can create tasty and nutritious vegetarian side dishes to accompany main meals.
Baking and desserts - Chickpea flour, or garbanzo bean flour, can be used in various baked goods and desserts and is great for gluten-free baking.
Garbanzo bean flour can be used to make socca, and vegan egg muffins, and works as a thickening agent in soups and stews. Whole garbanzo beans can be blended into the base of puddings for a thick and creamy texture. It can even be made into dessert hummus!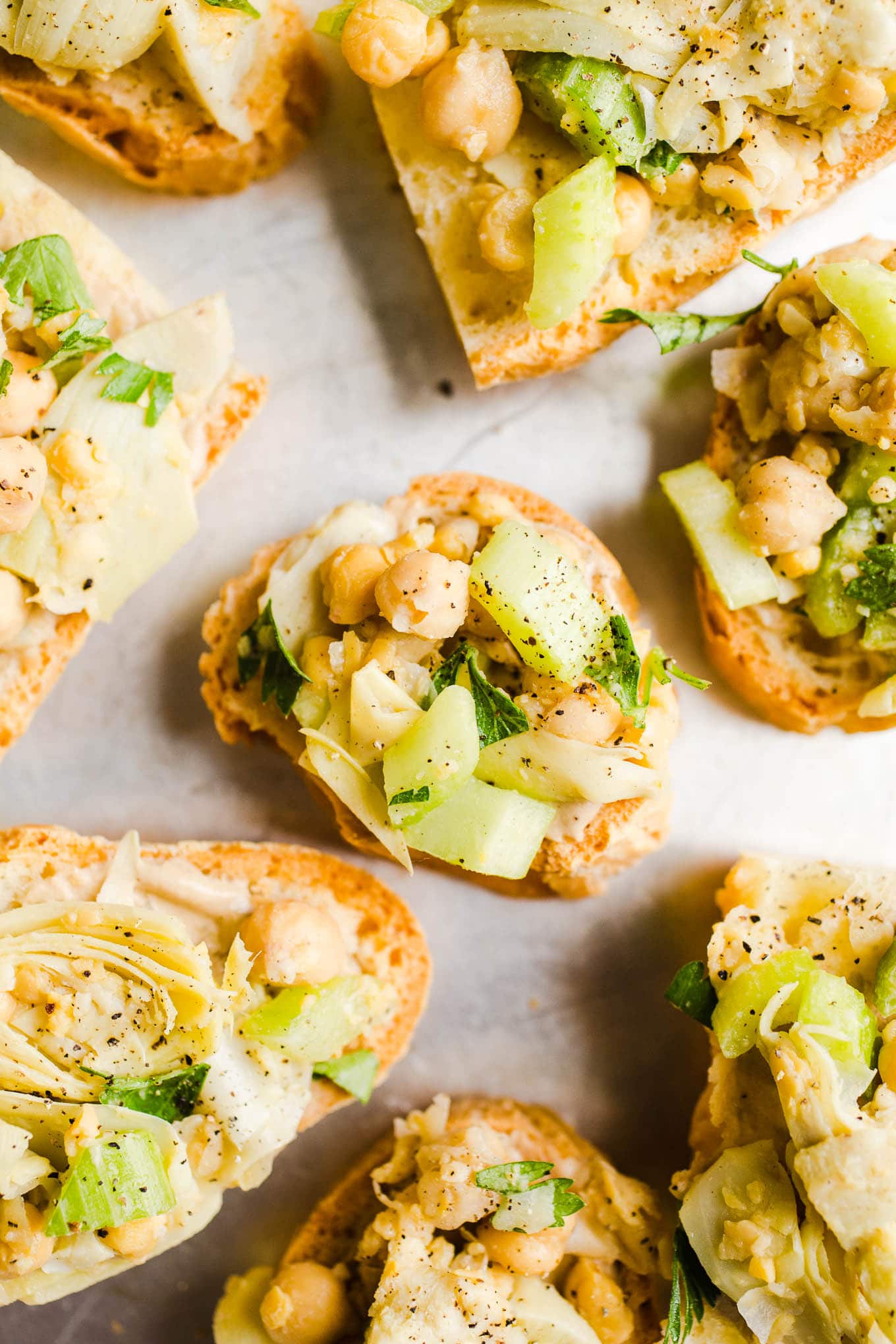 Health benefits
Chickpeas are a good source of protein and dietary fiber and are rich in essential nutrients and vitamins. The combination of fiber and protein in chickpeas helps slow down the digestion of carbohydrates and helps stabilize blood sugar levels.
Brands
While naturally without gluten, some brands may have cross-contamination during processing or packaging. It is always important to check the ingredients list and allergen statements of the brands you are considering.
The following brands are certified gluten-free or made in a facility free from wheat and other gluten-containing products:
Anthony's (dried, batch-tested)
Jovial 100% Organic
Bob's Red Mill (dried)
Arrowhead Mills
Eden Foods (testing and practices)
Brands that are labeled gluten-free:
Goya
Whole Foods 365
Good & Gather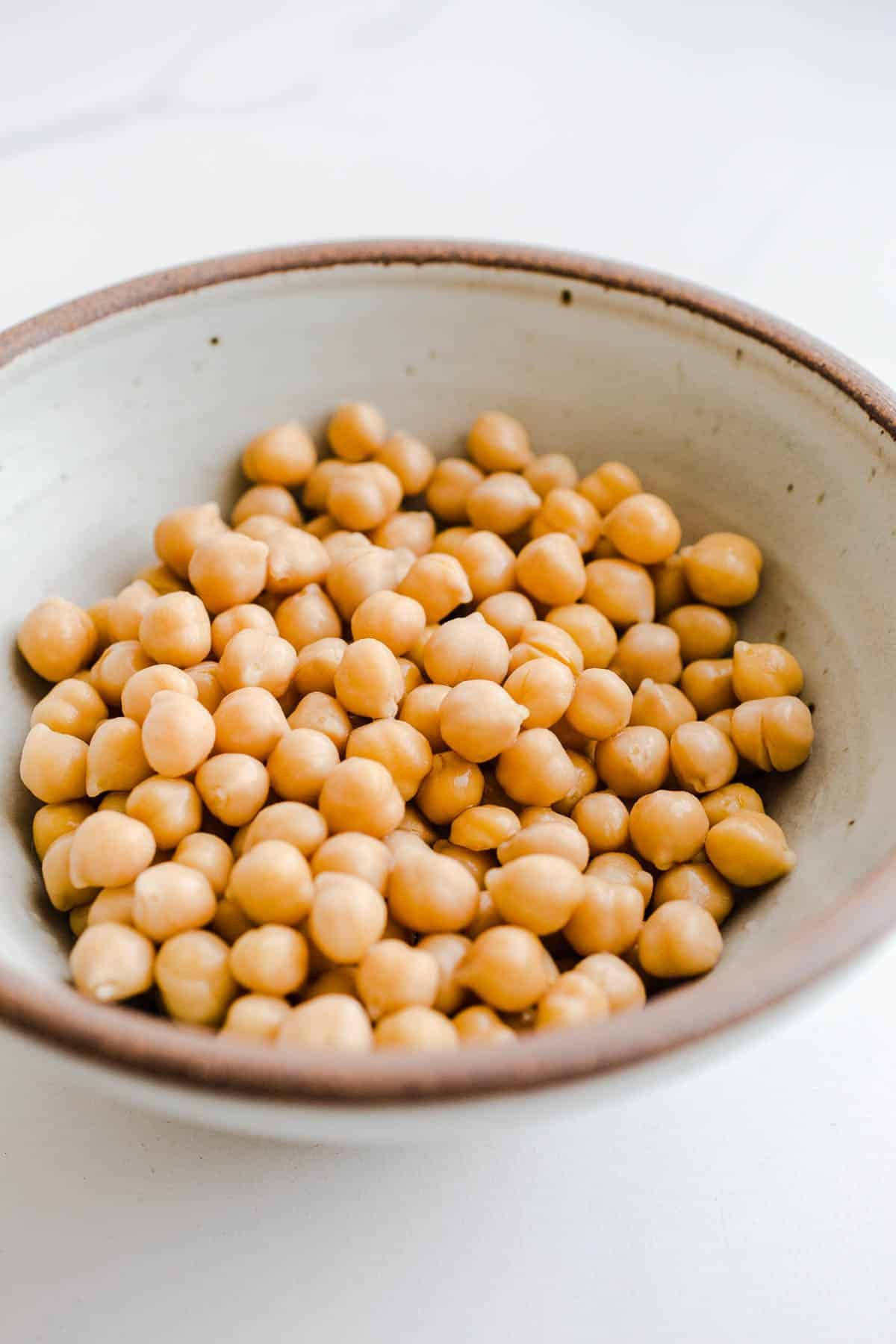 Helpful tips
The brand information in this article comes from the brand websites at the time this article was written. Going direct to the brand website is the fastest way to get the most up-to-date allergen information on a specific product. This is usually found in the FAQ section.
If the risk of cross-contamination is a concern, make sure you check the product label for information regarding its GF designation. If it is not clear, always contact the brand directly.
Remember, just because a product does not use gluten-containing ingredients, does not necessarily mean it wasn't processed in a facility that produces foods with gluten ingredients or gluten-containing grains.
Please note: Always check labels as some manufacturers Include gluten or dairy, or process In the same facility as wheat. This article is meant to help highlight gf products but is not an exhaustive list or medical advice. Please consult with your healthcare provider for best practices and care for your individual needs.
More gluten-free ingredient articles