Looking for a chia seed substitute? Explore our guide to find the best chia seed alternatives such as flaxseed, hemp seed, and sesame seeds. Learn how to make substitutions for similar results in a variety of recipes.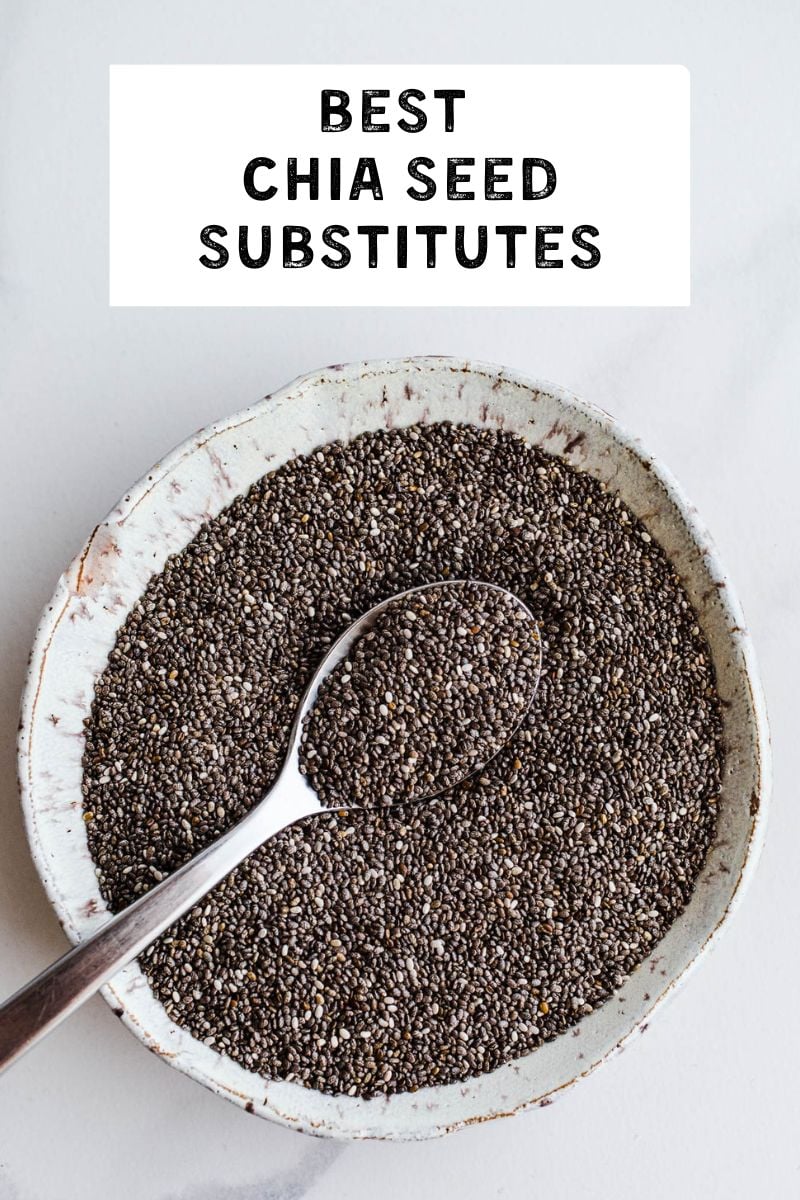 Jump to:
What are chia seeds?
They are tiny seeds that come from a desert flowering plant called (Salvia hispanica) originating from the Guatemala and Mexico regions of Central America. Salvia hispanica is part of the mint family (Lamiaceae).
The ancient grain packs a powerful nutritional punch and for good reason. Boasting healthy fats, protein, and versatility in a variety of recipes, they are a great addition to a gluten-free pantry.
Uses
The seeds have become popular due to their nutritional content and versatility. Here are some of the common uses of these tiny edible seeds:
Nutritional boost - Packed with nutrients like dietary fiber, protein, omega-3 fatty acids, essential amino acids, and various minerals. Adding them to your diet can provide a nutritional boost and contribute to a balanced diet.
Thickening agent - When mixed with liquids, the seeds form a gel-like substance due to their high soluble fiber content. This property makes them useful as a thickening agent in recipes like puddings, jams, sauces, and dressings.
Egg substitute - They can be used in place of real eggs in vegan baking or for individuals with egg allergies. Mix one tablespoon of chia seeds with three tablespoons of water, and let it sit for a few minutes until it forms a thick gel-like consistency. The chia gel can be used as a vegan egg substitute for one egg in baking recipes.
Smoothies and beverages - Added to smoothies, juices, or infused water it will increase their nutritional content.
Baked goods - You can easily incorporate them into various baked goods like bread, muffins, cookies, and pancakes. They can be sprinkled on top of the dough or mixed into the batter to add a crunchy texture and boost nutrition.
Toppings and garnishes - They can be used as toppings on yogurt, oatmeal, cereal, and salads. Use them as a crunchy coating for chicken or fish!
Energy bars and snacks - Commonly found in energy bars and granola bars due to their high nutrient content. You can also make your own homemade energy bars or protein balls by combining the seeds with other ingredients like nuts, dried fruits, and sweeteners.
Puddings and parfaits - Chia seed pudding has become a popular healthy dessert and breakfast option. Layer your chia pudding with fruits or granola for a delightful parfait.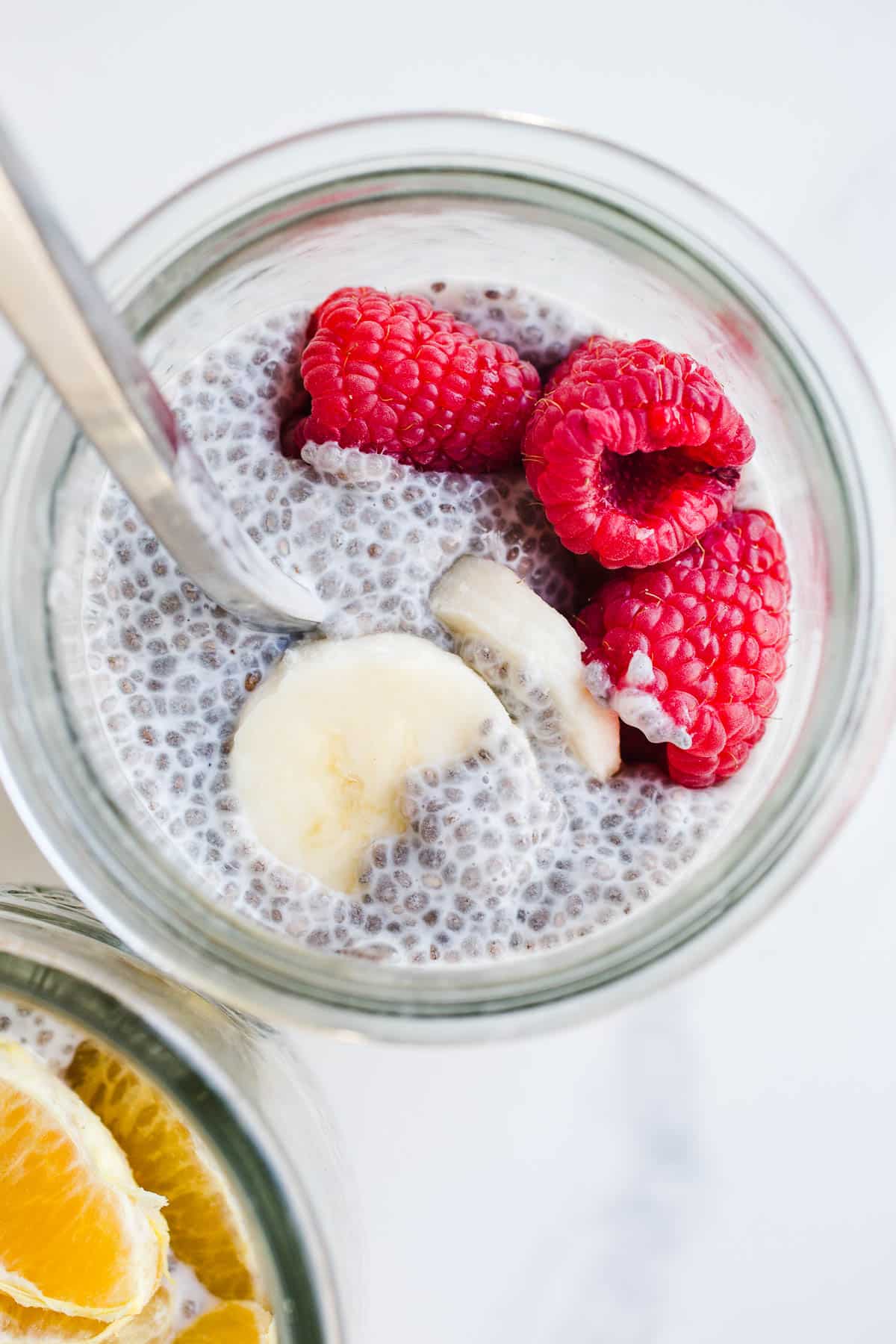 What is a good substitute for chia seeds?
If you're looking for a great chia seed substitute, here are some of the best options:
Flaxseeds
Flaxseeds, also known as linseeds, are a popular substitute due to their similar nutritional profile. Like chia, flaxseeds are high in fiber and omega-3 fatty acids.
Ground flaxseeds can be used as a thickening agent, a vegan egg replacement, a topping or garnish, or added to baked goods. Flaxseeds do have a slightly different flavor profile, so they may alter the taste of your dishes.
To substitute, use a 1:1 ratio. To sub a flax egg for a chia egg, mix 1 tablespoon of ground flaxseeds with 3 tablespoons of water and let it sit for a few minutes until it thickens.
Hemp Seeds
Hemp seeds are another nutritious substitute. They are rich in protein, omega-3 fatty acids, and minerals.
Hemp seeds have a mild, nutty flavor and can be used in smoothies, baked goods, or sprinkled on top of salads and yogurt. It is important to note, they don't have the same gelling properties, so they are not recommended as a thickening agent.
To substitute, start by replacing chia with hemp seeds in small amounts and gradually adjust to achieve the desired texture and taste. Since they should not be used as a thickening substitute, the amount used can come down to personal preference.
Sesame Seeds
Sesame seeds can be a suitable substitute for whole chia seeds when used as a topping, garnish, or mix-in ingredient.
They provide a nutty flavor and a slight crunch, enhancing the texture and taste of various dishes. However, sesame seeds do not have the same nutritional profile or gelling properties, so they may not be suitable for all applications.
To substitute, start by replacing with sesame seeds in small amounts and gradually adjust the quantities and other ingredients as needed. Since they should not be used as a thickening or binding agent, the amount will ultimately come down to personal preference.
Psyllium husk
Psyllium husk is a soluble fiber commonly used as a natural laxative. It can be bought in whole psyllium husks form or as a powder.
It can also be a chia seed alternative when used as a thickening agent or egg substitute in baking. It's important to note that psyllium husk absorbs more liquid than chia seeds, so adjustments may be needed in recipes. It should not be used as a textural garnish or mix-in. 
To substitute, start with a 1:1 ratio when substituting psyllium husk. This is true for psyllium husk powder as well. Be advised that you may need to adjust the liquid as the powder can be very absorbent.
Poppy seeds
Poppy seeds have a crunchy texture and a slightly nutty flavor. They are commonly used as a topping or ingredient in baked goods, such as muffins, cakes, and bread. They can also be added to salads or used as a crust for meats. 
To substitute, start with less than the called-for amount and add more if needed. When substituting poppy seeds, consider whether the flavor profile will complement the other ingredients in the recipe.
FAQs
What are the two types of chia seeds?
There are both white chia seeds and black chia seeds. There is virtually no difference between the two colors of seeds. Both are highly nutritious with the black variety having a slightly larger amount of fatty acids.
How do I grind chia seeds?
The easiest way to make ground chia is to use a coffee grinder or spice grinder. This is true too for whole flax seeds. 
Conclusion
In conclusion, there are several gluten-free alternatives that can be used as a chia seed substitute.
Ground flax seeds, psyllium husk, hemp seeds, sesame seeds, and poppy seeds can all be used depending on your recipe's desired outcome. From being a crunchy garnish to a great egg substitute (especially for those on a vegan diet), there's a great substitute for it.
When substituting, it's important to consider the differences in flavor, texture, and nutritional content, and to make any necessary adjustments to the recipe to ensure the best results.
Recipes with chia seeds