Sour cream is known for its thick, tangy consistency that is used in a variety of sweet and savory recipes. But is it gluten-free?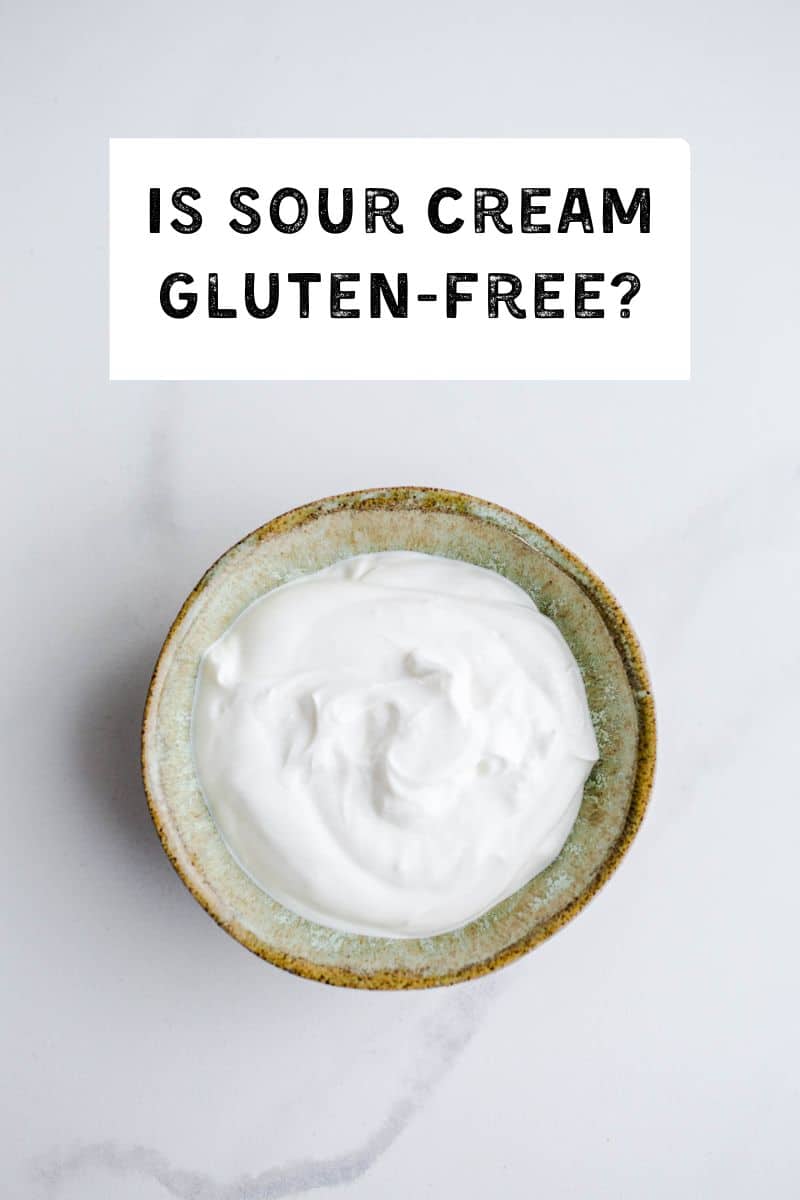 Is sour cream gluten-free? In short, yes! Pure sour cream does not contain gluten. The basic ingredients are naturally gluten-free, but not all store-bought options are produced the same.
Jump to:
What is sour cream?
Sour cream, also known as cultured cream, is made by fermenting cream with lactic acid bacteria.
American offerings tend to be heavier-bodied than European sour cream. This is due mostly in part to the manufacturing process in the United States homogenizing the cream twice before being cultured.
Is sour cream safe for Celiac disease?
In its pure form, it remains gluten-free, but different brands may add stabilizers, thickeners, or flavors that may potentially have gluten-containing ingredients.
This makes it suitable for those with Celiac disease, gluten sensitivity, or gluten intolerance.
For this reason, it is important to check ingredients and allergen statements for possible cross-contamination or added ingredients in any sour cream product. Those that are worried about cross-contamination should purchase brands choose brands that are certified GF or produced in dedicated gluten-free facilities.
Types
There are several different types available that you can find at your local grocery store:
Regular - This is the traditional type made from fermented cream. It has a tangy flavor and creamy texture.
Light - This is made using a lower fat content skim milk compared to regular. It has a similar tangy flavor but with a lighter consistency and reduced fat content.
Fat-Free - Made without any fat, offering a lower-calorie option. However, it may have a slightly different texture and taste compared to the regular variety.
Organic - This kind is made from cream derived from organically raised cows. It is produced without the use of synthetic hormones, antibiotics, or pesticides, adhering to organic farming standards.
Mexican Crema - Crema is a type commonly used in Mexican cuisine. It has a thinner consistency and a milder tang.
You can make homemade sour cream by combining heavy cream and an acid. Or, make a dairy-free version with coconut milk, lemon, and apple cider vinegar.
Uses
There are a variety of uses when it comes to this creamy ingredient that works for a gluten-free diet.
Topping - Often used as a topping for dishes like baked potatoes, tacos, nachos, totchos, chili, soups, and stews. It adds a cool and tangy element that balances the flavors.
Dips and Sauces - A key ingredient in many dips and sauces, such as onion or chive dip, spinach dip, chipotle sauce, and creamy dressings. It adds creaminess and tanginess to these preparations.
Baking - Used as a sweet and savory baking ingredient to add moisture, richness, and tenderness to cakes, muffins, bread, and other baked goods. It helps create a soft and moist texture.
Desserts - It is a great ingredient in desserts like cheesecakes, coffee cakes, and creamy fruit desserts. It adds a tangy flavor and contributes to the smooth and creamy texture.
Marinades - Used as a base for marinades, especially for meat or poultry. It helps tenderize and add flavor to the meat, making it juicy and flavorful when cooked.
Garnish - It is used as a garnish for dishes like soups, taco salads, veggie chili, chilaquiles, and appetizers. It can also be used as a base for decorative swirls or patterns on cakes and pastries.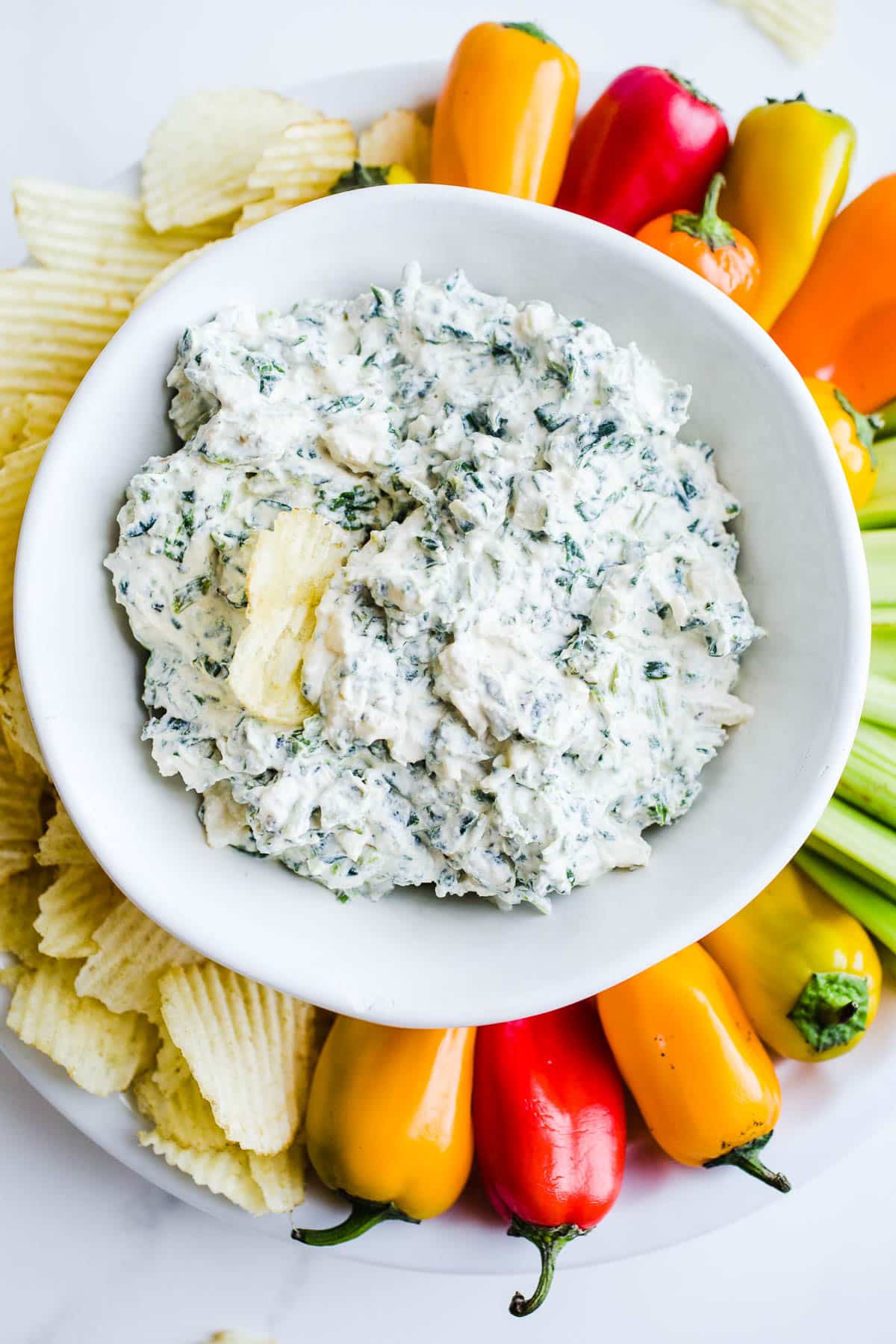 Health benefits
Sour cream is a good source of calcium and other essential nutrients like phosphorus, vitamin A, vitamin D, and riboflavin (vitamin B2). These nutrients contribute to bone health, immune function, and energy metabolism.
Made from fermented dairy cream, it contains beneficial bacteria known as probiotics. Probiotics can help support a healthy gut microbiome and improve digestion.
Many brands pasteurize these food products which destroys any live bacteria. Some brands will add back in live and active cultures, so look for those labeled as containing probiotics.
It can be made part of a healthy diet in small quantities.
Brands
While naturally without gluten, some brands may have cross-contamination during processing or packaging. It is always important to check the ingredients list and allergen statements of the brands you are considering.
The following brands are certified gluten-free or made in a facility free from wheat and other gluten-containing products:
Green Valley Creamery
Tillamook
Daisy brand
Brands that are labeled gluten-free:
Organic Valley
Nancy's
Breakstone's
For those that are on a dairy-free diet and cannot have or try to avoid dairy products, the good news is there are vegan sour cream alternatives that also are listed as gluten-free products. Some of these products use almond milk or other nuts like organic cashews as a base, and some use tofu.
Forager Project
Tofutti (gf facility)
Follow your Heart (dedicated gf line)
Wayfare (certified gf)
Helpful tips
The brand information in this article comes from the brand websites at the time this article was written. Going direct to the brand website is the fastest way to get the most up-to-date allergen information on a specific product. This is usually found in the FAQ section.
If the risk of cross-contamination is a concern, make sure you check the product label for information regarding its GF designation. If it is not clear, always contact the brand directly.
Remember, just because a product does not use gluten-containing ingredients, does not necessarily mean it wasn't processed in a facility that produces foods with gluten ingredients or gluten-containing grains.
Please note: Always check labels as some manufacturers Include gluten or dairy, or process In the same facility as wheat. This article is meant to help highlight gf products but is not an exhaustive list or medical advice. Please consult with your healthcare provider for best practices and care for your individual needs.
More gluten-free ingredient articles