For game days, potlucks, parties, or chili dinners, here are 21 tasty appetizers, sides, and desserts to serve with chili that are all gluten-free!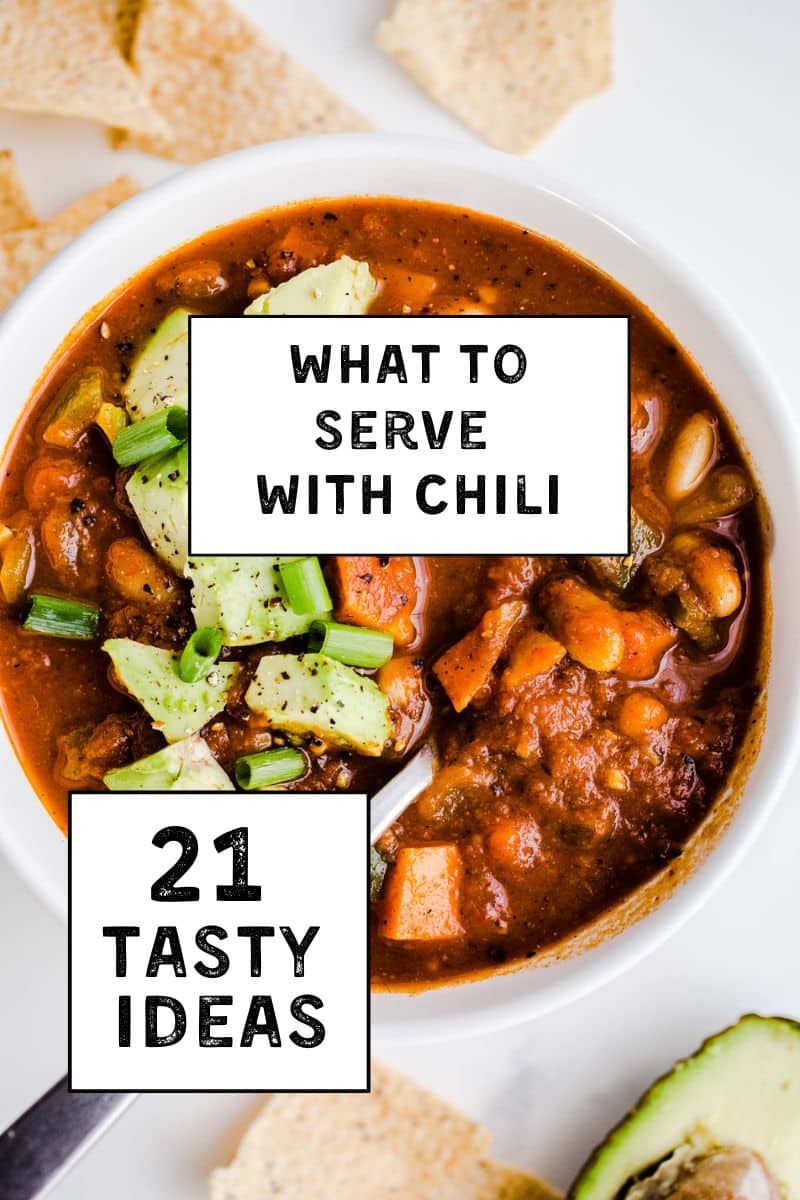 Whether it's game day or chili night, the perfect accompaniment to a pot of chili makes the meal. Here you will find the best side dishes, best appetizers, and best desserts to serve with your pot of chili.
Jump to:
Types of chili
The types and variations of chili can cause debate among some, but in our eyes, they are all delicious! No matter your favorite chili recipe, most are made with simple ingredients that result in a satisfying, hearty meal. Common types include:
Chili con carne
White chicken chili
Chili verde
Texas chili
Black bean chili
Turkey chili
What do you serve on top of chili?
Once you have your warm bowl of chili, load it up with your favorite toppings. Here are some great options to have out on the dinner table or to serve alongside as garnish for a party or for your friendly neighborhood chili cookoff:
Sour cream
Guacamole
Avocado slices
Shredded cheese
Diced onion
Corn chips
Tortilla chips
Green onions
Jalapeno peppers
Yellow chili peppers
Fresh cilantro
Hot sauce
21 Tasty sides and desserts
Finding the perfect pairing to a spicy chili makes this kind of best comfort food even better. From appetizers to an easy side dish, to dessert, we've got it covered.
Cornbread
Classic cornbread is probably a given, but it's a perfect match for a hearty chili. Variations on homemade cornbread keep things interesting and are sure to be a crowd-pleaser.
Cheese bread
Whether you are dairy-free or not, cheese bread of all kinds will make a great side dish. From cheesy breadsticks to garlic bread with melted cheese to pão de queijo (Brazilian cheese bread), try one of these easy pairings.
Fries
French fries and fries of unique flavors and ingredients like sweet potato fries, play well with this simple dish. Go with the classic or try something new.
Jalapeno poppers
The creamy and crunchy texture of jalapeno poppers strikes just the right balance with the main dish. Pick your favorite jalapeno popper recipe and serve it as an appetizer or side dish.
Totchos
Tater tots plus nachos equal totchos! The little potato puffs are loaded with your favorite toppings and complement the flavors of chili powder and spice in all the best ways.
Tater tots
This easy finger food is quick and easy and even delicious as a topping on a big bowl of chili!
Queso
You can't go wrong with melted cheese! Use as a side with chips or drizzled on top of your hearty bowl.
Dip
A cool and creamy dip and potato chips are a delicious partner to a warm bowl.
Onion Rings
Salty, savory, and a little crunchy, baked or fried, they make a great pairing.
Green salad
A fresh green salad is a great cool and crisp compliment to a rich bowl of chili.
Grain salad
Grain salads can be made with rice, quinoa, millet, buckwheat, or other easy-to-cook grains. Easy to transport and serve for parties and cookouts.
Pasta salad
Pasta salads work well as a side and are a total crowd-pleaser.
Vegetables
Roasted vegetables, sauteed vegetables, or fresh vegetables all add color, flavor, and texture.
Ice cream
From plain vanilla to more exotic flavors, this is a great way to finish a meal.
Sorbet
Fruit sorbets are a wonderful palette cleanser, but did you know that there is such a thing as chocolate sorbet?! Either way, a cool and refreshing way to end the meal.
Cobbler
From apple cobbler to peach cobbler, this comfort food dessert completes a chili meal perfectly.
Homemade Dole Whip
Like sorbet, this pineapple coconut dreamy treat is fresh and cool.
Popsicles
Popsicles come in a variety of flavors and are a super simple dessert option.
Brownies
Who doesn't love a brownie? A great option to bring to potlucks and parties.
Chocolate chip cookies
With melty morsels and a buttery bite, is there anything more satisfying than a chocolate chip cookie?
Peanut butter pie
Cool and creamy, salty and sweet, peanut butter pie will be a total crowd-pleaser.
FAQs